Hi Hudson,
Tomorrow is the 26th Winter Walk – and kudos to the folks at Hudson Hall for doing all the work. Outside of the County Fair, it's probably the largest event in Columbia County. EVERYONE goes to Winter Walk!
I will be at Back Bar, 347 Warren Street, during Winter Walk, Saturday, December 3rd between 5-8pm. Come and take an instant photo with me for $5.
Ophelia Nightly will be singing carols and a half-Jewish elf will take your picture.

I'll be at Back Bar, in the front gallery, as Ms. Claus, Santa's Italian-American ex-wife, Trixolina Marie Clauzone, jilted, bitter, angry, and drinking from a glass of lowered expectations (it's a real stretch for me.). True story – someone once asked me, "Trixie, your character always seems annoyed. Is that part of your act?" I said, "Yeah, it's an act."
Ms. Clauzone is a reminder that sometimes, you don't always get what you want for the holidays.
Maybe no one is buying you a new car with a big bow in the driveway. Maybe your life is not filtered through a hazy Instagram filter. Maybe life isn't a Hallmark Christmas story!
Things are not perfect. You do what you can.
Come see me at Back Bar.
Ophelia Nightly has an amazing voice – she's full of pep and happiness and Christmastime (it's amazing the two of us get along!) A half-Jewish elf will help out (it's her father's side, so does it even count?)
For $5, you can get an instant picture to remember the night. Or not. Instead, you can have a drink and forget.
Happy Holidays.
Love,
Trix
Proceeds from the evening at Back Bar will go to the And-Hof Animal Rescue in Catskill.
The money will help keep the animals warm and fed through the winter.
Please stop by next Sunday, December 11th between 4-6pm at the Milliner Art Salon for our
Holiday Cock-Tail Party!
---
---
---
---
at Susan Eley Fine Art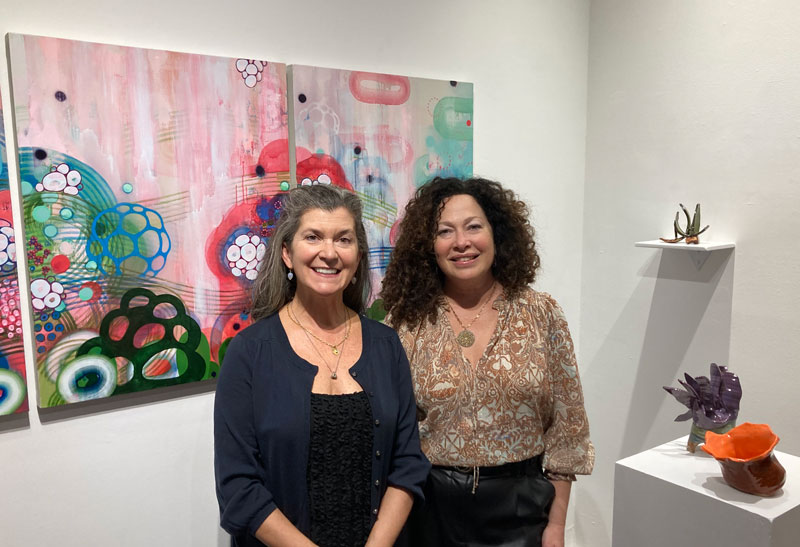 Sarah Lutz and Rachelle Krieger
---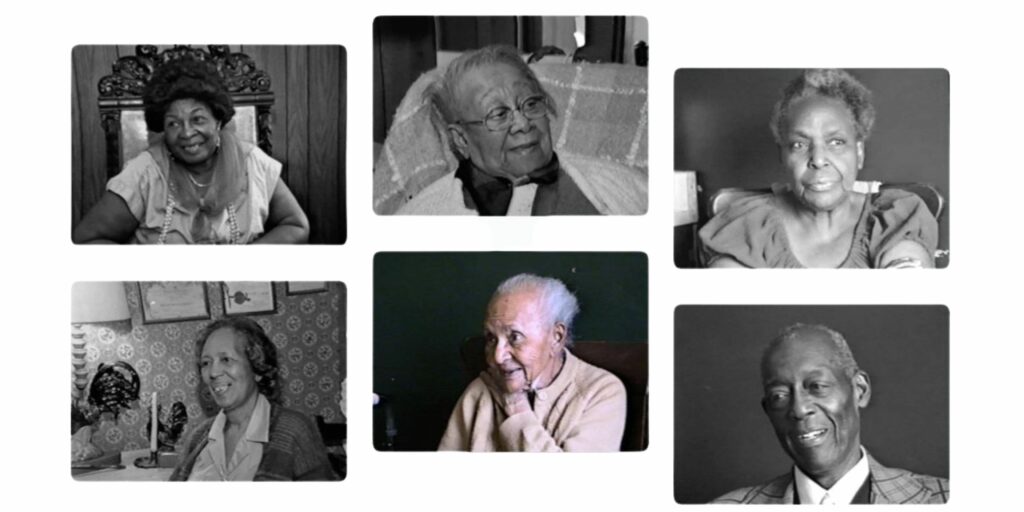 ---
Apartment Available – 3 bedrooms – PRICE REDUCED – click here for details.
---
Trixie's List writer, Scott Hotaling did some research on where to cut down your own Christmas tree in and around Columbia County.. Read about it all here.
---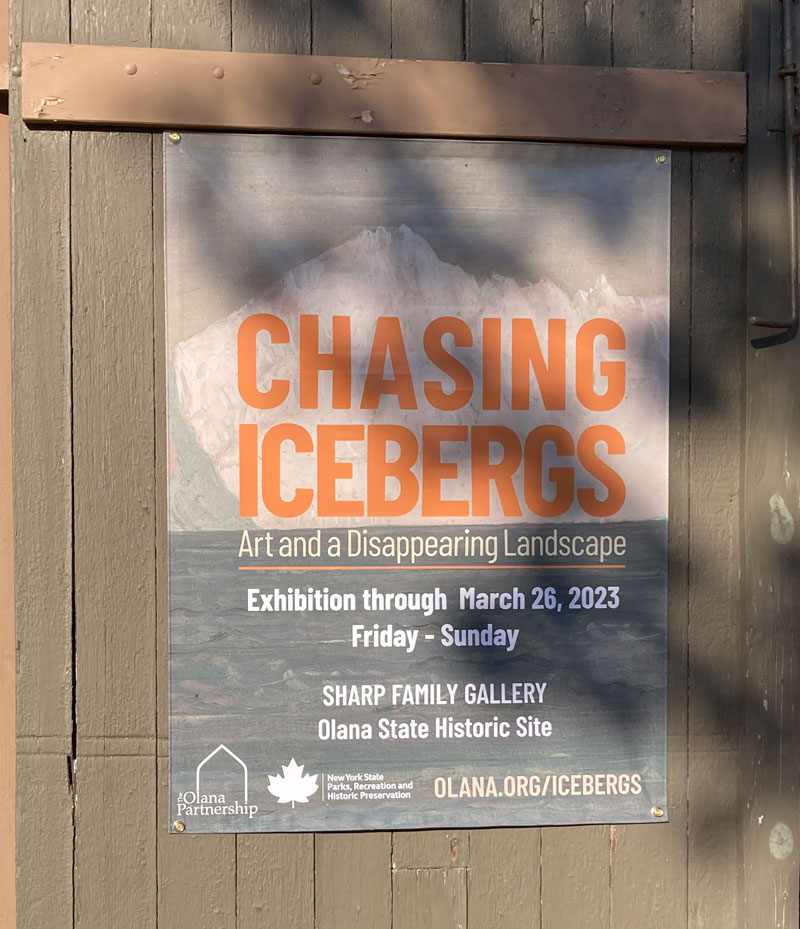 Did you know that Frederic Church did a series of paintings and sketches on glaciers, after his visit to Newfoundland in 1859? I had no idea. Chasing and photographing icebergs was a thing, I guess, but, this was also before the Titanic.
In 1917, Church's relatives donated much of the artwork, stored in the attic of Olana, to the Cooper-Hewitt Museum. Some of the artwork is back at Olana and on view. Today, with climate crisis issues, Chasing Icebergs is a timely exhibit.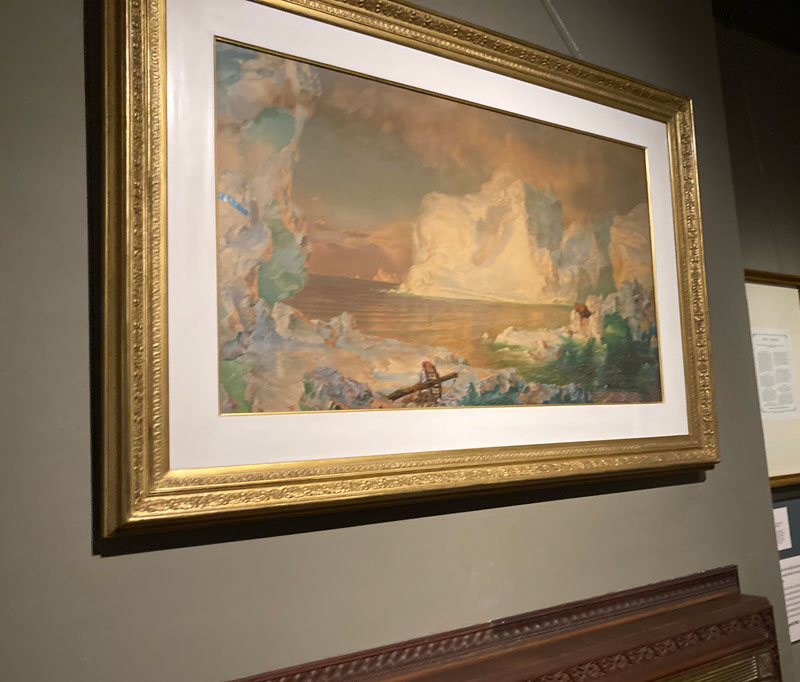 The North
Church tried to sell his artwork right before the Civil War. He renamed this piece, above, "The North". He later added the ship's mast and sold the painting in Britain, in honor of the British explorer who perished while exploring the Arctic. I learned all of this on the tour, which I recommend. You never know what you'll find out!
The exhibit starts this weekend, on Sunday. Take the house tour and check out the exhibition at the same time. Church's Chasing Icebergs is a combination of Church's work as well as contemporary artists, such as Hudson-based photographer, Lynn Davis. You can listen to Davis' interview on WAMC here.
---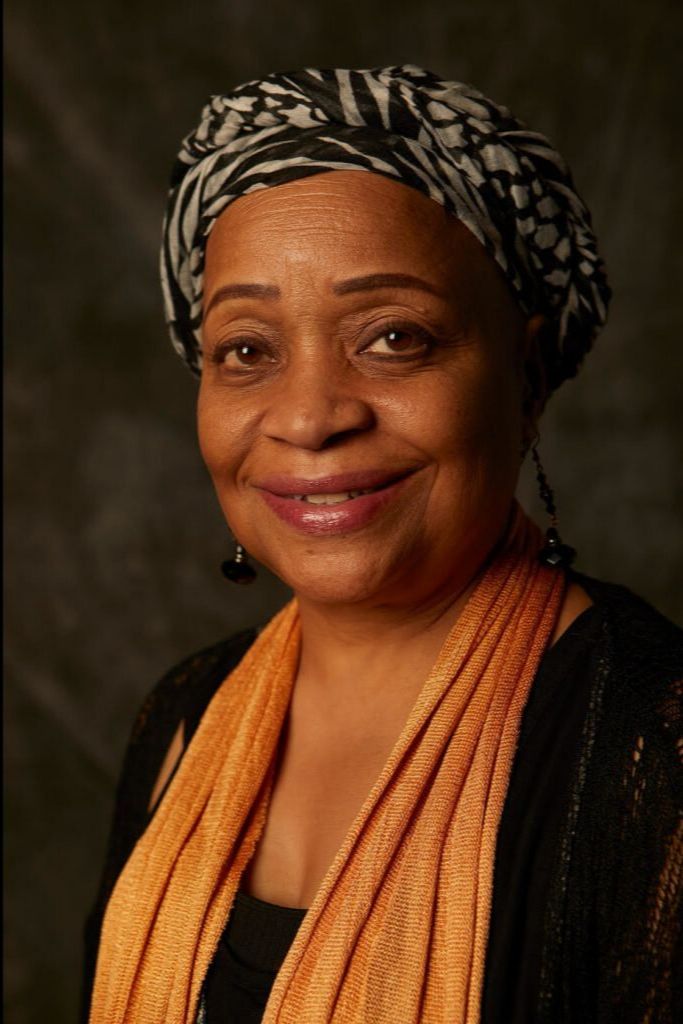 Hudson Hall celebrates the 26th Anniversary of Winter Walk on Saturday, December 3, with the return of a post-fireworks chili dinner in honor of the naming of long-time board members Elena Mosley and Ellen Thurston to Board Members Emeritae.
Click here for more info.
---
The Kinderhooker and I have "bromance".

I spent about three and a half hours in Kinderhook, including Queer Soup night, and wrote about it here. The anonymous meme account, TheKinderhookers, added their memes. I aspire to keep this blog family-friendly, but, it does not always work out that way. The story is a fun read; at least I think so.
---
I'm on the list, as Ms. Trixolina Marie Clauzone, Santa's Italian-American jilted ex-wife.
It's a real stretch for me.
Come and visit me at Back Bar during Winter Walk!
---
---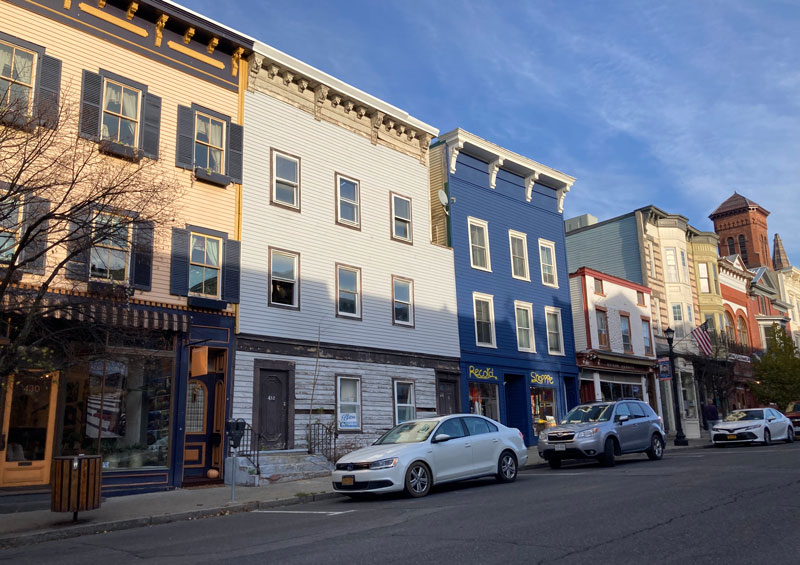 I asked four Hudson realtors what they thought of the current real estate market, trends, and advice. This is what they said.
---
---
Events listed in Chronological Order (ish)
---
---
---
---
---
---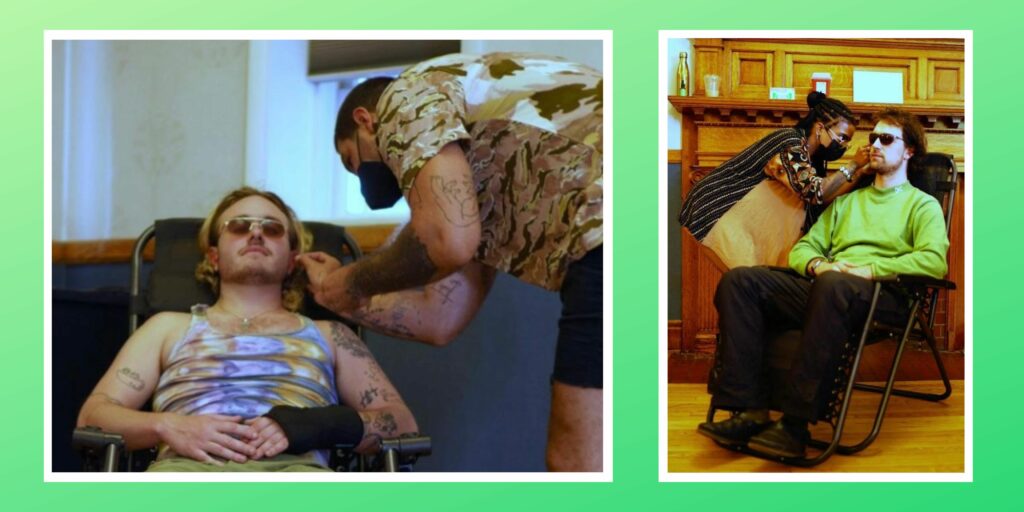 ---
---
---
---
---
---
---
---
---
---
---
---
---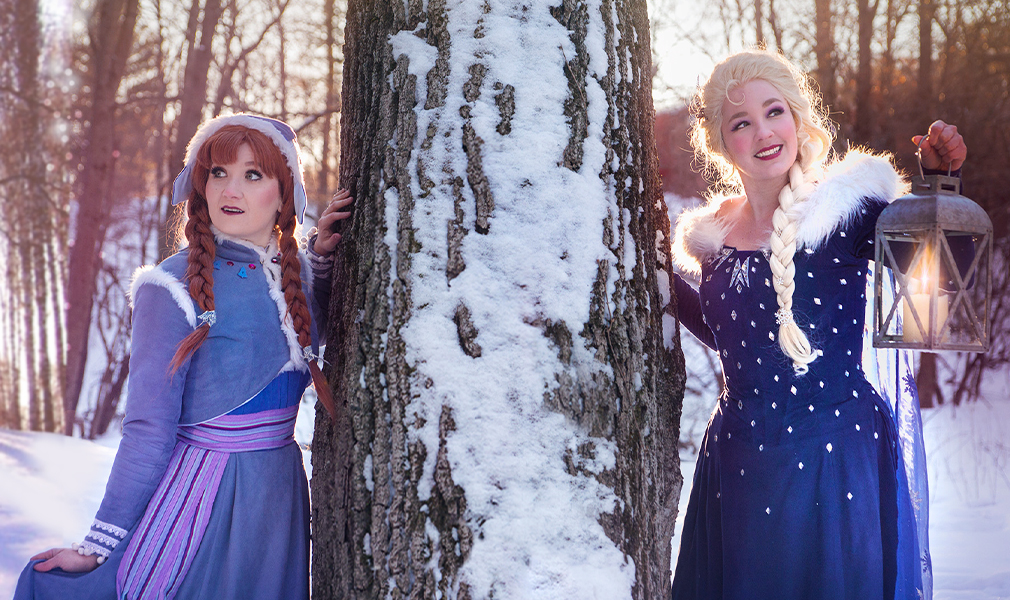 ---
---
---
---
---
---
---
---
---
---
---
---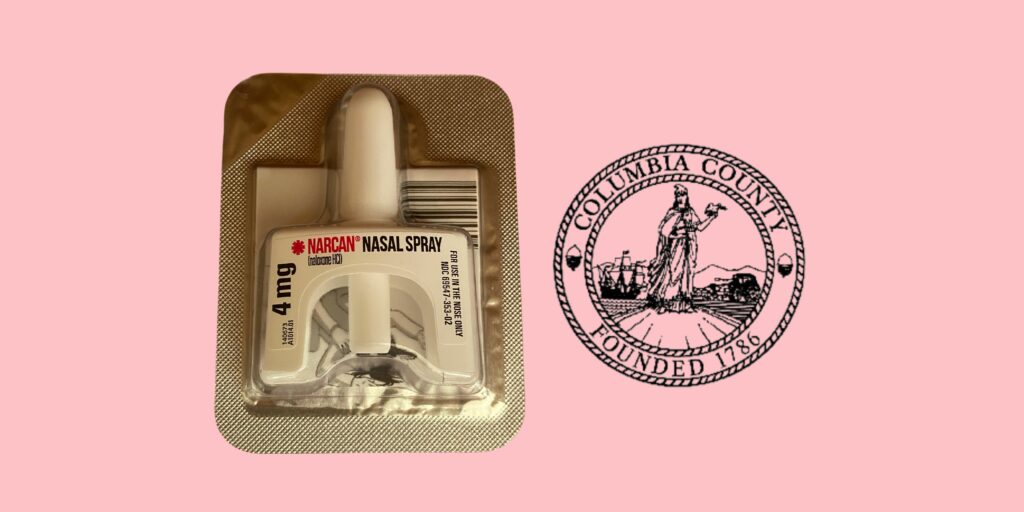 ---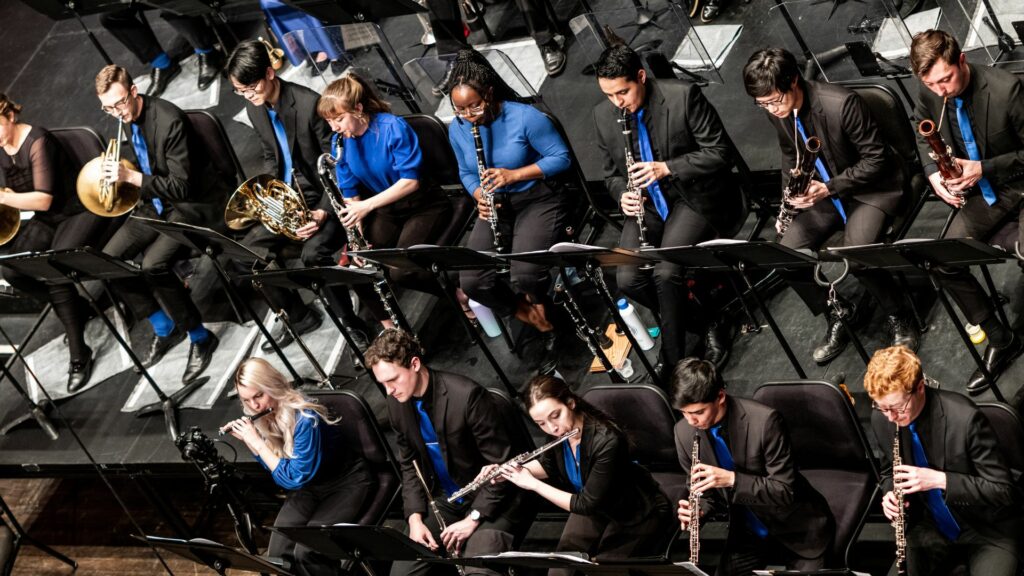 ---
---
---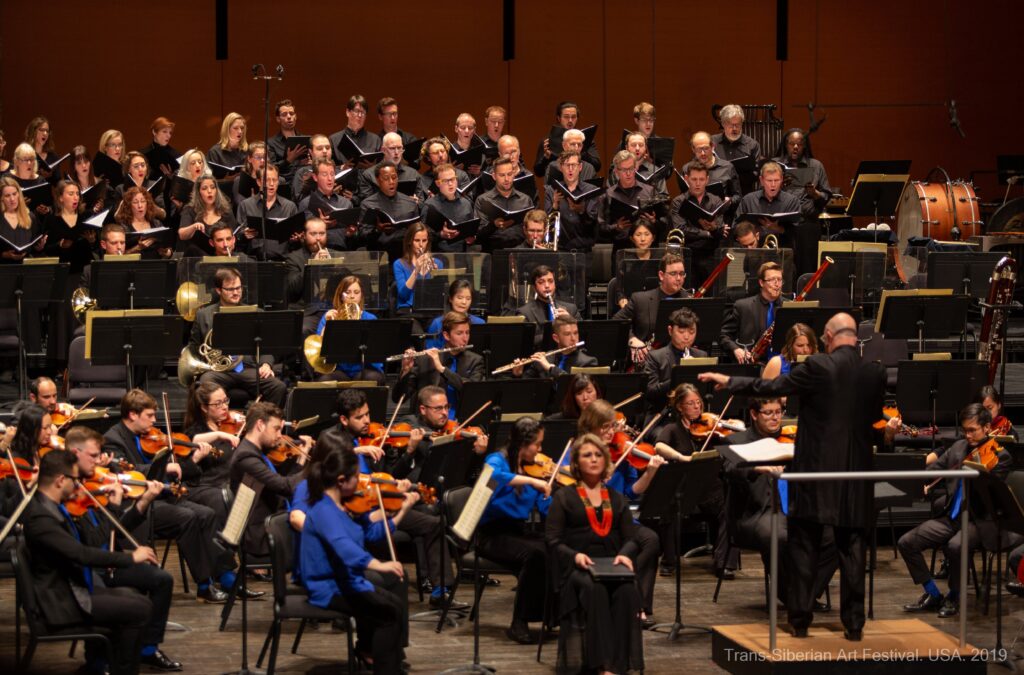 ---
---
---
ON-GOING Events/Exhibitions
---
---
---
---
---
---
---