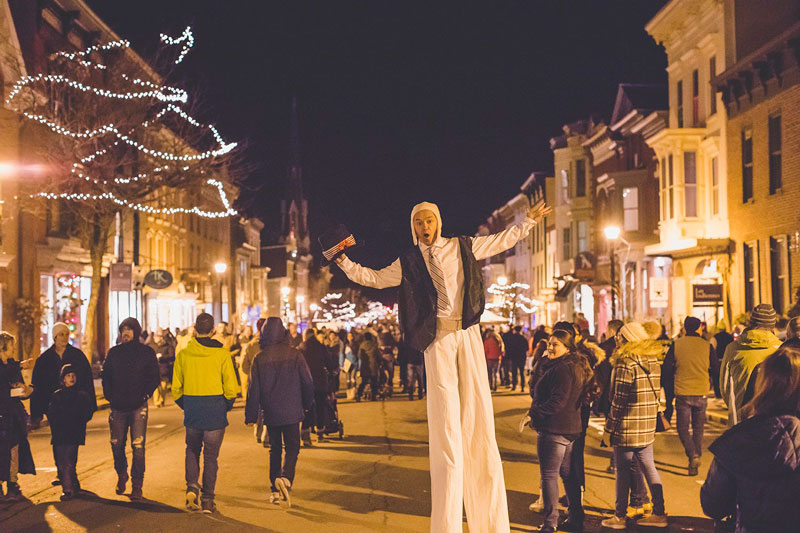 2022 Winter Walk
The 26th Anniversary
Saturday, December 3 at 5pm
Hudson's favorite winter street festival returns for its 26th year bigger and brighter than ever. Take an evening stroll down the mile-long length of historic Warren Street and enjoy performances, art installations, family-friendly attractions, local food and drinks, holiday shopping, fireworks and festive cheer.
---
GET INVOLVED IN WINTER WALK 2022!
Whether it's donning a costume to animate the street on December 3 or aligning your brand with Hudson's largest and most beloved community event by becoming an official sponsor, help make the 26th Anniversary of Winter Walk the most successful yet.
Click above to connect with us and learn more about our volunteer and sponsorship opportunities.
---
HOW CAN IT BE FREE?
Hudson Hall relies on the support of the community to keep Winter Walk a free event. Consider making a donation here.
To keep updated on future Winter Walk events, join our email list here and follow us on Instagram.
---
WINTER WALK ARTIST GRANTS: OPEN NOW!
Deadline: Midnight, October 1, 2022
Click here to learn more!
Returning for its second year, Hudson Hall invites local artists and performers to apply for funds to support the creation of new and unique Winter Walk attractions and performances. Preference will be given to projects that help animate the street and can be enjoyed outdoors by all ages.
---
A SPECIAL THANK YOU TO OUR WINTER WALK SPONSORS
City of Hudson Common Council Tourism Committee
Berkshire Taconic Community Foundation
Bank of Greene County Charitable Foundation
Columbia Economic Development Corporation