There's nothing like the fresh scent of a Balsam Fir at home to put you in the holiday spirit!
Here is a list of local farms that offer cut-your-own Christmas trees. These farms also have unique and beautiful decorations for your home, like wreaths and greenery, as well as great gift ideas, visits with Santa, and more! Grab your friends and bundle up for a day of memory-making in your pursuit for that perfect pine!
Wait, what? Douglas Fir? Fraser Fir? What's the difference? Do they all have their own personalities? Does a Douglas Fir come in a cardigan and Fraser Fir with its own companion Jack Russell Terrier? Fret not, all varieties are popular because of their quintessential conical shape, strong spicy signature scent, and sturdy branches perfect for hanging those heavy gaudy ornaments. But if conversation at your holiday party is stalling, here are some fun facts about different varieties that you can use to break that awkward silence.
Balsam Fir

Dark green needles with a slight silver highlight, the Balsam Fir branches are often used for wreaths and garland. They're known for their thick dense foliage and strong fragrance that have inspired candle scents for decades.

Fraser Fir

The biggest difference between the Fraser and Balsam Fir is the color. The Fraser lends towards the yellowish side of green. So if you're concerned with coordinated hues, the Fraser Fir may be perfect.

Canaan Fir

One of the newest varieties on the market, the rich green Canaan Fir is known as the hybrid between the Balsam and Fraser. A milder fragrance, for those who might have sensitive olfactories, Canaans are also known for great needle retention, if daily vacuuming isn't your thing.

Douglas Fir

Dark green needles have almost a bluish tone with Douglas Firs. Also known for their rich fragrance, up to 50% of the christmas trees grown in the US are Douglas Firs.

Scotch Pine

Of all the varieties mentioned here, the Scotch Pine stands out for its wintery piney look. A milder scent and longer needles in bulbous clusters on super strong branches, the Scotch Pine is also great if low-maintenance is a priority. Did you know that the Scotch Pine is the national tree of Scotland?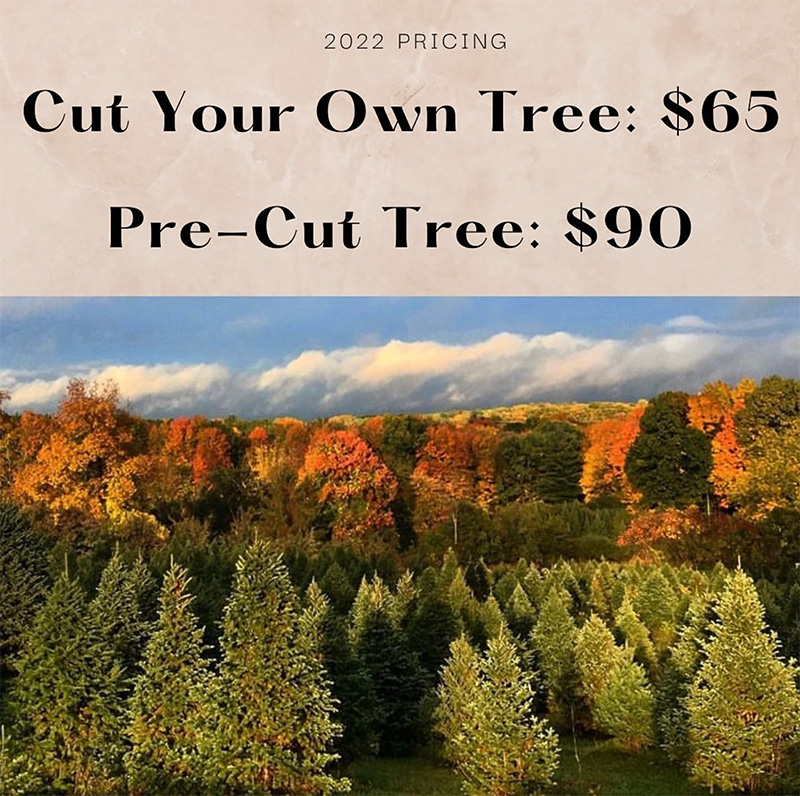 42 Cold Spring Road, Hudson, NY 12534 (518) 828-628
The closest option to the city of Hudson, Cold Spring Tree Farm's opening day is Black Friday, November 25th. They offer a cut-your-own selection of Fraser, Balsam, and Douglas Firs for $65. Pre-cut Fraser and Balsam firs will also be available for $90.
856 Route 199, Red Hook, NY 12571 (845) 758-8018
Located in Dutchess County, Battenfeld's opening day is November 21 (They'll be open on the 23rd, closed for Thanksgiving, then open again on Nov. 25th until mid-December), costing $85 a tree. They have many holiday accoutrements to aid in your exterior decorating.
28 Gilligan Road, East Greenbush, NY 12061 (518) 477-4841
Heading north of Hudson to East Greenbush, McDonough's Farm begins their season on November 19 and 20th (9am – 5pm), November 23rd (10am – 5pm), November 25th (9am – 6pm) and then 9am – 5pm for the remainder of the season while supplies last. Trees up to 8 feet are $70, and the cut-your-own field closes at 4pm.
1235 High Hill Road, Earlton, NY 12058 (518) 731-8585
Jumping across the river into Greene County, Veeder's Tree Farm really has everything for a festive day. The season opens on November 18th, weekdays from 1 – 4:40pm and weekends 9am – 4:30pm. Offering Balsom, Fraser, and Cannon Firs, as well as Spruce and Scotch Pine. Santa will be around Black Friday and all weekends after Thanksgiving.
Whether pre-cut or not, now that you have that perfect tree safely transported home, what's next? There are a few simple but important things to keep in mind when caring for a live Christmas tree. Check out these tips to make sure your tree makes it all season long.