Welcome to Hudson! Now, where do I park?
This page will tell you where you can park in the City of Hudson, NY, weekends or weekdays. Read below for some great tips, including where to find the "best" parking meters and electric car-charging ports in Hudson.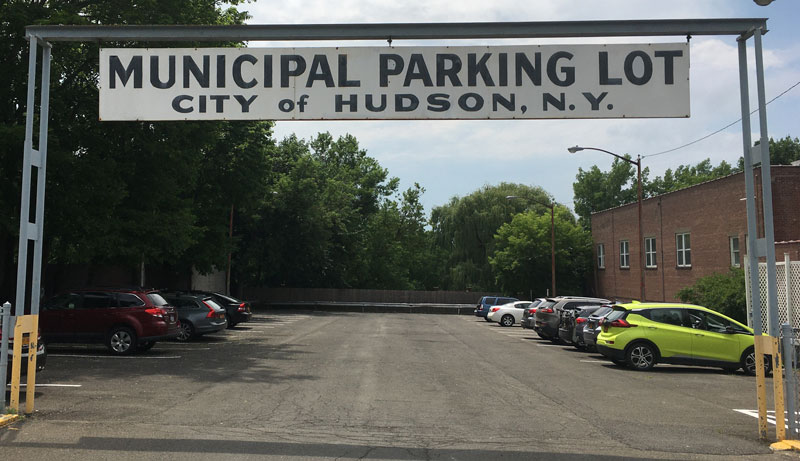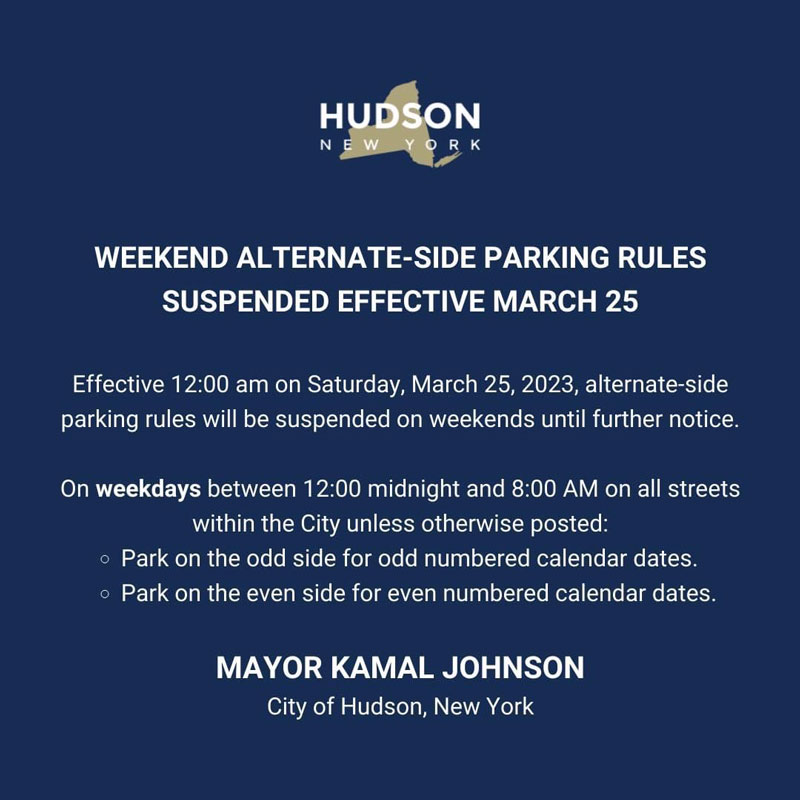 Day-Tripper Parking
Although it is VERY tempting, please consider NOT parking on Warren Street. Warren Street parking meters are 25 cents for only THIRTY minutes – QUARTERS ONLY! There's a maximum of two hours (four quarters) time limit.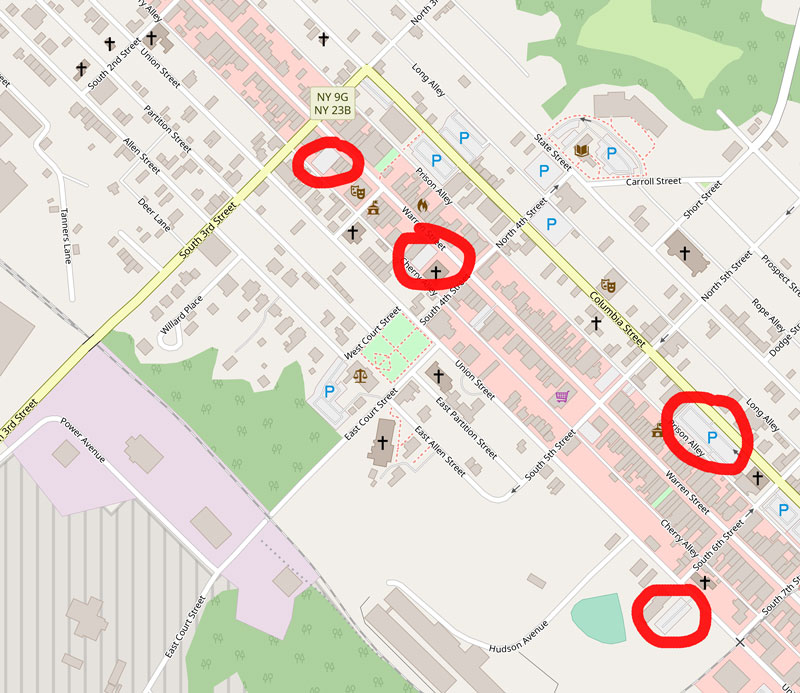 Parking in one of the circled municipal lots in the image above costs 25 cents PER HOUR, with a TWELVE hour time limit! No rushing back to the meter.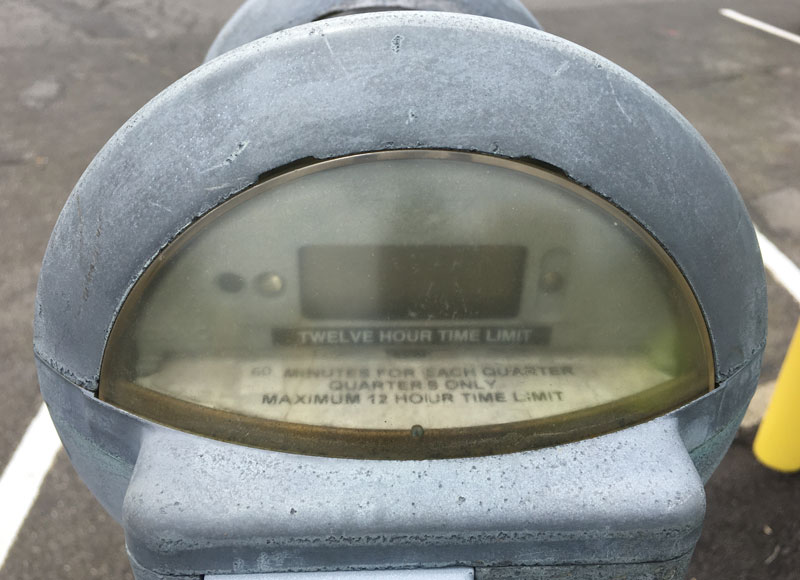 Meters operate Monday-Saturday up until 5pm on Warren Street. Free parking on Sundays everywhere and free parking in the municipal lots on Saturday and Sunday. There are no meters on Warren Street between Front and 3rd Streets.
There is a municipal lot on Front Street (not pictured), across from the Amtrak station – park there overnight, or monthly, and use a credit/debit card. There are other parking lots throughout the city, not circled, that LOOK like public parking.
Yeah, no. Those are county parking lots with signs warning you to not park there. In some of the county lots, it's OK for the general public to park after 5pm. The signs will tell you.
Parking Tickets
If you think, "Oh, I won't get a ticket. It'll be quick." You'll get a ticket. Ten or fifteen minutes over the limit, and there will be a ticket waiting for you. What happens if you get a ticket? Just pay it. Promptly. It's $10. Don't wait.
Write a check and put it in the mail as soon as you can, or if you're around during the week, you can pay in person and drop it off at City Hall – 520 Warren Street. If you pay online, there are additional fees. If you let the payment lapse over thirty days, the fines jump dramatically. Here are your options for payment and any additional fines.
Overnight Street Parking
You wake up in the morning and find a ticket on your car! You didn't know you couldn't park there. You looked up and down the street the night before and there were no 'NO PARKING' SIGNS!!
Oh yes, there are! The parking signs are in the "entrances" to the City. You "missed" them. You should have paid better attention when you were driving into Hudson!
Here's what they look like: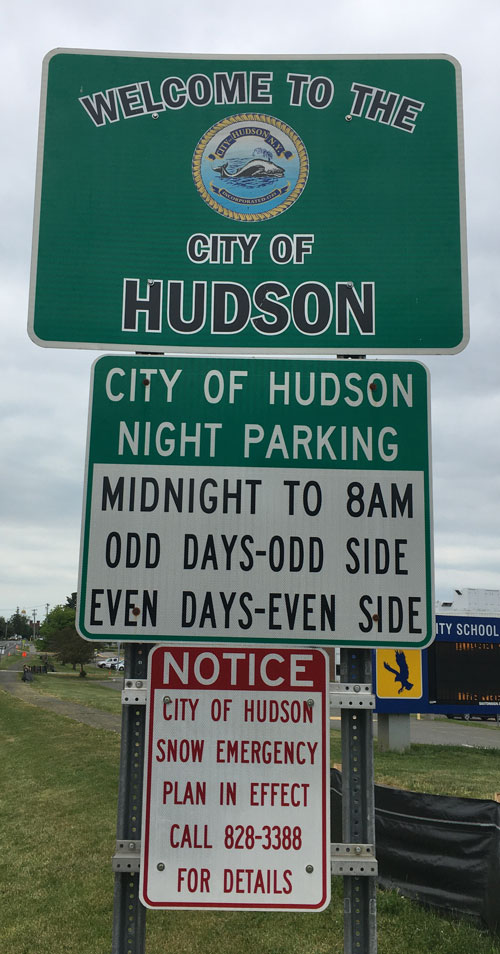 What does this sign mean?
Where do you park overnight? First, look at the house numbers on the street. The odd/even house numbers determine the odd/even sides of the streets.
Then, ask yourself, TOMORROW morning from midnight until 8am – will the date be odd or even? Find that answer, and that's the side of the street for overnight parking!
Usually, around eight or nine o'clock, people will line their cars up one side of the street or the other. If your car is out there at 10pm, and it's the only one on that side of the street – chances are, you're on the wrong side and you'll get a ticket in the morning. Move it before midnight. Follow what everyone else is doing.
During the day, park on either side. The parking rules only apply from midnight to 8am.
Snow emergency?
If you're unsure of where to park during a snow emergency, you can call the number in the above sign – the default area code is 518. Or, just follow the signs in the snow. If there's a sign that says "No Parking" planted in a snow bank, then don't park there, regardless of odd/even side parking. They need to plow the streets and you do not want to be the person/car that makes it difficult to plow. You'll get tickets/fines AND the street won't be plowed – and no one will like you. Do not be that person.
Electric Vehicle Parking/Charging
The City of Hudson has three EV Car charging stations with two ports each. They are located in the parking lot between 5th and 6th streets off Columbia Street. (In the map above, it is the red circled lot with the letter 'P' in the center). They are behind City Hall.
The cost for a charge is $1.75/hour and you must also feed the appropriate parking meter with quarters. It's a Chargepoint port – you can download the app or pay via any chip card – just hold your phone or card up to the reader. The app lets you see your car charing on your phone and it'll tell you when the charge is done.
There are a few different types of EV charger ports – the ones in Hudson are Level 2, J1772 connections. See chart here. For those unfamiliar with electric car charging ports: there's Tesla, Nissan Leaf's CHAdeMO, and the standard Chargepoint, for everyone else. These charger ports are the standard ports for all non-Tesla/Nissan cars. Tesla has an adapter to fit this charger. The charge is about 25 miles/hour. It's perfect for overnight (after 5pm) or Sundays when you don't have to feed the meter.
There's CCS Level 3 and CHAdeMO chargers at the Capital Region Welcome Center off the NYS Thruway 87, on your way up to Albany. It's free to use. There's a nice coffee/TasteNY shop and playground for kids to use while you're charging. You will not be able to charge your Tesla, at the Welcome Center, unless you have the adapter for the CCS Level 3 charger. There are Tesla chargers at the Stewarts on 9G. Those are the closest public Tesla superchargers.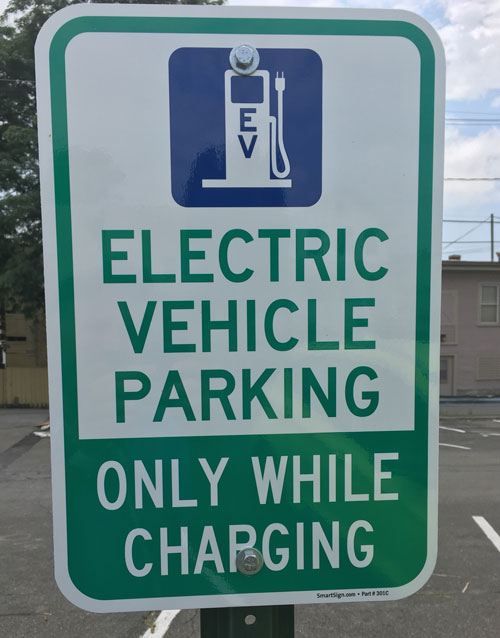 These EV Chargers were made possible by a grant from New York State's Charge NY program and implemented in 2019 under the City of Hudson's Economic Development Committee – at that time chaired by yours truly, Rich "Trixie" Volo. During that same year, I managed to persuade the City of Hudson to sign a contract with the local solar farm, right outside the City.
All of the City's electricity for its municipal buildings, streetlights, etc, is generated, theoretically, at that solar farm (all electricity is pumped into the grid, but the City of Hudson signed on to support solar). If you are charging your electric vehicle in the City of Hudson, at one of these ports, you are using electricity generated by solar panels, and carbon-neutral!