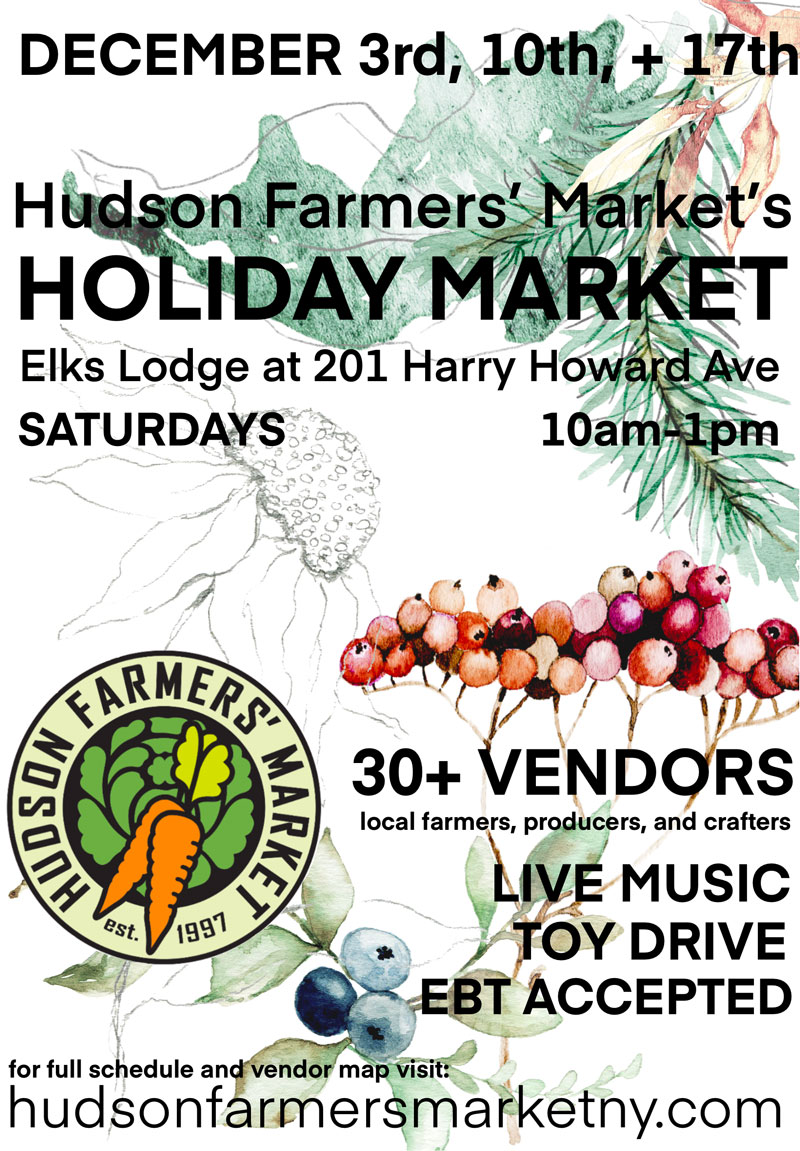 Hudson Farmers' Market – Holiday Market
[Hudson, NY] The Hudson Farmers' Market is celebrating the start of our 2022 Holiday Market season this Saturday!
HFM's Holiday Market is operating Saturday, December 3rd, 10th, and 17th from 10am to 1pm. You can find us at 201 Harry Howard Avenue in the Elks Lodge #787. Handicap parking is available immediately in front of the Lodge. All other parking is available at the Hudson High School right next to the Lodge.
We are also along Columbia County's Shopping Shuttle route— which conveniently makes three stops at the Lodge during market hours and is only $1/ride.
We will have 30+ vendors each Saturday, covering everything you need for your weekly meals AND your holiday shopping. We will have products from local farmers like vibrant greens, hearty storage crops, cuts of meat, and delicious cheese. We will have gifts from local artisans like functional ceramics, woven items, candles, and goat milk soaps. We will have food crafted by local producers like sourdough bread and spirits made with regional grains, organic cotton candy, coffee by the cup/bottle/bag, hot prepared foods, and so much more.
Like all of our markets, you can expect live music from 10:30am to 12:30pm. We have a wonderful range of performers who are versed in covers, originals, and Holiday favorites. Alongside the tunes, we will have holiday reading hour for the market kids on December 17th with one of our lovely vendors hosting and bringing cookies.
We are also pairing up with the Hudson Youth Center this year for our Second Annual Toy Drive. All donations go to the kids who participate in their programming. If you would like to donate any new items, please keep in mind the age range of kids is from toddler to teen. We love being able to support our community in this way. You can find our more detailed schedule and information at our website (hudsonfarmersmarketny.com) and our Instagram page (@hudsonnyfarmersmarket).
We certainly look forward to seeing you at the market this Holiday Season.