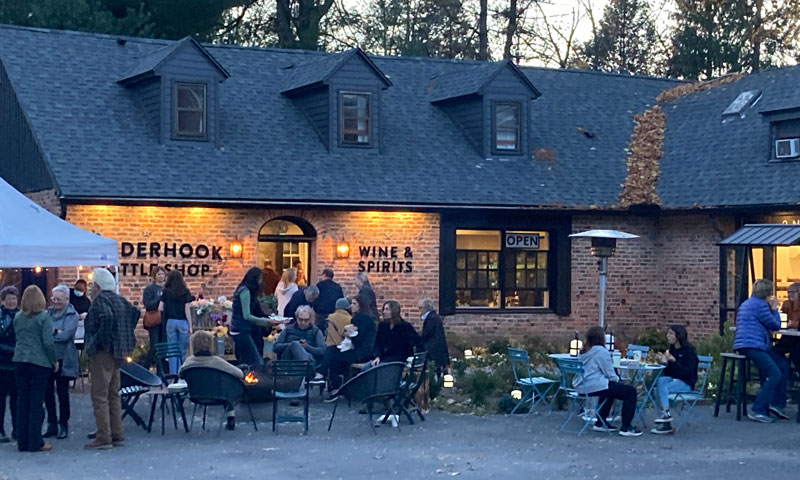 Inspired by a recent New York Times article, "36 Hours: Barcelona", I decided to write about this past weekend's experience and the (approximately) three and a half hours I spent in Kinderhook. (Granted, not consecutive three-and-a-half hours. I mean, let's not go crazy…)
I'm always looking for a good reason to visit Kinderhook, beyond yet another trip to Martin van Buren's home of Lindenwald. I texted a dear Kinderhook friend and wrote "Hey – I've heard that this Wine Shop in Kinderhook is the place to be on a Friday evening. Want to go?" He texted back, "Yeah, I'm the one who told you about it weeks ago!"
So, we went.
From 5pm until about 7pm on weather-permitting Fridays, in the little L-shaped lot behind Morningbird, next to the Aviary, in front of the Kinderhook Bottle Shop, right off the main intersection of Kinderhook, a community comes together to talk and catch-up before starting the weekend. It's a very pleasant meeting spot with food, wine, a fire pit to roast s'mores, and laughter.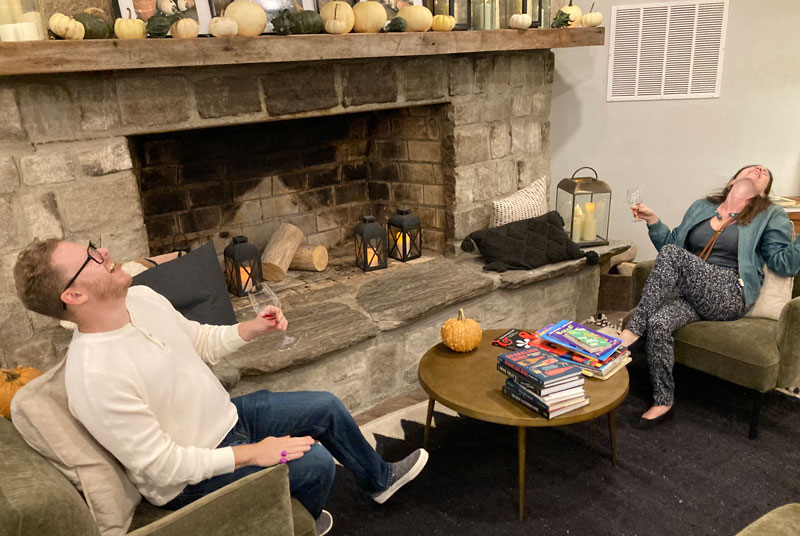 I warned the other Hudsonian in the party –
"Do NOT mention COSMIC DONUTS tonight! It's still too soon!"
If you're a former New York(City)er, then you probably never really knew the people in your building, let alone those on your city block. Who has the time to get to know more people when you can barely keep brunch dates with friends? But here, upstate, where the days seem longer and less stressful, you tend to know your neighbors….maybe you even know too much…
We arrived fashionably late around 5:30pm and stayed a couple of hours. There's a taco stand, cheeses and meats, and you can buy a package of s'mores including homemade marshmallows and a roasting stick for $10. It's more s'mores than you can probably eat.
Follow @EmilyinCatskill on instagram
The Kinderhook Bottle Shop has an enormous selection of wine and liquors, and plenty to sample. Right next to them, you'll find former Hudsonians, Two Note. The Kinderhook Bottle Shop and Two Note are perfect places for holiday gifts! Hint, hint.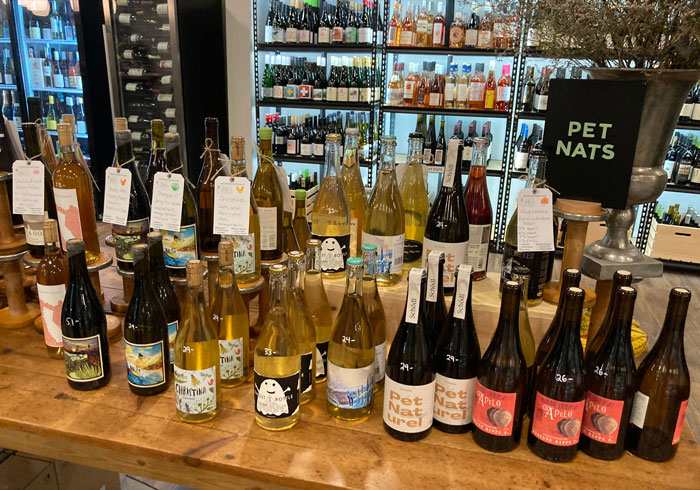 There also seems to be a rhythm to a typical Kinderhook Friday evening – after some wine tasting between 5 and 7pm, it's dinner at The Kinderhook Aviary. The pizza parlor across the street also seemed very busy.
My life decision to bake cookies (very) early on a Saturday morning has forever ruined Friday evenings for me, so, I did not follow the flow like most Kinderhookers. Instead, I vowed to return to the Aviary on Sunday evening for Queer Soup Night. You can follow them on instagram here.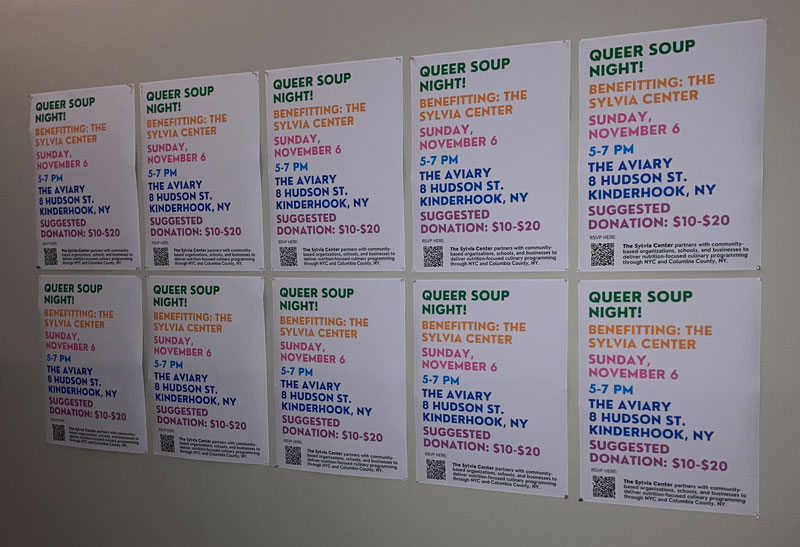 Your first question, what's Queer Soup? What does that mean, Trixie? Is it "gay code" for something? Is there a hot tub involved?
Ok, no. There's no hot tub. Just, get off that thought path. This is Kinderhook, not Fire Island.
It's soup. People cook vats of soup and serve it to queers, and queer-adjacent folks. You don't have to be queer, there's no ID check, or quizzes. Anyone can go. (ok, maybe there's an oral exam – haha! just kidding!)
You pay $10-$20 as a suggested donation at the door for Queer Soup and the funds are given to charity – this past weekend, the charity was the Sylvia Center.
The place was packed! There were all types of queers there! There was my crowd, the old school, piano-bar homosexuals as well as lesbians of various flavors. Like the soups themselves, genders were very fluid. Maybe the soup is a metaphor for gender and sexual fluidity – or maybe it's just soup.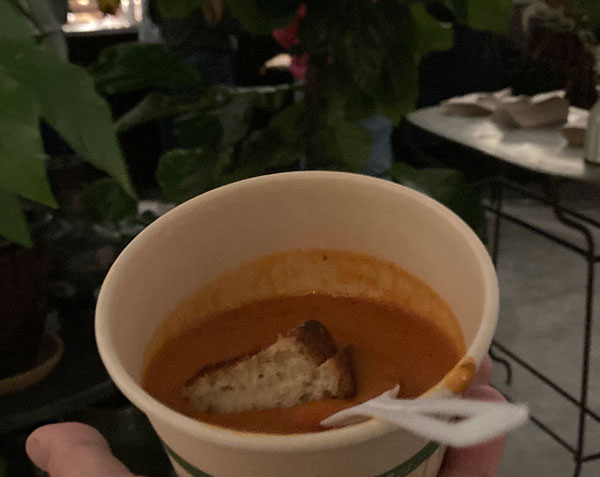 I had a very nice creamy tomato soup, and instead of croutons, they offered little bits of grilled cheese sandwiches. They asked me if I wanted bits of grilled cheese – I said, "Of course! How could I not?"
I asked, "Has anyone refused bits of grilled cheese in their tomato soup?" The soupers said, "No". Really, who would say no? We're queers, we're not uncivilized!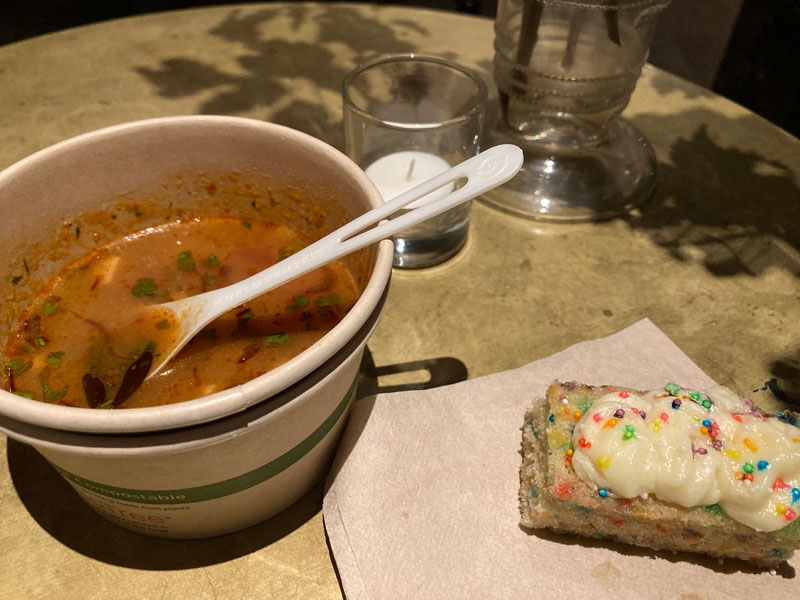 It was an amazing time and a beautiful night. You saw friends and people you have not seen in a while, ate some soup, raised money for charity, and then home by 8pm. Do NOT come fashionably late to Queer Soup. No. Get there on time, when the soup is hot. Ya snooze, ya looze.
Be on the look-out for the next Queer Soup night, and stop by Kinderhook on a Friday evening.
Life doesn't really get much better than this, folks.