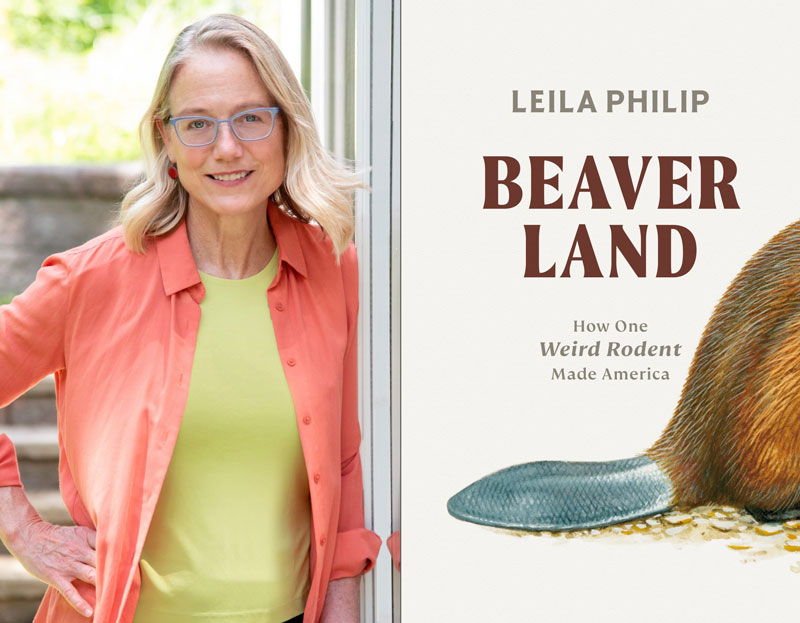 BEAVERLAND
Leila Philip
Friday, December 9 at 6PM
Book Launch with Author, Leila Philip
Free, reservations recommended
Hudson Hall is thrilled to present the launch of award-winning writer Leila Philip's newest book, BEAVERLAND: How One Weird Rodent Made America (Twelve Books, on sale December 6) with a reading and Q&A with the author on Friday, December 9 at 6pm. Beautifully written and impeccably researched, Beaverland reveals the profound ways in which one odd creature and the trade surrounding it has shaped our history, culture, and environment. Tickets are free and can be reserved at hudsonhall.org or by phone at (518) 822-1438.
Hailed a "triumph of popular nature writing" in Publisher's Weekly and named one of the best books of the year by Barnes & Noble, Beaverland reveals how this weird rodent has played an oversized role in American history and can play an important role in its future. The author follows fur trappers who lead her through waist-high water, fur traders and fur auctioneers, as well as wildlife managers, PETA activists, Native American environmental vigilantes, scientists, engineers, and the colorful group of activists known as "beaver believers". Beginning with the early trans-Atlantic trade in North America, she traces the beaver's profound influence on our nation's early economy and feverish western expansion, which gave the country its first corporations and multi-millionaires.

In her pursuit of this wonderfully compelling animal, she introduces people whose lives are devoted to the beaver, including a Harvard scientist from the Blackfeet Reservation in Montana, who uses drones to create 3- dimensional images of beaver dams; and an environmental restoration consultant in the Chesapeake whose nickname is the "beaver whisperer". What emerges is a poignant personal narrative, a startling portrait of the secretive world of the contemporary fur trade, and an engrossing ecological and historical investigation of these heroic animals who, once trapped to the point of extinction, have returned to the landscape as one of the greatest conservation stories of the 20th century.
About the Author
Leila Philip is the author of award-winning books of nonfiction that have received glowing national reviews. A Guggenheim Fellow, she has also been awarded fellowships from the National Endowment for the Arts and the National Endowment for the Humanities. Philip was a contributing columnist at the Boston Globe and teaches in the Environmental Studies Program at the College of the Holy Cross where she is a professor in the English Department

Praise for Beaverland
"A spirited, informative historical and environmental investigation." – Kirkus Reviews
"Leila Philip's Beaverland is an engaging story centered on a nerdy anti-hero, the beaver. While she states that beavers are weird, she makes a strong case that people in the beaver world are even weirder. This book weaves humor and storytelling with profound thoughts about nature. Don't miss the beavers parachuting into the Idaho wilderness."— Mark Kurlansky, New York Times bestselling author of Cod and Salt
"Lyrically written, meticulously observed, and exhaustively researched, Beaverland is going to break your heart—and then heal it with compassion, beauty, and wonder." —Sy Montgomery, New York Times bestselling author of The Soul of an Octopus
"We can't have enough books about this wonderful creature—and this one is particularly strong on the remarkable history of the animal in our continent's history and imagination. A loud slap of the tail in approval!" —Bill McKibben, bestselling author of The End of Nature
"Beaverland is wonderful, captivating, and illuminating. I learned so much—about natural history, business history, the world of today's fur trappers, and the role of a large, strange rodent in America's ecological future." —James Fallows, bestselling co-author of Our Towns: A 100,000-Mile Journey into the Heart of America