"The thing with me and porno is that I don't get offended by porn, I just have a hard time getting lost in it, the same way I can in some other feature films.
The women always seem annoyed to me in most pornos. They make the same noises that I make when I have to move furniture….you can put it anywhere, go ahead."

– Rachel Feinstein
What are you doing this coming Wednesday, June 15th 8pm? After the Wednesday Farmers' Market, put your lettuce and spinach in the fridge, and go back out to Poured Candle Bar, 711 Warren Street – right across Warren Street from the Wednesday Market and next door to Food Sing.
You know what? Bring the lettuce and spinach to the show. I'm sure they won't mind. Save yourself some time. It's the Hudson Valley – everyone carries locally-grown farm produce around.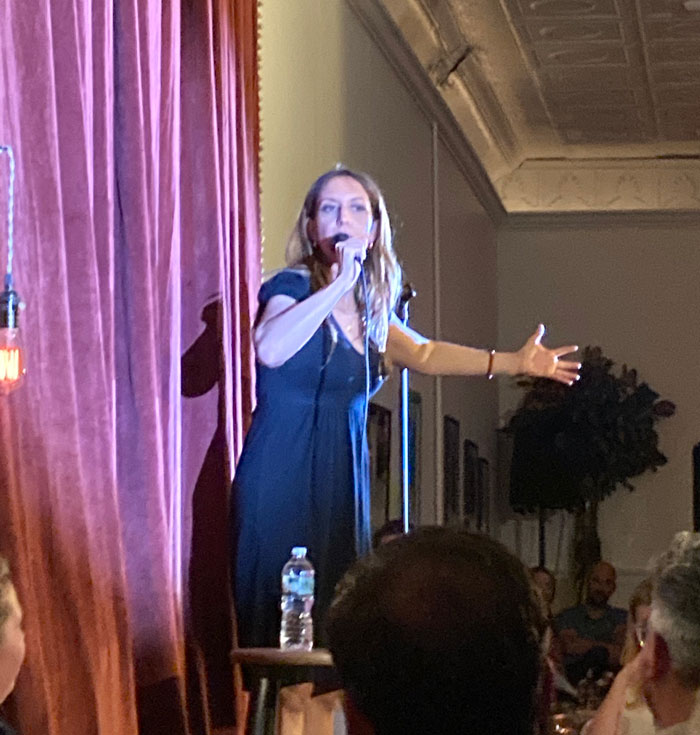 Rachel Feinstein at PCB, October 2021
It is not very often that we get great comedians, such as Rachel Feinstein, performing in Hudson. She's been all over – Netflix, everywhere. When she's in town, you have to go. Forget everything else.
This is Rachel Feinstein's second time in Hudson. The first time was back in October and comedian Shawn Hollenbach, from nearby Berkshire County, opened the show. Shawn is back again! It's going to be an evening of laughs and adult humor. Rachel is married to a Staten Island firefighter, and tells stories about their relationship, and a little about their sex life.
I like to throw change on a man after sex. I just like to take some coins and toss them on his dumb, naked, post-sex man body. Go out and buy yourself something special."

Rachel Feinstein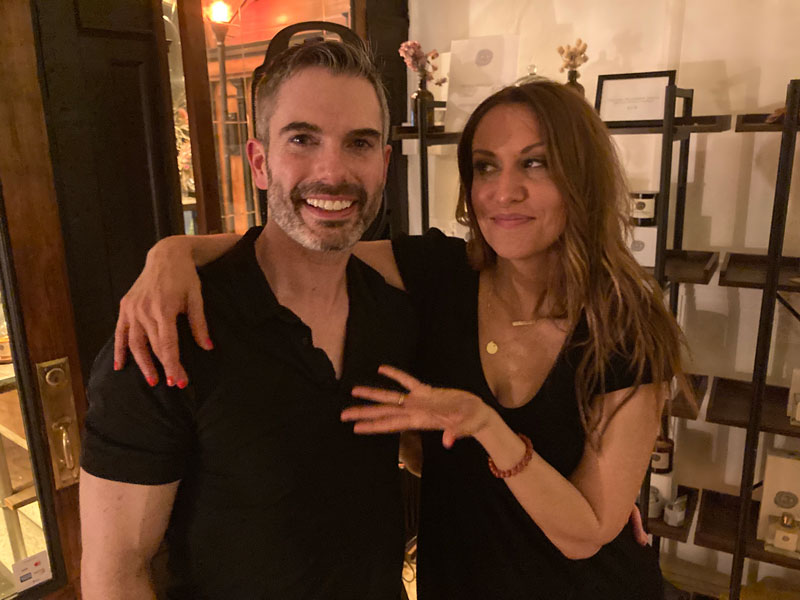 Shawn and Rachel have few boundaries.
There's coming-out stories, sex stories, and high heels …and you don't really know who is going to wear them!
You can't miss this show. I write a Hudson event blog, so I know. This is it. More than half of Hudson is closed on a Wednesday. It's not as if there's another, better event happening on a Wednesday in Hudson, or, even within a twenty-mile radius.
This is why some of you moved from NYC to the Hudson Valley; there were too many options in NYC! FOMO – Fear of Missing Out – I understand. That's not the case, here. When there's a good event, everyone goes.
Yes, your other option is to stay at home and start on that bag of lettuce. It'll be there for you on Thursday.

If you see Rachel Feinstein at Poured Candle Bar on Wednesday night, then at least you'll have something interesting to talk about at the Saturday Farmers' Market!
Think about how much more money it would cost if you had to travel to NYC to see her perform. You are SAVING money. Totally justified!
Buy your tickets here. Worth it.