Have you ever been to the Ghent Playhouse? If you drive up Route 66, as you go over the hill (and the speed limit sharply decreases to 30), there's a little water fountain. In front of the fountain, before you get to the Bartlett House, is the Ghent Playhouse.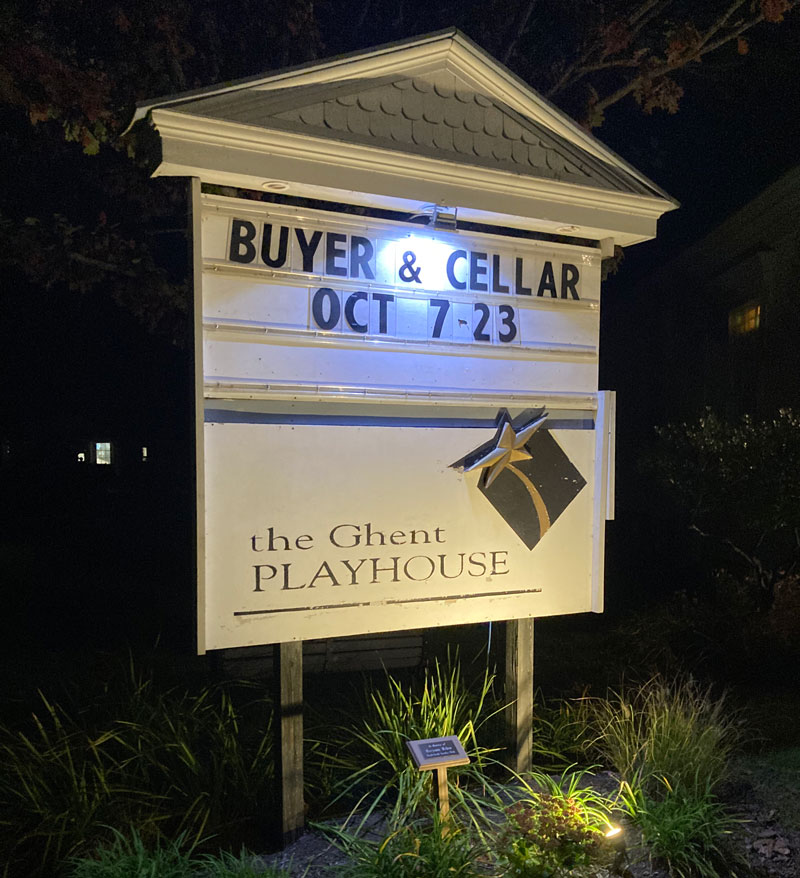 I saw "Buyers and Cellar" last weekend, starring ONLY Sam Reilly – a one-man show. The show begins with a disclaimer that is it complete fiction. The premise of the play is a line or two from Barbra Streisand's style book "My Passion for Style". Barbra describes her house and her basement. The basement is a mock Main Street with little shoppes that store Barbra's antiques, dolls, and other items including a yogurt and popcorn machine. The main character gets a job staffing one of the faux shoppes in Barbra Streisand's basement. Barbra, the only client, visits maybe once a day to browse the items she already owns.
You have to just go with it, as the character does.
It's a great show. Totally worth it. Click here for tickets and info. Tickets are about $25.
Sam Reilly does an amazing job, as multiple characters, including Barbra. He is the only person on stage for almost two hours – with an INSANE amount of lines to memorize!
The premise is completely bizarro-world, but at the same time, not unbelievable! I was transfixed the entire time (and I was up at 3:30am that day baking cookies).
This weekend is the last weekend, but there's other great shows at the Ghent Playhouse coming soon.
A show like this is what you can talk about at an upcoming dinner or cocktail party! (Stay away from politics at the moment…) It's a plot that your friends are not going to believe – and they are not going to believe that it happened in that quaint little theater house in Ghent.
Read the interview with Sam Reilly here.
"Buyers and Cellars": This outrageously funny and irresistible one-man play from the most peculiar of fictitious premises – a struggling L.A. actor takes a job working in Barbra Streisand's Malibu, California basement – makes for some delicious wit and insight on the solitude of celebrity, the love-hate attraction between gay men and divas, and the melancholy that lurks beneath the narcissism.