Ellen D'Arcy Simpson and Jeremy Bullis
Hudson's Second Saturday Gallery Crawl has a long list of galleries open until 8pm this month, click here for more info. There are about twenty-five art galleries around the one mile of Warren, Green and Columbia Streets, making the city of Hudson the art capital of the Hudson Valley.
This Saturday, February 12th, from 5-8pm, stop by D'Arcy Simpson Art Works at 409 Warren Street for the Opening Reception of Looking Up. One of the artists featured is Jeremy Bullis, and his mobiles. Described as "sculptural ballerinas", the moving objects change in the wind and create a different work of art every second. Watch the video above for more information.
Looking Up, this Saturday, 5-8pm at D'Arcy Simpson Artworks features the work of Jeremy Bullis and Michael Simpson.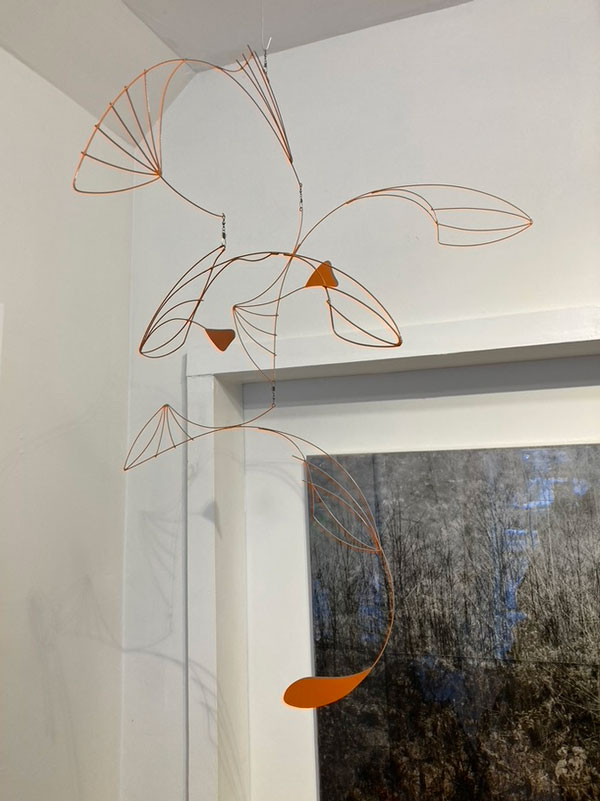 Over the past several months, Second Saturday – Hudson Gallery Crawl has organized an artistic community in Hudson. D'Arcy Simpson Art Works, throughout 2022, will feature nine local artists who inspire, and offer hope and change for the future – reminding us that art can be transformative.