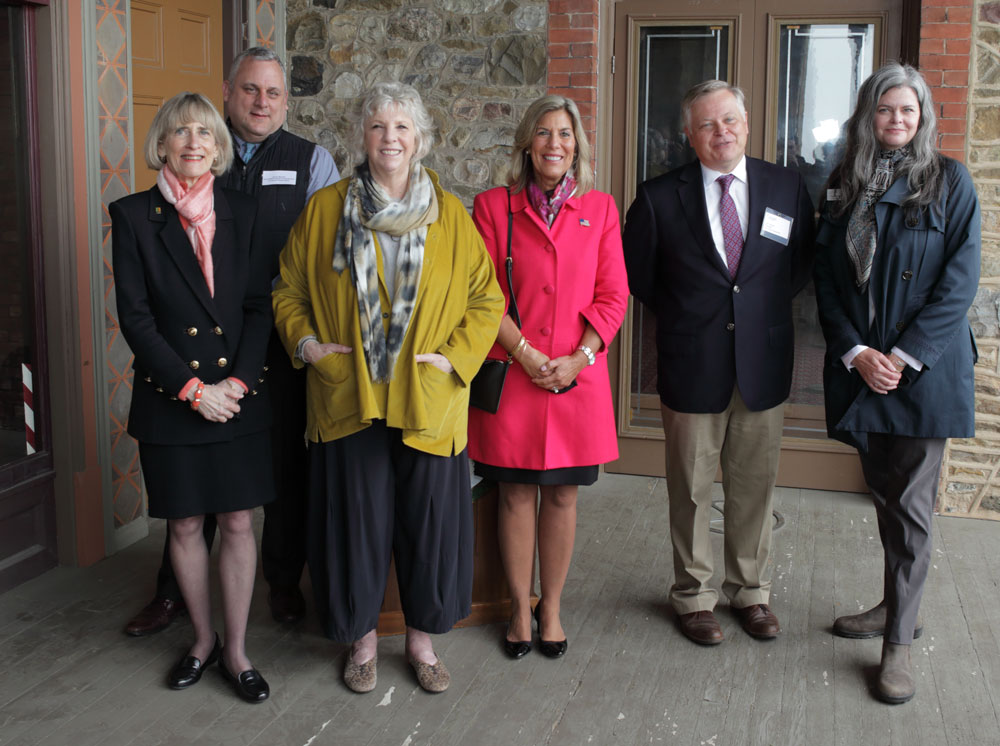 Left to right: Dr. Carlee Drummer, President, Columbia – Greene Community College; Daniel MacKay, Deputy Commissioner for Historic Preservation at New York State Office of Parks, Recreation & Historic Preservation; Assembly member Didi Barrett, Senator Daphne Jordan; Dr. Sean Sawyer, Washburn and Susan Oberwager President, The Olana Partnership; Amy Hausmann, Director, Olana State Historic Site
On Frederic Church's birthday, Tuesday, May 4th, the Olana Partnership, the Columbia-Greene Community College, and local politicians, announced a new program to provide workforce development opportunities for students enrolled in C-GCC's business, art, and environmental science classes and those interested in gaining work experience related to their course of study at a vital cultural and historic institution
The program is designed to give local residents the real-world education they need to help them start careers in the area. Sean Sawyer, President of the Olana Partnership noted, "I grew up in northern Vermont – a very beautiful place – but with few job opportunities." The program is designed for Columbia County residents to "stay here and come back here."
Students enrolled in C-GCC's business, art, and environmental sciences classes will be invited to engage with Olana year-round through class visits with Olana staff during the fall semester, a corresponding honors project during the spring, and paid internship and/or employment experience in the summer. Through this tiered internship and work development program, students will be given the opportunity to engage with Olana over the course of a full academic year and sustain engagement with the site through their specific course of study.
From State Assemblywoman Didi Barrett: "The Hudson Valley has an abundance of old homes and historic buildings — both public and private — and I have long encouraged our local community colleges to develop programs to train the next generation of preservationists to work at and on these historic sites. Given their own shared history, I am especially delighted to see Columbia-Greene Community College and the Olana State Historic Site partnering on a new workforce development initiative for students interested in business, arts, and environmental science with internship opportunities at Olana. This will prepare students for real jobs in the for profit and not for profit sector that are critical to the local economy and will encourage them to stay rooted here in our beautiful Hudson Valley region."
---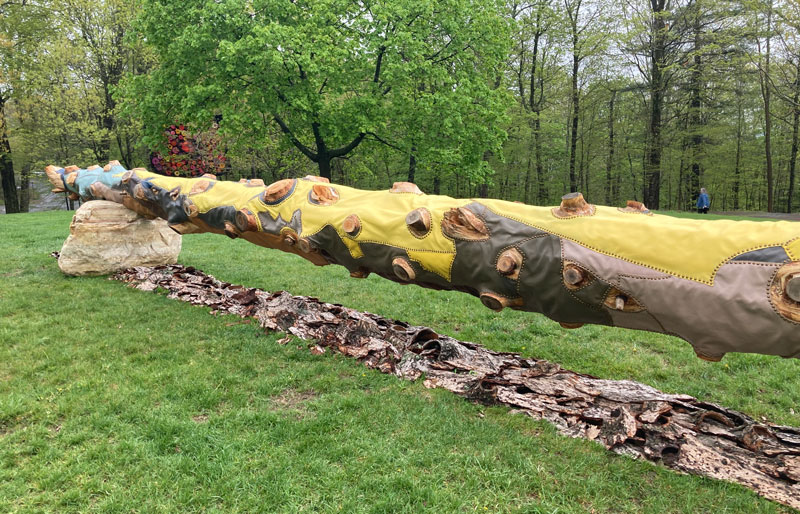 If you have not been to Olana recently, then you must see the exhibit, "Fallen" by Jean Shin. This hemlock tree was about 140 years old when it died of natural causes. It was planted by Frederic Church, after he watched the destruction of hemlock trees across the river in the Catskill mountains. The tannins in the hemlock's bark made it essential in leather production which lead to massive deforestation. For this art installation, the bark was ceremoniously removed from the tree and placed underneath, as if shedding its skin. The tree was then covered in leather scraps.
If you have not read it yet, here's the link to the New York Times story regarding the art installation, also, here's the link to the WAMC interview with the artist, Jean Shin. You can hear it here.