I've been doing it wrong all these years. For fifteen years, in the City of Hudson I've planned parties, game nights, shows, parades, bed races, polar plunges, you name it. Some have been successful, some, not so much. There were many nights that I *waited* to get into drag to see if anyone was going to show up for an evening of 70s TV Match Game questions. (well, my maquillage only takes a few minutes, so no big whoop.)
From now on, forget it. I'm not even going to bother putting on a wig and lipstick (poorly), because if you want a packed room in this town, then bring in Carl Whitbeck to talk about whaling!
That's right! It was standing room only at the Hudson Area Library this past Thursday. There was a line out the door. I have not seen a line this long in Hudson since the funnel cake line at Flag Day. Friends of mine looked at the line to get into the Library, sighed, and said to themselves disappointedly, shaking their fist in the air, "Why? Why didn't I get here sooner?!?"
Sponsored by the DAR (Daughters of the American Revolution) and the Hudson Area Library, the event, Hudson and Its Whaling Roots, filled the room with over 140 people.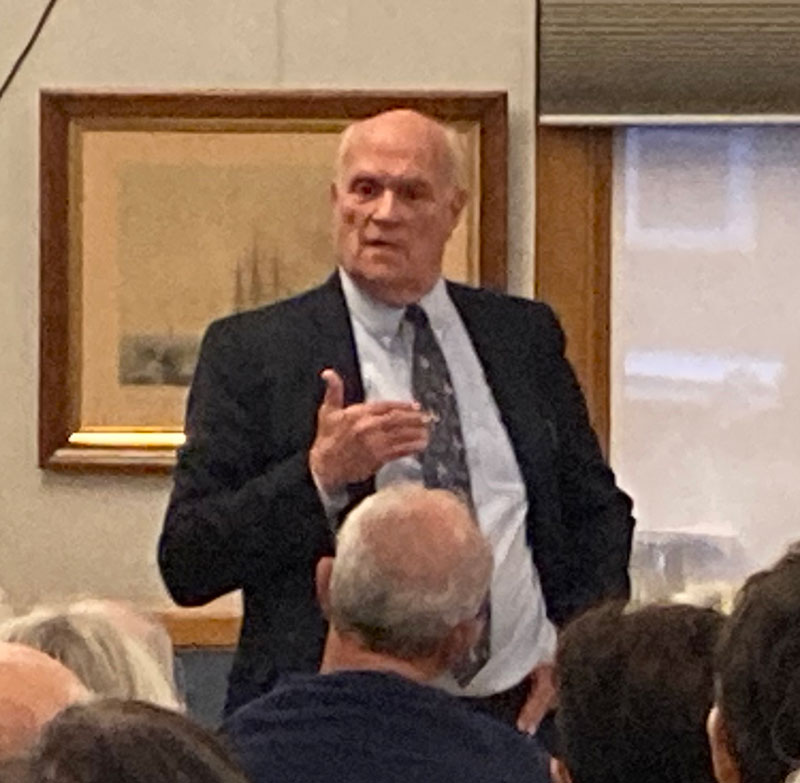 Carl Whitbeck, grew up in Columbia County. His grandfather spoke Dutch at home, and his great great uncle was the local painter, Sanford Gifford. He presented one of the first maps of Hudson, from 1829, which still included Greenport and parts of Stottville.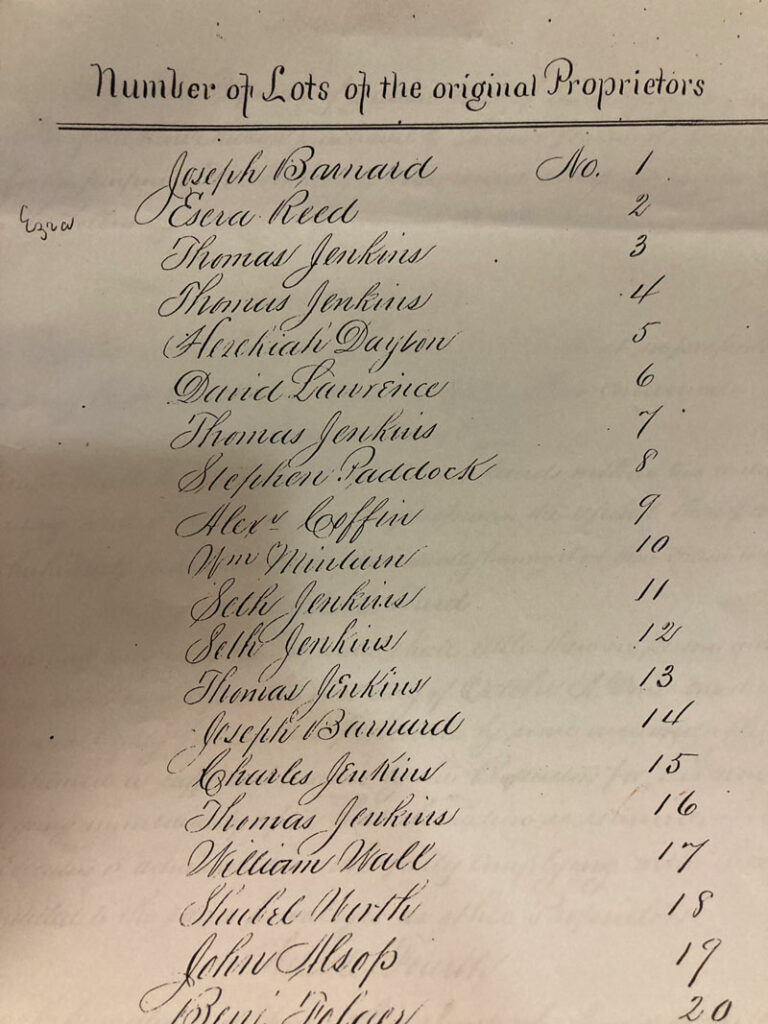 When the American Revolution ended at the Battle of Yorktown 1781, and after the Peace Treaty of Paris was signed in 1783, a few Quakers from Nantucket traveled to Claverack Landing and decided to buy the land we now know as the City of Hudson. Others traveled north to Easton in Washington County, New York. Carl mentioned that there were only a small handful of homes here already, and fewer, if any indigenous people. The Quakers did have pre-fab homes that they brought with them. Some of these homes still exist throughout Hudson (and I like to count mine as one of them, at least I like to think that).
Why Claverack Landing? At the time, it was one of the furthest points up the Hudson River, and if the British were going to travel up the river and invade us, again, the fort at West Point offered protection.
The Quakers were merchants; they built ships and traded goods with farmers in the Hudson Valley, western Massachusetts, and New York City.
The City of Hudson was quickly incorporated in 1785 and expanded to 4th Street. Martin van Buren had a law office by the County Court House. During Martin van Buren's time, in one of the local elections, there were about 700 votes cast in the City of Hudson. This was significant for a City of only a few thousand residents, since, at the time, only white male landowners could vote.
There were so many small, interesting Hudson factoids during this event, that if you can remember some of them, you will the center of any Hudson cocktail party.
Here's a few: did you know that not only did Hudsonians build ships, but they built parts for ships, such as rope. Hemp was grown locally, and then strung together – in ROPE ALLEY!
Looking out over Promenade Hill over the Catskill mountains, the hills used to be filled with hemlock trees. Those trees were mostly chopped down for tanneries and glove-making. Artist Jean Shin had a recent exhibit at the Olana State Historic Site, with a fallen hemlock tree.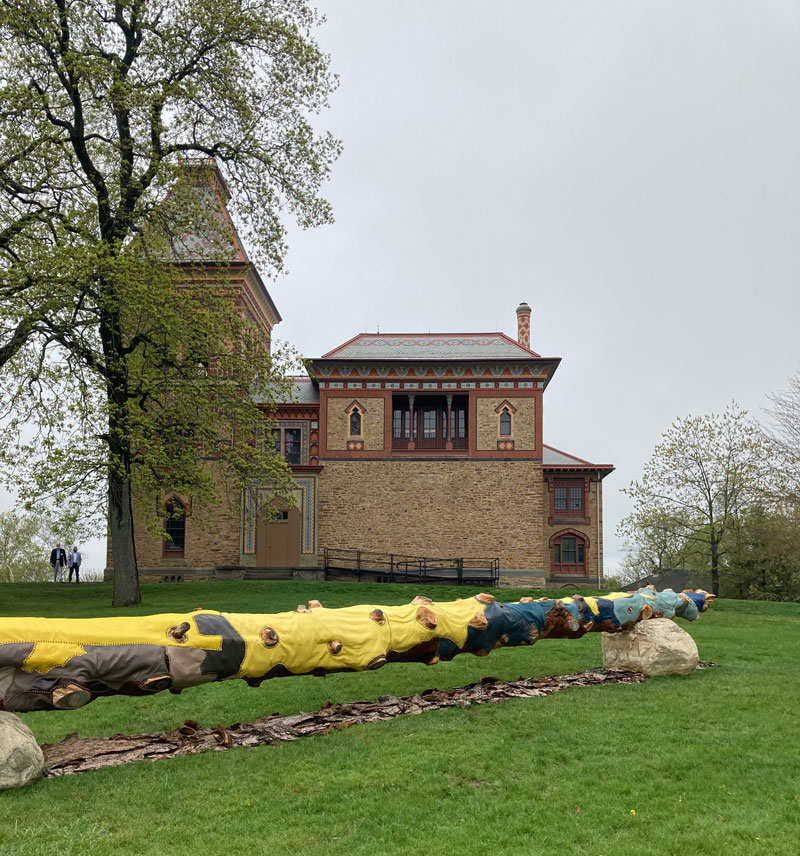 The DAR building was the FIRST Hudson free library, and they donated thousands of volumes of books to start the Hudson Area Library, which used to be on State Street.
When I left the Library, I thought to myself, 'Trix, you need to start a new drag persona, with a whale theme.' AHOY! Ms. Salty Balene! I'll find myself a whale-bone corset, a whale-patterned muumuu, and give tours on Rope Alley. Maybe not, better leave it to the professionals.
This event was so popular, I cannot image them not doing another – maybe next time, give the guy a microphone. I have a portable mic that I used to use for Match Game, which I have not used in a while, that I can lend out.