Wintertime pandemic blues?
Don't know what to do?
Come to the Hudson Farmers' Market!
Saturdays
201 Harry Howard Blvd
10am-1pm
The Hudson Farmers' Market is more than just a place to get local produce – it's the "Town Square" – you can see some friends, find out the latest gossip, and buy some apples.
In these winter months, the Hudson Farmers' Market moves (partially) indoors. This year's location is the Elks Lodge at 201 Harry Howard from 10am to 1pm on Saturdays. The previous location was no longer available, and the Elks have been very accommodating!
There's plenty of parking next door at Hudson High School.
For anyone who hasn't been to the Winter Market, you'll find it is different than summertime market. You may not be able to find tomatoes or berries, but some of the local farmers (such as Blue Star Farms) have greenhouses that produce fresh greens all year long! The apples from Samascott are from the fall, but they are kept in cold storage and are still better than the apples that you'll find in the major chain grocery stores.
Mushrooms are grown year-round, in the dark. There are plenty of root vegetables, eggs, cheese, fish, meat, and baked goods!
How is the Farmers' Market different than a supermarket? At the Farmers' Market, you're meeting the PRODUCERS of the products you buy.
The Hudson Farmers' Market takes necessary precautions during COVID. There's a maximum of fifty people allowed inside the space and everyone must wear masks.
Here are some photo from the last market. I made them pose and wave.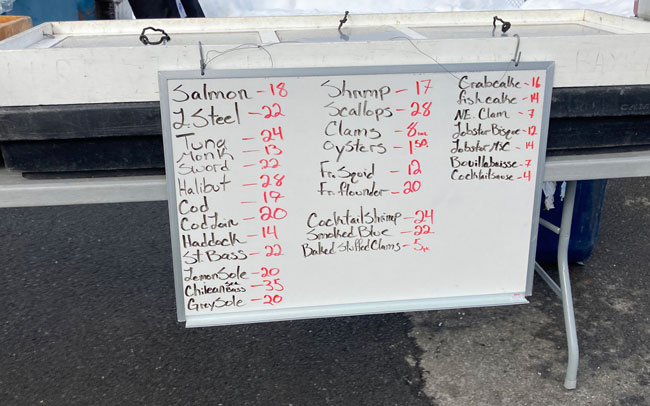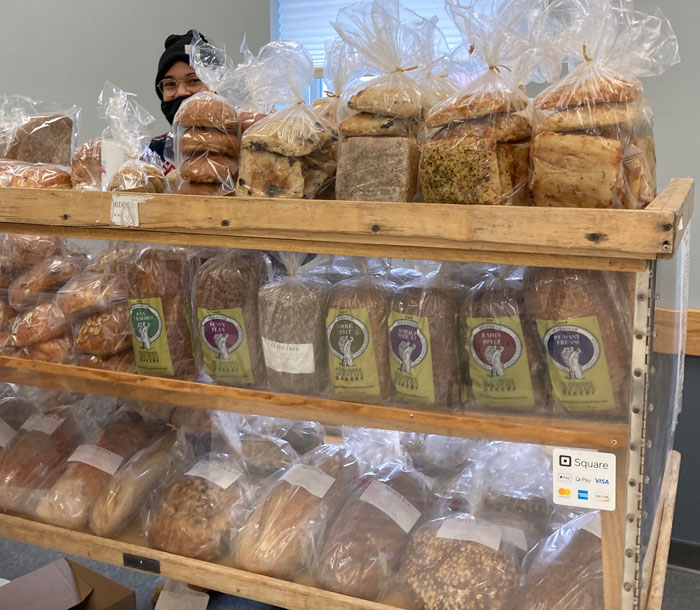 Berkshire Mountain Bakery – locally-baked breads
The sesame seed loaves are amazing!
They are the real deal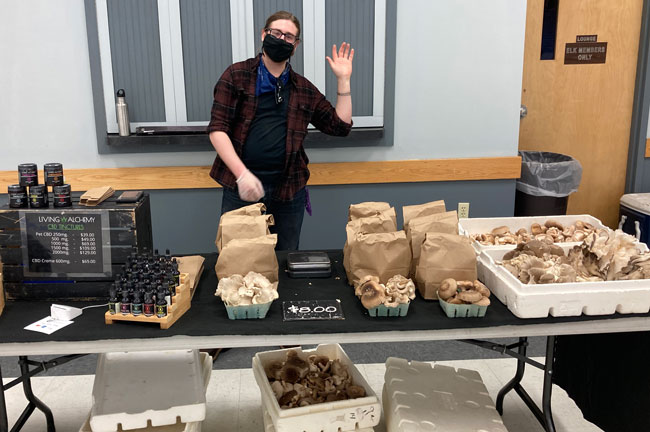 Mushrooms – he's really a FUN GUY!
(I couldn't resist…)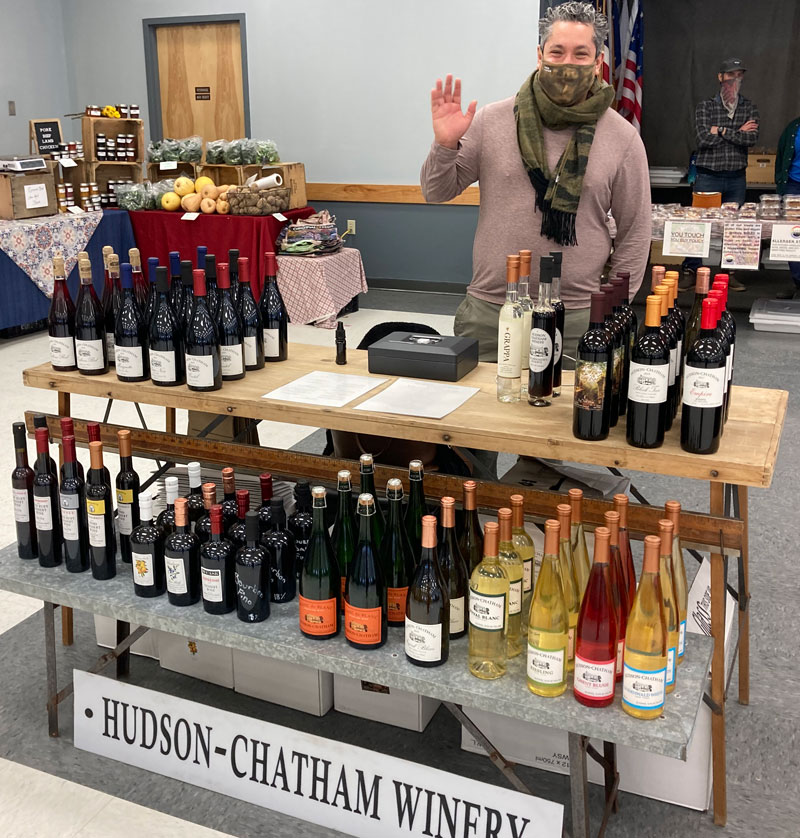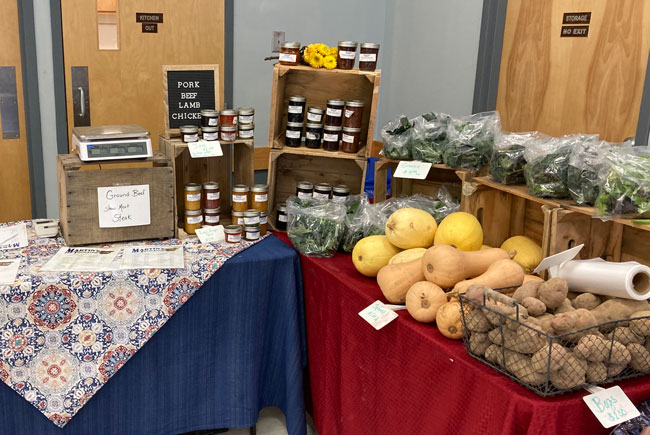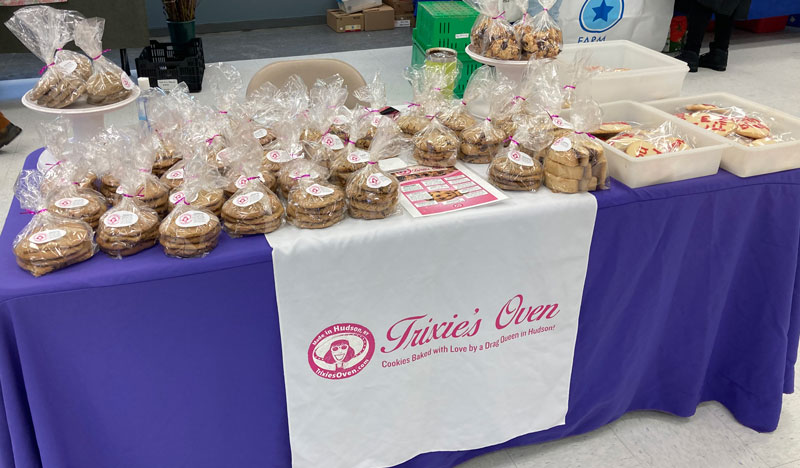 Come and Visit me at the Trixie's Oven table!
Cookies baked at home, from scratch, that morning!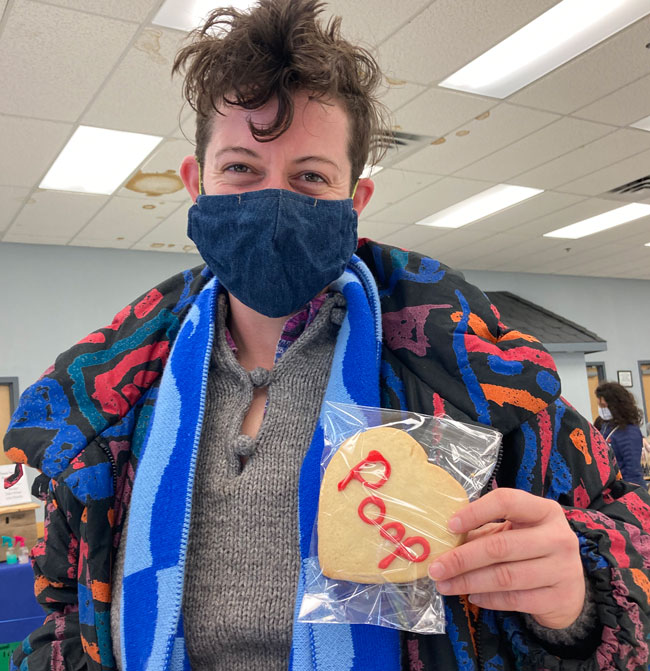 Don't be a poop! Come to the market on Saturday mornings!
At the end of the market, whatever is left, the vendors will sometimes barter – as if we lived in a medieval village.