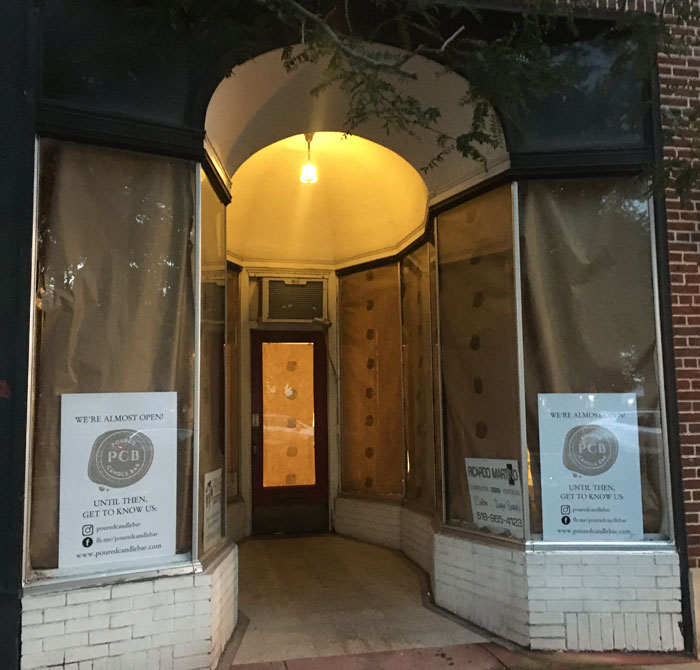 Usually, I like to report on openings in Hudson. Well, this is an ALMOST opening in Hudson. PouredCandleBar is at 711 Warren almost open! They are open (ish) this Labor Day weekend. Their products are designed around the City of Hudson.
The candle boxes are beautiful! They open up into a map of Warren Street. They are the perfect house gift or souvenir.
You'll be able to pour your own eco-friendly and vegan candle while having a glass of wine. FABULOUS!
Inside the box is a little history of Hudson: "An electric upstate community that sits above the river that bears the same name. Settled by seafaring Quakers in the 18th century, Hudson almost became the capital of New York State, losing only by one vote in the legislature…"
Why take it from me? Here's their description:
Poured Candle Bar will be a hybrid retail experience that allows the customers to be the creators of their own unique, custom scent-blended, hand-poured candles, reed diffusers, and room sprays. To enhance their experience, customers will be able to sip on New York State wines and beers and enjoy local snacks and confections.
The history and essence of Hudson are central to our story and products. In addition to creating ones custom-blended candles, our Signature Home Series will be available for purchase in-store and online. This series features eight original blended scents culled from Hudson's history, geography, (and a little folklore!) that will tell a story about each fragrance and its origins. Customers can explore these origins within minutes of leaving the shop. One could rediscover the Diamond Street Red Light District with "The Madame's Boudoir" or take in a breathtaking view of "Kamp Kaaterskill" with an ascent to "Olana Overture." Or even head down "Prison Alley" to the riverbank to speculate the mysteries of "Middle Ground Flats." If you came into town by "The Iron Horse" you will likely have to "Warren Street Wayfare" yourself to a local Inn or rental for a "Twenty Years Sleep." We will let you decide which option is best for you but will be happy to share the information behind each name.
We're planning to officially be open Early Fall. Until then, we're having a PCB Parlor Preview for the next few weekends leading up to our opening. We'll be selling our Signature Home Series candles, reed diffusers, and cozies in our vestibule at 711 Warren St.
You can visit www.pouredcandlebar.com for more information. Also, follow us on Facebook: Poured Candle Bar and Instagram: Poured Candle Bar to learn a bit more about us, and when we'll be open!
We hope to see you this weekend!