For the Week of: October 7 – 13, 2023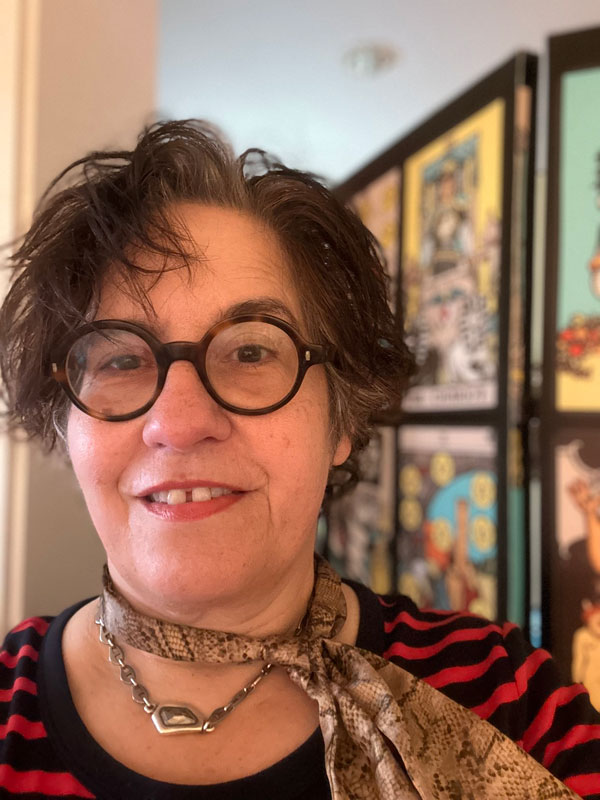 I include a meditative exercise for each sign called "Jill's Quantum Jump." Here's what to do: find a quiet place, close your eyes, and use this hypnotic suggestion to imagine yourself embodying a parallel version of yourself for a couple of minutes. Take pleasure in the feelings that arise. Continue playing this game throughout the week. Make notes on what arises. –JD
Aries (March 21–April 19) Archetype: The Warrior
On Sunday, Venus moves into your house of health and daily work. This is a time to make your workspace more beautiful and inspiring, and to organize yourself like a Virgo–I mean like a boss! And speaking of bosses, fellow Aries Diana Ross once said, "It takes a long time to become a diva." With that in mind, don't hesitate to pick out a new outfit and aim for feeling more fabulous. Treat your body like a lover. (Well, not just in the obv way!) Do what makes you feel more attractive, healthier, and more alive in your corporeal self.
Jill's Quantum Jump: Walk and talk as your ideal self; how does that make you feel physically?
Taurus (April 20–May 20) Archetype: The Builder
Mercury, planet of communication, moves into your Venusian sibling Libra on Sunday. In the Tarot, The Empress is ruled by Venus, and everyone loves this Goddess. The only thing (symbolically) she can't do is leave the home. However, as noted in the Thoth Tarot deck version of this card, she is connected to the Kabbalistic letter Dalet, which means door. What to do with this esoteric intel so your head doesn't spin? Silently repeat this rhyme: Door = Lure. You don't need to say or do much this week; just be the lure that draws people through your threshold.
Jill's Quantum Jump: What is the way you truly want to be seen and understood by others? Enter that persona.
Gemini (May 21–June 20) Archetype: The Communicator
The Sun and Venus in fellow air sign Libra make this a great week to use your wizardly wits and create something brilliant and innovative. It could just be the very beginning of a mentally stimulating project, or the culmination of your life's work. Get thee to your la-BOR-atory and find out. In Kabbalistic tradition, air is associated with the first Hebrew letter Aleph, representative of the tiniest element possessing the All and vice versa. Too heady? Hightail it to Spotty Dog Books & Ale and grab the philosophical book that speaks to you first.
Jill's Quantum Jump: Create a super-genius alter ego and embody this persona.
Cancer (June 21–July 22) Archetype: The Caretaker
It's a big week for cardinal sign activity. This weekend we have the moon in Cancer; the Sun and Mercury transit Libra; and Capricorn is a big headliner. On Tues, Pluto, planet of self-transformation goes direct in Capricorn after five months in retrograde. The effects are gradual, but if ever there was a time to find your north star it's now. Of the seven universal laws, the first – the law of mentalism – most mirrors cardinal energy. This law states, "all is mental." Peruse and purchase esoteric material at Time & Space Limited for inspiration.
Jill's Quantum Jump: Identify a strong intention and match it with an elevated emotion (joy, gratitude, passion, etc.)
Leo (July 23–August 22) Archetype: The Leader
The moon will be in Leo at the beginning of the week, and you could feel especially magnanimous. Your ability to empathize endears you to the few and the many. The key though is to support and show your loved ones the way, but don't do the work for them. The moon is associated with the Kabbalistic letter Gimmel, one of the seven double letters "growing" on the Tree of Life. These seven letters correspond to the seven chakras, and Gimmel is connected to the third eye. Your ability to see greater truths is strong now. Focus on serving the universe, not just your lazy pals!
Jill's Quantum Jump: Embody the feeling of being an all-powerful God, who uses that power for maximum good.
Virgo (August 23–September 22) Archetype: The Gardener
Venus, planet of love and art moves into your house of money and property on Sunday. Venus is connected to the Kabbalistic letter Dalet, which means doorway. Dalet connects as well to the sacral or root chakra in the body. Taking care of business (cue Bachman Turner Overtime) will help you to open up other areas of your life, including art, romance, and a beautiful lifestyle. When in doubt, nature will guide you in the specific direction you need. So tally-ho to Art Omi, for the greenery and the art to receive the answers.
Jill's Quantum Jump: Put words aside and embody the spirit of a symbol you connect to.
Libra (September 23–October 22) Archetype: The Artist
Your sign is associated with beauty and harmony, and with the Sun and Mercury in Libra (along with the moon at week's end), it's time to put away tedious matters and luxuriate in loveliness! Kabbalistically speaking, the sphere on the Tree of Life known as Tiferet is symbolic of beauty and harmony, and it is located in the center of the Tree. Could your incessant people-pleasing be an area of tedium you've been overlooking? Break the habit, and get thee The Maker for a scent or a candle that speaks to you and you alone. Play Masseduction by fellow Libra St. Vincent for inspo as you enter the scene.
Jill's Quantum Jump: Imagine someone pleasing you on a soul level; what would that feel like?
Scorpio (October 23–November 21) Archetype: The Shaman
Venus enters Virgo and moves into your house of friends and community on Sunday, Scorpio beckoning you to get out and mingle. Circle 46 Gallery premieres its Gothic Animals group show tonight, so perhaps you will make an appearance. How Scorpionic, si? The Venus shift is also connected to Hexagram 62 in the I-Ching, called "Preponderance of the Small." This image in the Book of Changes represents the promise of a small good deed. Surrounded by people, you will have many opportunities to make good on this promise.
Jill's Quantum Jump: Connect to the friends who love you and see yourself through their eyes.
Sagittarius (November 22–December 21) Archetype: The Traveler
The biggest news of the week is Pluto, planet of self-transformation, shifting direct in Capricorn on Tuesday after five months in retrograde. This takes place in your house of money, making it a good time to face your deep dark shame in this area, make a positive change, let go of guilt and truly move on. When you feel more neutral about money, you know you will have reached your destination. This week is all about taking the first step. That being said, use the weekend or Monday to relax over cocktails and aps at Backbar. You're still a lighthearted Sag, after all!
Jill's Quantum Jump: Create a better story around money, and evolve into a new character for you to play.
Capricorn (December 22–January 19) Archetype: The Organizer
Pluto in your sign finally moves out of retrograde (after five months in limbo) in your sign on Tuesday. Shift from victim to victor and don't make it into a drama – unless you want more drama! Sorry to be hard-ass but that's how Pluto is and that's what Capricorns are like too! It will feel so great to take the eeeassy way for once. For help, get thee to the Quiet Botanist, or a local herbalist for a bit of lobelia, the herb associated with the Tarot card Pan. It helps to open up constrained chi, and wards off asthma. Take a deep breath and begin …
Jill's Quantum Jump: If you had no shame, how would you feel?
Aquarius (January 20–February 18) Archetype: The Visionary
With the Sun and Mercury in your house of creativity you are apt to happen upon some great imaginings when you least expect to. Aquarian Lewis Carroll once said, "If you don't know where you are going, any road will get you there." So why not plan less and meander more, tiny Alice? The Bodhi tree is most akin to the Archetype Aquarius, so if you really need some direction, get ye a crystal recommendation at Bodhi Spa and find a Bodhi-vibing tree to sit under with your journal and an open mind.
Jill's Quantum Jump: If you were a stone what would you feel like bathing at water's edge?
Pisces (February 19-March 20) Archetype: The Dreamer
Venus, the planet of love moves into your house of relationships on Sunday making this a sultry week, either in real life or your imagination (or both!) The key to feeling good about yourself and attracting others is to tune into the parts of your nature and your body that feel the sexiest to you. Pick up a lovely piece of clothing at Marine Pavern to build your new character from the outside-in. So much of this time is about taking a leap of faith and knowing that you will happen upon a grander new you if you just believe.
Jill's Quantum Jump: Connect to a song that makes you feel romantic about life and imagine you are floating inside the notes and words.
Jill Dearman
O.G. Astrologer Jill Dearman is the author of Queer Astrology for Men and Queer Astrology for Women, the crime novels Jazzed, The Uncanny Case of Gilles/Jeannette (set in Hudson), and many other books. She analyzed the city of Hudson's chart for Chronogram. Jill is also a PT Prof. of Writing at NYU. If you are interested in learning more about your chart, visit www.jilldearman.com.
My services and guidance do not constitute or replace, and should not be construed as financial, legal, medical, psychiatric, psychological, or any other type of professional advice on any subject matter. If you require such advice, please consult a licensed professional. Bada-Bing!