Hudson, when was the last time you went to Chatham for dinner? However often you went, you are now going to go more frequently with the opening of Bimi's Canteen at 19 Main Street in Chatham, right next to their cheese shop. Bimi's new restaurant is a game changer for the Village of Chatham, and the place in Columbia County to see and be seen. Bimi's Canteen sets the bar at a new level (literally and figuratively) with a sit-down table service restaurant at street level, and a speakeasy below.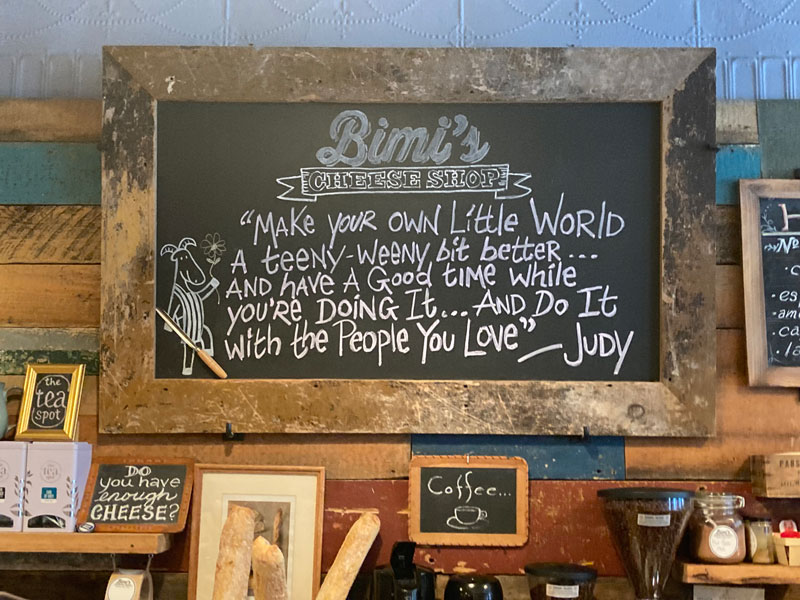 "Bimi" is the name owner Ellen Waggett's mother – the name her grandchildren call her. Bimi loved to buy cheese and wine, and understood value and how to "make the numbers work". "Bimi gave me and MBA over wine and goldfish," says co-owner Christopher Landy.
Ellen and Chris are the unlikely founders of Bimi's Cheese Shop, Canteen, and Bar. Theatrical designers by training, the couple designs major television shows and events through their company Vibrant Design. They have raised their two children shuttling between Brooklyn and Columbia County, and have called Austerlitz their home for 18 years. They are robustly committed to both preserving and revitalizing Columbia County through hard work and thoughtful investment in the area. They take on projects others wouldn't dream of, but their confidence in their own tenacity and creativity have a proven track record of success.

Ellen is currently the production designer of The Amber Ruffin Show and Late Night with Seth Meyers. Her credits include numerous shows for Food Network- most notably Chopped. She designed Colbert's Christmas Special (for which she was nominated for an Emmy), sitcoms Whoopi, Hope and Faith, and Sherri, and spent years as the art director for movies, sitcoms, and episodic television shows.

Chris is an Emmy award-winning lighting designer whose credits and clients include Oprah Winfrey, The Tonight Show, John Oliver, Comedy Central, Food Network, Netflix, and MTV.
I had the opportunity to sit with the shop owners and sample their new Bimi's Canteen menu. It is phenomenal! My brother and I often joke about restaurants that advertise – We treat you like family!
Yeah, we'll never eat there. Like family? What are we going to do? Argue about politics for two hours? Listen to someone's latest surgery in intimate detail? No.
Bimi's owners treat you better than (some) family! They are friendly, down-to-earth, and they understand that if their place is going to be successful, they have to be popular with tourists AND locals.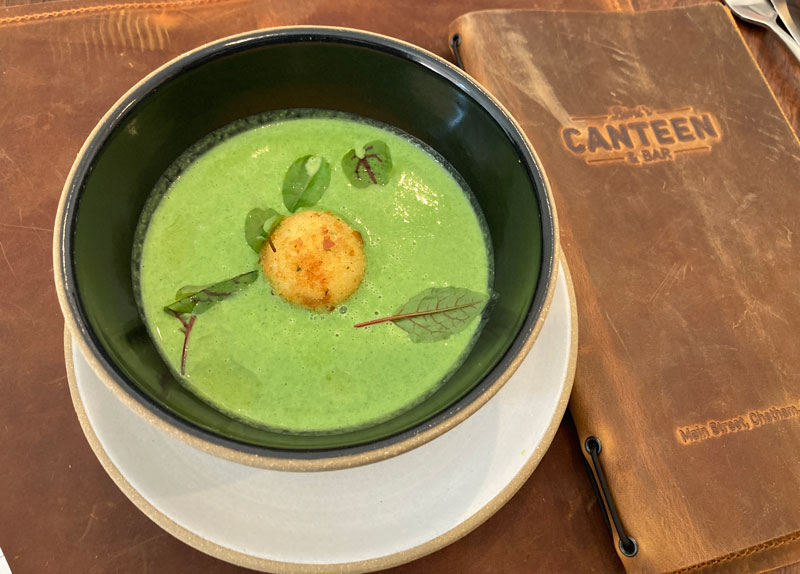 I went there thinking that I was going to a standard media/press tasting, and I would to have to awkwardly make small talk with my cyberspace "competition".
No. Bimi's staff spent over two hours, just with me. We talked, we laughed, we shared life experiences. I did not know these people when I walked in, but we hugged at the end of the "press event".
It was the best "date" I've had in years!
They made me feel special, and in a casual, authentic way. There was no pretension – they did not pretend to have all the answers or know everything. They want to serve good, local food to their friends, family, neighbors, and community. The executive chef and beverage director introduced themselves and explained how everything was prepared. There's a connection. Bimi's has a connection to their staff, local food producers, and their community. That's their goal. What a joy!
Josh Kelly, Executive Chef

Josh's culinary journey began in Chatham, where he was raised on scratch cooking, sourced either from the family gardens and barns or local farms. Josh's first dip into professional food service was with local chef Tom Carlucci, catering hundreds of weddings and events throughout Eastern New York. He received formal culinary education at Johnson & Wales in Rhode Island, followed by the exceptionally progressive training program at Whole Foods Market, where he rose to department General Manager. For the past five years, he has been the culinary director for a restaurant proprietor in Colorado Springs, working as executive chef and project manager for six successful restaurants of various styles.

Josh is excited to come home to the Hudson Valley to join the team at Bimi's. For the past two years, he has been integral in the conceptual development of Canteen, while also expanding the menu at the already-successful cheese shop, and overseeing Bimi's Cafe in Hancock Massachusetts. He shares our vision of expansion to a variety of other projects after this successful launch.
Bimi's Canteen will serve fondue during the wintertime. I can't wait! It's now June. They have me looking forward to winter in upstate New York, just so I can try their fondue! Melted cheese and bread? Put a stick in me and dip me in!
Andrey Matseyev, Beverage Director
Russian-born Andrey Matseyev immigrated to the US in the late 90's, and dove immediately into hospitality. In 2016, he was hired to bartend at NYC's highly esteemed Restaurant Daniel alongside head bartender Marcie Andersen and chef Daniel Boulud. With Covid layoffs at the restaurant in 2020, Andrey was given the opportunity to head up the bar program at the Cafe Boulud at the Blantyre Hotel in Lenox, Massachusetts. He fell in love with the Berkshires and its people and in 2021 his wife and he decided to make it their home. Since then, he has been involved with several projects including bar design and the development of a full beverage program for Winbrooke, an events venue mansion in Tyringham, Massachusetts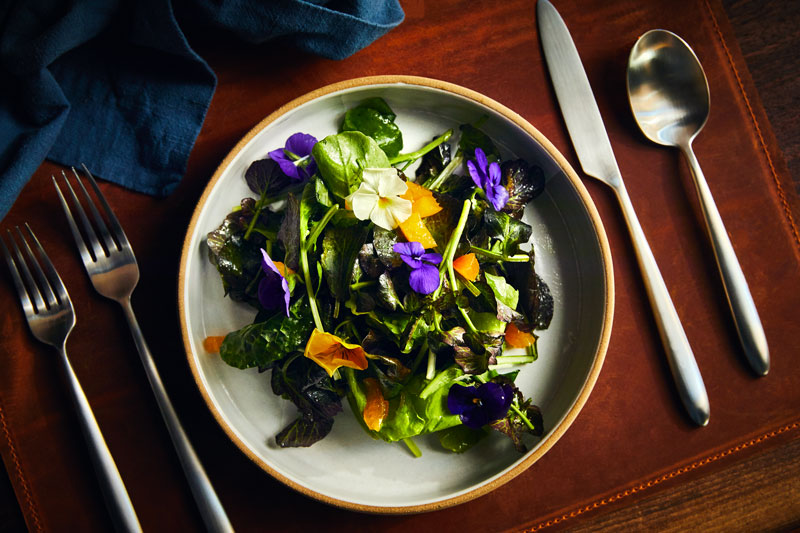 I plan on bringing a real date to Bimi's Canteen. It's a casual, yet upscale place that is perfect for birthdays, dinner right before a MacHaydn musical, or any occasion. It makes the evening a little more special. A dinner at Bimi's Canteen shows you care.
Plus, if you bring a date to Bimi's Canteen, and it doesn't work out….then you know it's you, or them, because it's not the place. If they're not impressed by Bimi's Canteen, then do not date them. Walk away. Find someone else who appreciates good, local food. You cannot spend the rest of your life with that person!
Even if you have bad date at Bimi's Canteen, you still had dinner at Bimi's Canteen, so, it's a win.
Tell Bimi's Trixie sent you! Make your reservation on Resy.com, here.
Hours of Operation
Bimi's Canteen- 5pm-10pm Thursday through Monday
Bimi's Bar- 5pm-10pm Thursday through Monday
Bimi's Cheese Shop- M-F 9a-5p, Sat 10:30a-5p, Sun 10:30a-3p