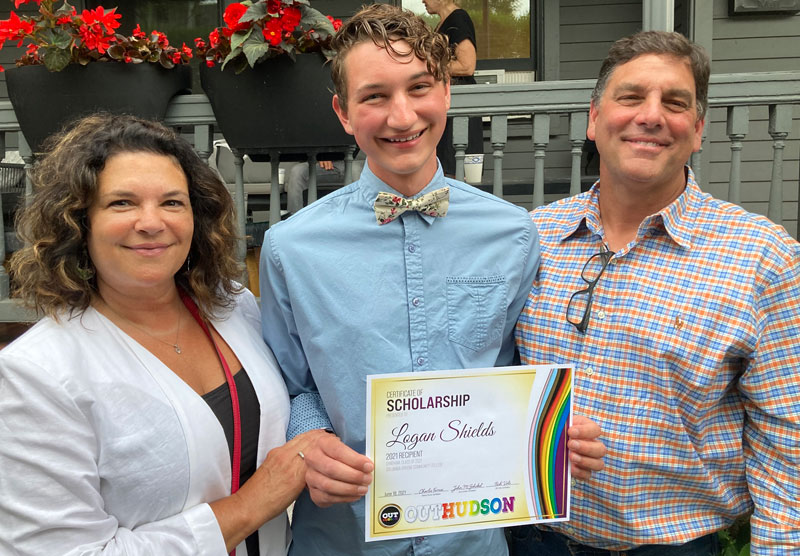 Logan Shields (center) and parents accepting the 2021 OutHudson Scholarship Award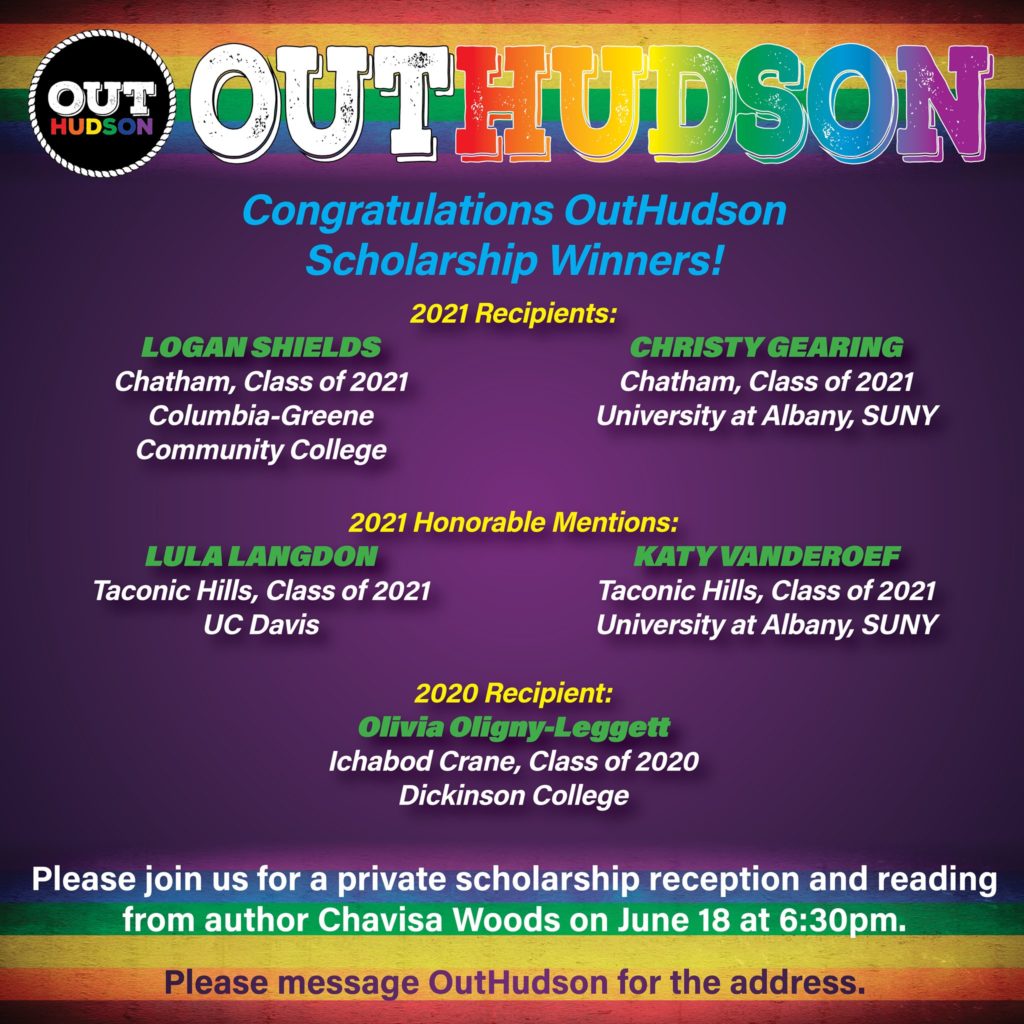 HUDSON, NY: OutHudson, a 501(c)(3) organization whose mission is to improve the quality of life and advance the visibility of LGBTQ people in Columbia County, announced today it would be providing five scholarships to support local youth planning to attend college in Fall 2021. The OutHudson Scholarships are for $1,000 annually, and OutHudson is committed to supporting them for up to four years, provided that the individual maintains a sufficient grade point average. In 2021, OutHudson is also offering two one-time grants of $500 for honorable mentions for the first time. This is in addition to the second-year scholarship provided as an ongoing benefit to the 2020 recipient. The recipients are listed below:
Logan Shields (Chatham, Class of 2021), Columbia-Greene Community College
Christy Gearing (Chatham, Class of 2021), University at Albany, SUNY
Olivia Oligny-Leggett (Ichabod Crane, Class of 2020), Dickinson College
Lula Langdon (Taconic Hills, Class of 2021), UC Davis (Honorable Mention)
Katy Vanderoef (Taconic Hills, Class of 2021), University at Albany, SUNY (Honorable Mention)
John Schobel, OutHudson Director, commented on the increase in awards, stating: "We had an enormous response to our call for scholarship applications, and are thrilled, particularly this year, to be able to offer a record number of scholarship opportunities. Supporting the advancement of LGBTQ youth and allies is just part of our mission, but one of the most tangible aspects of the work OutHudson does."
Charlie Ferrusi, OutHudson Director, was the first recipient of the scholarship in 2010. He commented, "We were amazed by the number of qualified applicants, which showcases the increasing number of openly LGBTQ youth and allies in Columbia County who are committed to supporting our community. We are so honored to invest and uplift a new wave of local LGBTQ leaders."
The scholarships will be presented by OutHudson Co-Founder Rich "Trixie" Volo on Friday, June 18, at a private event. In addition, the event will host a reading by author Chavisa Woods, who will read from her most recent collection of fiction, Things to Do When Your Goth in the Country. Lambda Literary said of this book: "I can't think of any other book that captures the essence of America the way this collection does." Booklist called it "Tight, intelligent, important, and sure to secure Woods a seat in the pantheon of critical twenty-first-century voices." For more information on Chavisa Woods, please visit chavisawoods.com.
Those interested in attending should message OutHudson on Facebook or Instagram or email charlie@outhudson.com.
Thank you for the ongoing support, and we look forward to celebrating over ten years of LGBTQ Pride in Hudson, NY, throughout June and October 2021.
For more information, please follow OutHudson on Facebook, Instagram (@outhudsonny).