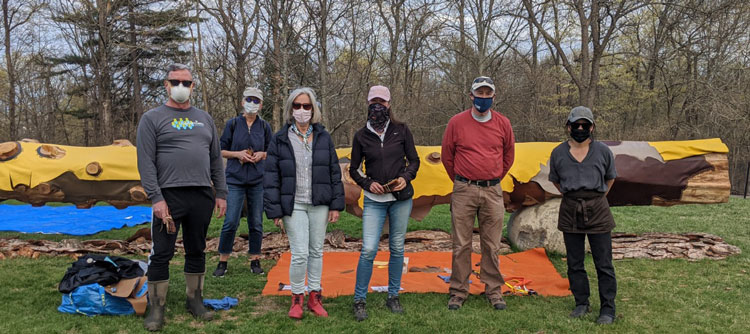 HUDSON, NY – Olana State Historic Site is seeking passionate volunteers to engage with visitors inside Olana's Main House and outdoors in the historic landscape. If you love nature, art, history, and Frederic Church's Olana, volunteering is the perfect way to give back to our community and get involved. Volunteering with The Olana Partnership at Olana provides a great way to immerse yourself in one of the Hudson Valley's most unique cultural treasures and interact with visitors who are looking to learn more about Olana and artist Frederic Church.
There are many opportunities to volunteer depending on your interest and availability. Volunteers welcome visitors and provide basic information, answer questions about Olana and the local community, assist with public programs, special events, administrative tasks, and share history about Olana's rich collections and exhibitions.
"Volunteering at Olana deepened my connection to the local community, the landscape, and the legacy of Church and the Hudson River School," said Mary Fichtner Lawrie, an Olana volunteer. "The staff is innovative, supportive, and extremely knowledgeable, and my fellow volunteers were welcoming and eager to answer any questions I had. And best of all, I am able to connect with a network of visitors and supporters who share my love for the site."
In return for your time, Olana volunteers enjoy free landscape tours, discounts in the Olana Museum Store, invitations to lectures, volunteer field trips and more. Join the movement and meet other volunteers who enjoy learning and sharing their love of Olana and the region. All volunteers will participate in a training program to familiarize themselves with Olana State Historic Site, New York State Parks, The Olana Partnership, and the history of Frederic Church and his family. Our top priority is always the health and well-being of our team, our visitors and our community. Olana State Historic Site adheres to all Centers for Disease Control and Prevention (CDC) and New York State Department of Health (DOH) guidelines.
For more information about joining the Olana family, please contact Margot Isaacs, Membership Director and Volunteer Coordinator, The Olana Partnership, at (518) 751-6857 or email misaacs@olana.org.
About Olana State Historic Site and The Olana Partnership: Olana is the greatest masterwork of Frederic Edwin Church (1826-1900), a preeminent American artist of the mid-19th century and the most important artist's home, studio, and designed landscape in the United States. Church designed Olana as a holistic environment integrating his advanced ideas about art, architecture, landscape design, and environmental conservation. Olana's 250-acre artist-designed landscape with five miles of carriage roads and a Persian-inspired house at its summit embraces unrivaled panoramic views of the Hudson Valley and Catskill Mountains and welcomes more than 170,000 visitors annually. The landscape is open for guided touring, and reservations are highly recommended. The landscape is open daily 8 AM-sunset.
Olana State Historic Site, administered by the New York State Office of Parks, Recreation and Historic Preservation, is a designated National Historic Landmark and one of the most visited sites in the state. The Olana Partnership, a private not-for-profit education corporation, works cooperatively with New York State Parks to support the restoration, conservation, and interpretation of Olana to make accessible to all. The Olana Partnership operates Olana State Historic Site in a cooperative agreement with the New York State Office of Parks, Recreation, and Historic Preservation.