Perfect Ten, a Hudson-based non-profit, helps girls develop the courage and the skills they need for an independent future. On December 17th from 5-6pm, Perfect Ten is hosting a virtual holiday benefit.

Donors will be able to meet the girls and staff of Perfect Ten, as well as watch a streaming musical performances by Tommy Stinson (Replacements and Guns n' Roses) and radio legend Debbi Calton from WMGK 102.9 Philly. The webcast is hosted by Helsinki Hudson.
All ticket purchasers will receive a raffle – a chance to win a holiday tree filled with ornaments created by local artists, pictures below.
About fifty to seventy girls participate in Perfect Ten's programming. Perfect Ten offers classes in baking, jewelry-making, sign language as well as life-skill classes in their "Adulting 101" programs, such as car maintenance, driver's ed, and safer sex education. This virtual benefit will help fund this programming.
Perfect Ten works with local Hudson merchants on Warren Street, providing internships for the girls.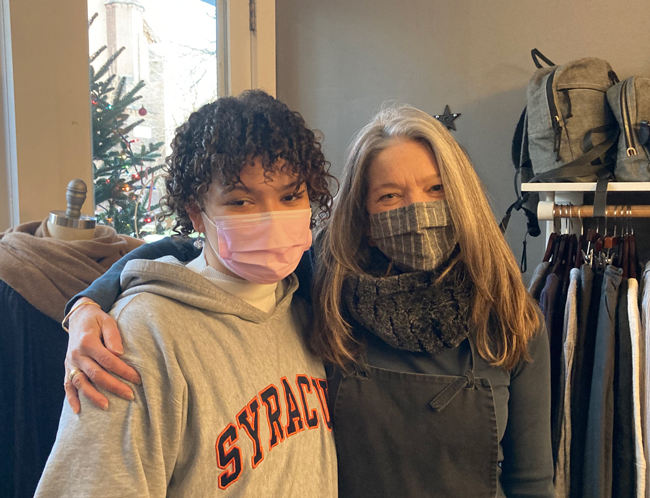 Lillianna Shea-Johnson started with Perfect Ten's internship and works part-time at Hudson Clothier with shop owner, MaryVaughn Williams. Lillianna is a senior in Hudson High School and plans to go to college to study criminal justice.
Organizers of the benefit, Tina Dipper and Whitney ("Spooner") Wilkins, have been working with local artists, creating ornaments for the holiday tree.
The raffle winner receives a holiday tree, donated courtesy of Cold Spring Tree Farm in Hudson. Here's a sample of some of the ornaments in the tree:
For more information, event tickets and raffles, please visit PerfectTen.org.