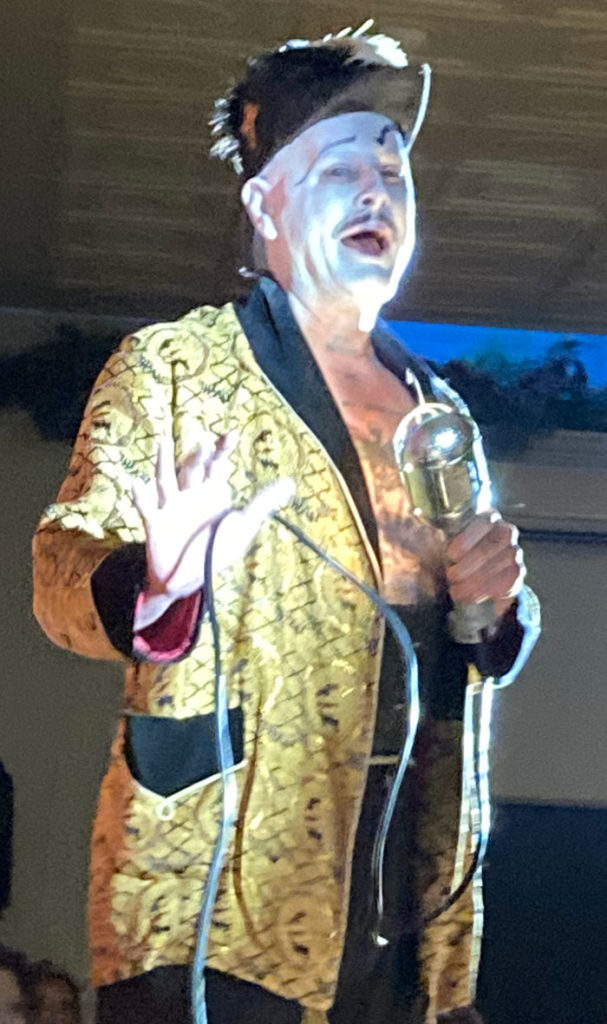 Emcee, Eli Rose of Hellbent, at PCB
I never know what to expect at events.
I'm just happy to leave the house nowadays. I put on my brand new, memory-foam Skechers, for a "fancy" evening out (that's where I'm at, post-pandemic, and post-50). I was light and bouncy, and ready for middle-aged fun! It's a Thursday night in Hudson, at Poured Candle Bar, a place which usually serves wine while you make your own scented candles.
The only candle last night was the one the performer used to pour hot wax on another!
It was a burlesque show with strippers, poetry, and performance art. The theme was "Hell", and all things devilish and demonic.
A woman laid on a bed of nails, while a man with a sledgehammer broke a cinder block on top of her – not something you see in Hudson normally, on a Thursday.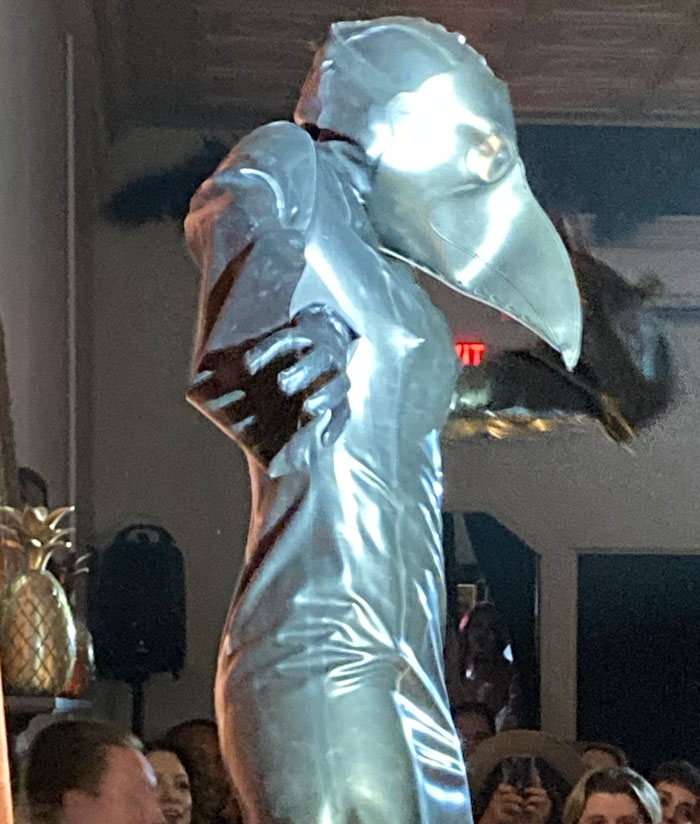 The performers were amazing, however, one of the highlights of the evening was when three random volunteers were asked to "die" on-stage. Their "deaths" were set to music.
The first guy, without missing a beat, pulled off his belt, looped it around his neck, and "died" via auto-erotic asphyxiation. The next performer "died" after having an "orgasm". The third walked up on stage and started eating nuts. That was it. She ate nuts from the bar, and stuffed some in her cleavage. It wasn't until a few of the audience members yelled, "Die already!" that she "died" on stage.
Tough room.
It was an evening of sword-swallowing, boobs, cinder blocks smashed on top of boobs, fake and even, real blood (swords are sharp, ouch) and a ribbon stapled to someone's face.
After all that, there was something much scarier; harder to watch.
Towards the end, the emcee took a handful of glitter and threw it into the room.
I couldn't believe it! I had to turn away.
Cleaning the glitter out of those old floorboards will take forever.