New York State and the City of Hudson are (slowly) beginning to reopen stores, restaurants, and businesses. This weekend is the first of Hudson Shared Summer Streets! I'll be out there asking people what they think – if you want to be interviewed for this website, let me know. There's no shortage of opinions in Hudson!
We miss Vemilo singing at Open Mic at Club Helsinki – soon again, hopefully! Vemilo reminisces about Helsinki in this video.
You may think that there's nothing to do, but, really, there's a lot! Check out Saturday, June 27th, on the TrixiesList.com event calendar (Click on the link, then the day, for instance, Saturday, June 27th. Click on each event for more details.) There are SIX different events – all in one day! (There were SEVEN, one just got postponed.) This is the most events posted for one day on this website! YAY!
Some events are in person – like the Hudson Farmers' Market and the Free Book Day (FREE BOOK DAY POSTPONED) or the Rodney Alan Greenblat exhibit at Hudson Hall.
Some events are virtual, including a Drag Queen Story Time with Joni Magdelene, an event co-sponsored by OutHudson and the Hudson Area Library. I've met Joni/Tim – and they are a treasure! The video is very sweet. It will be uploaded to the Library's site – follow the link in the event.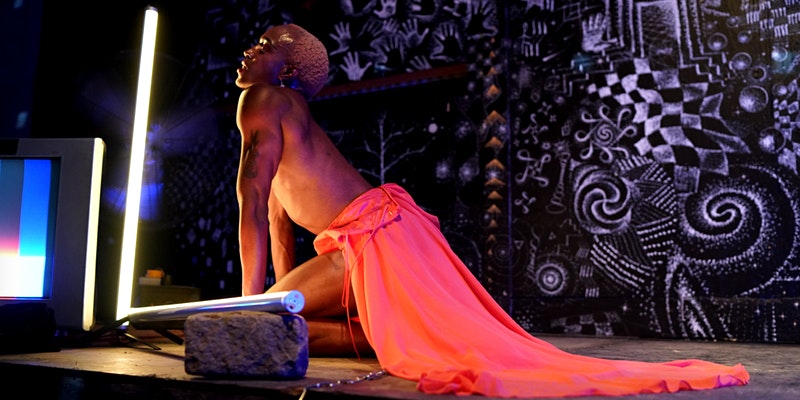 Check out the Goddess Ball with Hudson's own, Davon – Saturday night!
There is such a thing as virtual tipping!
Helsinki's Open Mic still happens every Tuesday night – virtually. I met up with Ryder, who gave me the scoop, and cleansed my aura (well, I think that's what she was doing). Tune in on a Tuesday evening!
Food trucks offer a great way to get good, quick food and eat it outdoors! New TrixiesList writer, Katherine Kim ventures into the VFW parking lot in Ghent for a taste of Moondog's Lobster Roll! (yes, another lobster roll story! The last lobster roll story was very popular – even more popular than my post about the garbage bag vending machine! Who could have predicted that?)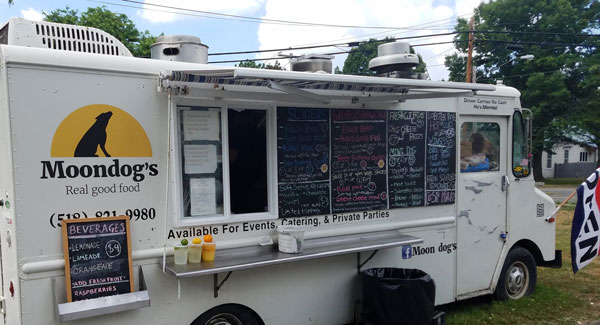 Read Katherine's review here. Moondog's policy is "pay-what-you-can" and during these times, that gesture can help restore your faith in the goodness of humanity. (Remember, "pay-what-you-can" means that if you CAN pay a little more, then pay a little more, to offset the costs to those that maybe cannot.)
While Katherine was eating a lobster roll, I was biking around Columbia County towards a frozen margarita. You may think that eating nachos and a bike ride are two totally different, unrelated acts (or, at least should be).
But why? This is how you can conflate them! Read my blog post on Bike Riding and Burritos. It's an fun trip, right out of town.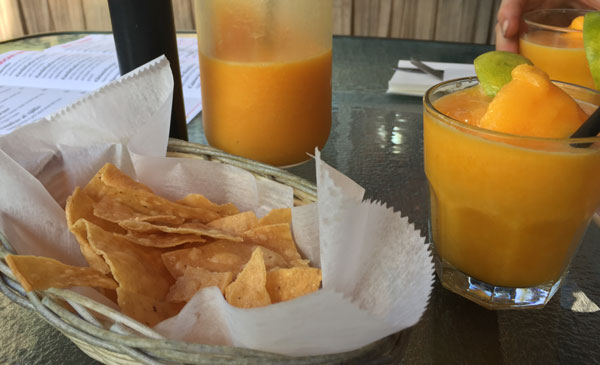 Sidenote, I think that the story, Bike Ride and Burritos, is a good example of the word, CONFLATE. I try not to CONFUSE "combine", "confuse", and "conflate". In Bike Ride and Burritos, I am CONFLATING the two acts – one after another – fusing them together, but still separate things. COMBINING the two would suggest that I'm eating a burrito WHILE bike-riding. CONFUSING would mean that I couldn't tell the difference if I was bike riding OR eating a burrito! This grammatical topic is open for debate in the comments section below. If I've confused you, let me know! HA!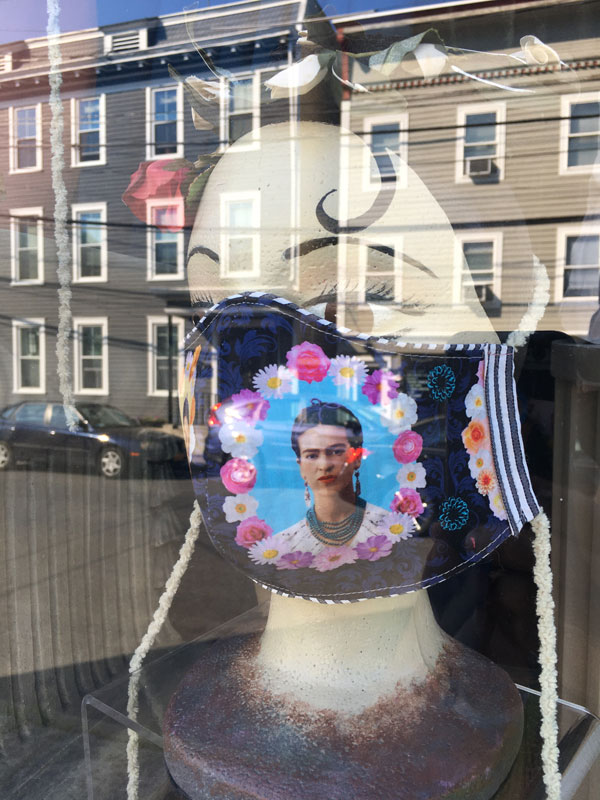 You are going to be wearing a face mask for a while, so get used to it. Actually, you need more than just one – one to wear, one in the wash, one that's drying.
Now that Hudson is slowly opening up, do you want to be seen out and about on Warren Street in the same face mask twice?
A clunky contractor mask? Well, OK, if that's the look you want…
A bandana says, "I'm doing the minimum".
Holding the front of your shirt over your nose and mouth when you walk into the convenience store? Polite, but you obviously did not do any planning.
Stop in at Five and Diamond Vintage and get a fabulous new face mask! You can drop by right before, or after, the Farmers' Market on Saturday. The store is half a block down from the Market on Columbia and 5th. Here's a video of Lisa Durfee describing her masks and the process. Look at those patterns!
Folks, isn't it time we went back to Columbia Street's original name, Diamond Street? Time for a change!
See you around town, Hudson!
Trix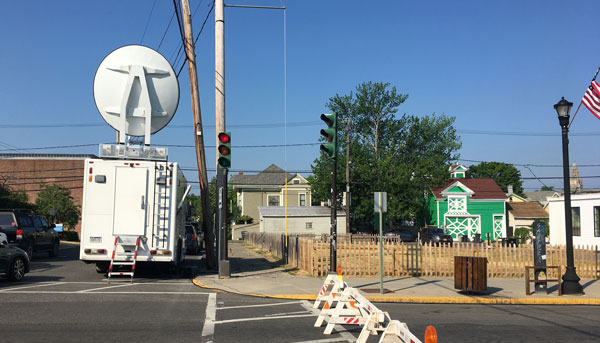 "Backstage" on the Today Show!