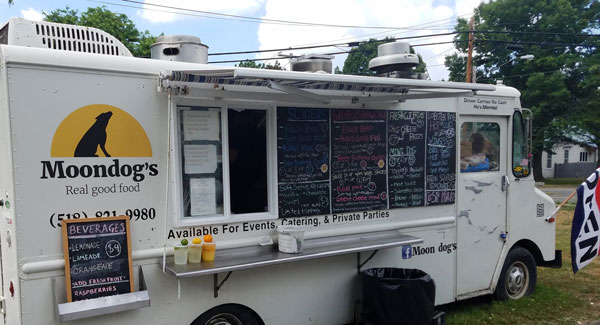 It's summertime and if you're like me, you're tired of cooking, exasperated by the news, itching to get some sun and are looking for safe al fresco options in the Hudson area. If you're willing to travel just a bit outside of Hudson, one of my favorite options is the MOONDOG's food truck in Ghent.

Started by Columbia county native Adam Moon about a year ago, it has been parked for the past few months on the side of Route 66 just outside of the Veterans of Foreign Wars post in Ghent. Because it's a food truck, it's inherently easy to social distance. There is shaded outdoor seating and plenty of parking. The food is amazing, and the best part is that, at the moment, there is a Pay What You Can special to help support the community during these trying times.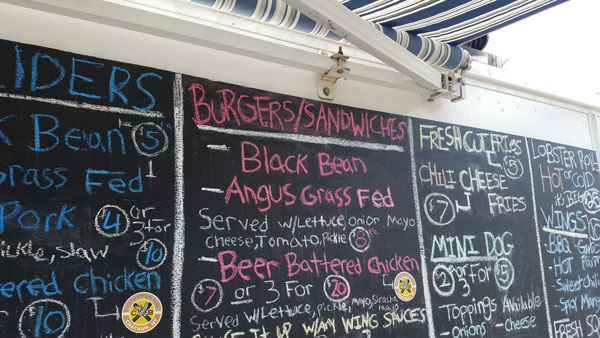 They are closed on Mondays, other days they open at around 11am until they run out of food, or until 7pm, whichever comes first. I've been there three times already, usually on the earlier side, and there are always people there but never a terribly long line. They serve sliders, burgers, sandwiches, mini-dogs, wings and lobster rolls. Most items are $10 or less, the lobster roll can run you $25 at full price. For sides they have fresh cut fries and chili cheese fries. They also have very refreshing in-house citrus drinks and soft serve ice cream. Ice cream, however, is not always available.
Sometimes things change so I recommend checking MOONDOG's Facebook or Instagram feeds for the most up-to-date information on hours and food. They are good about informing the public on their immediate hours, daily specials and if they've run out of anything.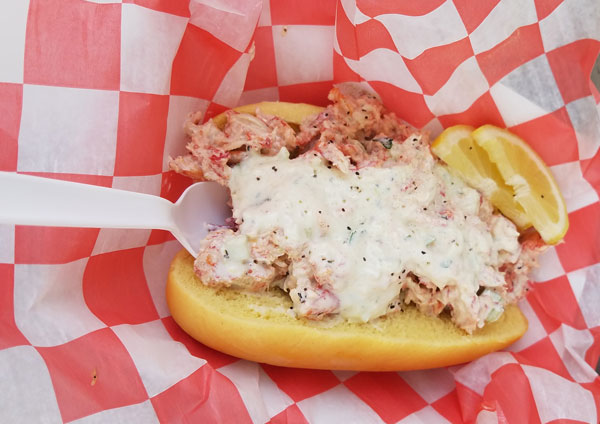 I opted for the lobster roll. It can be prepared hot or cold. I chose cold since it was so hot outside. It was mouth-watering scrumptious! It had a zest of lemon that made it refreshing. The chunks of lobster were meaty and the "Drag Through the Garden" in-house dressing was just right. All flavors were balanced and worked well together.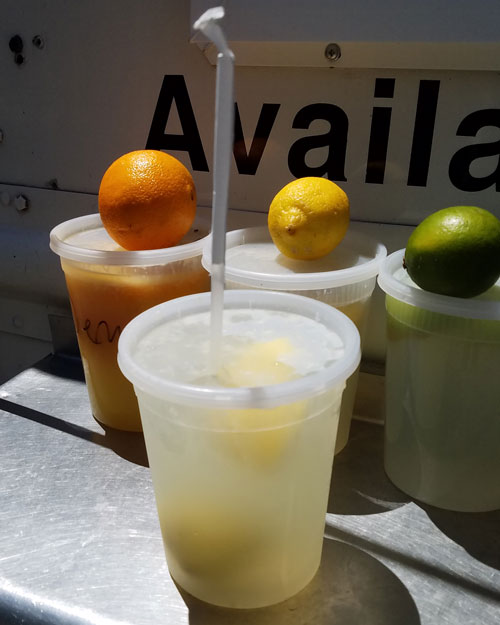 I paired it with a very chilly, very fresh 20-ounce lemonade for $4. They also offer orangeade and limeade along with even more fresh fruit mixed in for an additional dollar.
Another time I also tried the beer-battered chicken sandwich which, according to new employee Julia, is one of the most popular. It was delish! What I liked about it other than the flavor was that it wasn't humungous. Bottom line, one can have a hearty lunch with a refreshing drink at MOONDOG's and not need a nap afterwards.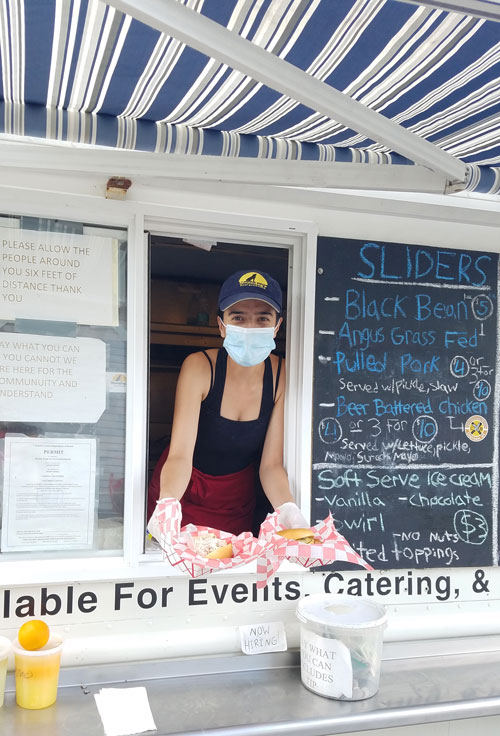 "Why 'Moondog'?" I asked.
The owner, Adam Moon, said when he was young, his grandmother used to find mini hotdogs from a place in Massachusetts and he loved them. Once he grew up, he couldn't find them anywhere in New York, so he actually sources them from the same supplier of his grandmother. They are nitrate-free and according to one of the employees, Ashley, every dog who shows up gets a free mini-dog!
If you love the food at MOONDOG's and want to experience the vibe on a regular basis, they are hiring! Just reach out in person or on social media.
If you want more of their food, they offer catering services for any size party – just give them a call at (518) 821-9980.