By Trixie's List Staff Writer: Romeo Barkley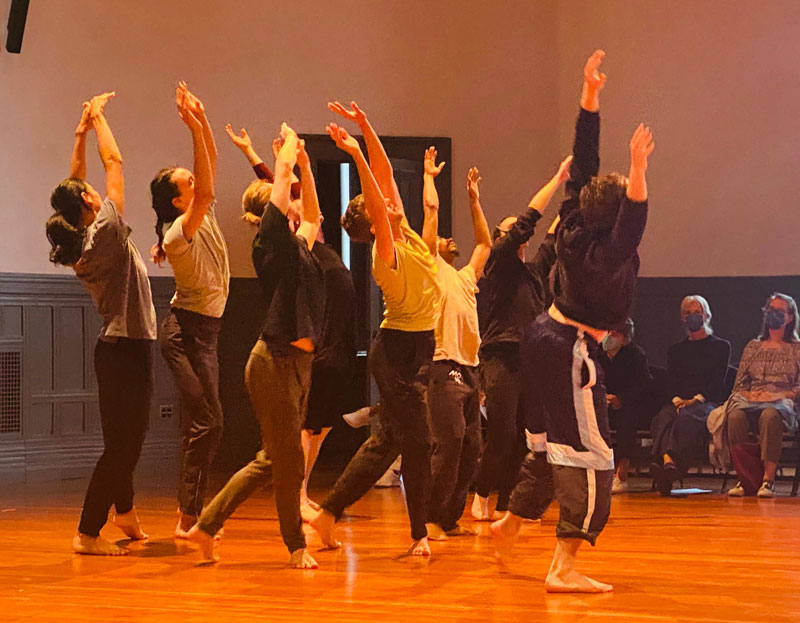 Mondays and Tuesdays can be cultural deserts in Hudson – the galleries are closed, the restaurants dark. You can't say that mid-week there is nothing sexy and beautiful happening in Hudson anymore!
On a rainy Tuesday, a robust crowd of Hudsonians gathered to watch Adam Weinert's nostalgic recycling of Ted Shawn's 1938 "Dance of the Ages". While the original choreography is mostly lost to time (pre video recordings), Adam was able to reinterpret Shawn's studio and rehearsal notes from Labanotation. Labanotation is a type of dance hieroglyphic developed by one of Ted Shawn's contemporaries Rudolf van Laban.
Adam gathered a group of talented *mostly* male dancers (likely in deference to Ted Shawn's Men Dancers) to host an open rehearsal at Hudson Hall. The performance started with a behind the curtain's view of the Dancers running choreography, finding their marks, and adjusting the timing for the canons. After exploring the 'textural' differences in their movements, the dance company performed Dance of the Ages with live accompaniment from David Sytowski.
It was beautiful and soaring!
The only hope would be for a formal performance at Hudson Hall, (maybe mid week) or even a showing at neighboring Jacob's Pillow.