At the first year of the Hudson Farmers' Market, "there were five vendors," says Virginia Ambrose from Scarecrow Farm, one of the original vendors.
This year, marks the 25th Anniversary of the Hudson Farmers' Market with over thirty vendors!
"90% of the people that I know in Hudson, I've met through the Hudson Farmers' Market. It operates as a community center. It's a place where people are working and shopping and socializing– so it's a networking opportunity and that is what it has been for me." Brandon, Hudson Farmers' Market Administrator
"I have been able to use the Hudson Farmers' Market as a business incubator– a way to hone my products, establish my customer base, and determine Happy Belly's direction. The seasonality of the market allows us to go back to the drawing board year-after-year to figure out what's working and what isn't. We base all of our growth on that." says Monica from Happy Belly
More about the history of the Hudson Farmers' Market: (from their press release)
Milt Meisner and Norman Posner brainstormed the Hudson Farmers' Market (HFM) in the winter and early spring of 1997. Milt visited the Saratoga Farmers' Market with his daughter and had the idea to bring a farmers' market to Hudson which had just seen its only grocery store close their doors. Milt and Norman wanted to support small farmers and start-ups who had no other outlets to sell their produce. As hard as it is to imagine, at the time the direct line from farm-to-customer was something of a rarity.
Virginia Ambrose (Scarecrow Farm) shared: "Milt went door to door, barn to barn, and farm to farm asking for farmers to come together to form the market." Many said no, but he was able to find a few who were interested in founding the HFM and take a chance on a community that needed assistance with access to fresh local foods. So, with sponsorship from the Mayor's Office, the Hudson Farmers' Market started its first season.
There were vegetables, eggs, honey, soaps, herbal oils, tree fruit, cactus, plants, and yarn. It was slower in the early years, but vendors hung on and customers eventually came with regularity. Gradually, the items and offerings started to increase— but always within a very specific framework that was established in the early days. The vendors of the Hudson Farmers' Market nurtures our individual projects, push each other to innovate season after season, and keep the vision alive that was established twenty-five years ago by our founders. It may look different than what Milt and Norman originally intended, but the core ethics still remain the same— producers willing to take a risk, customers willing to show up, and the magic that happens when we collaborate.
Photos courtesy of Amy Brown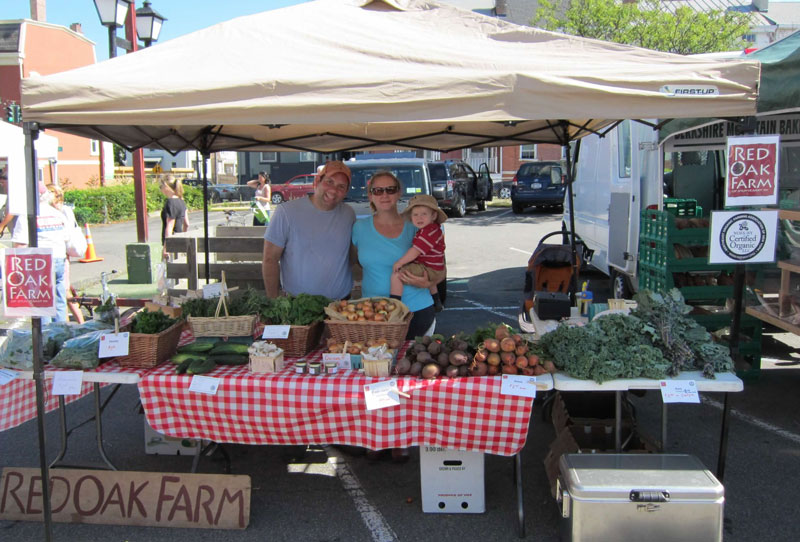 With this said, we are happy to announce that our 25th season begins on April 23rd and runs through November 19th. You can find our 30+ vendors each Saturday at the corner of 6th and Columbia Street in the center of Hudson. Market hours are 9am to 1pm. Parking can be found in the lot above the market and the municipal lot behind St John's Church.
We have a number of events scheduled, including: our Opening Day Ribbon Cutting with the Chamber of Commerce on May 7th; our Family Scavenger Hunt with the Hudson Area Library on July 30th; our second Tomato Fest on September 3rd; and our Halloween Bash on October 29th.
We are welcoming two new full-time vendors this year: Left Bank Cider and Trapani Farm. Left Bank Cider is a family-owned and operated cidery in Catskill. Their small team harvests, processes, ferments, and bottles unique libations made from local wild apples and cider apples. Trapani Farm is a fourth-generation orchard and farm located in Milton. They specialize in berries, stone fruit, apples, pears, and melons.

We hope to see you at market on Saturday, April 23rd at the corner of 6th and Columbia Street in Hudson!