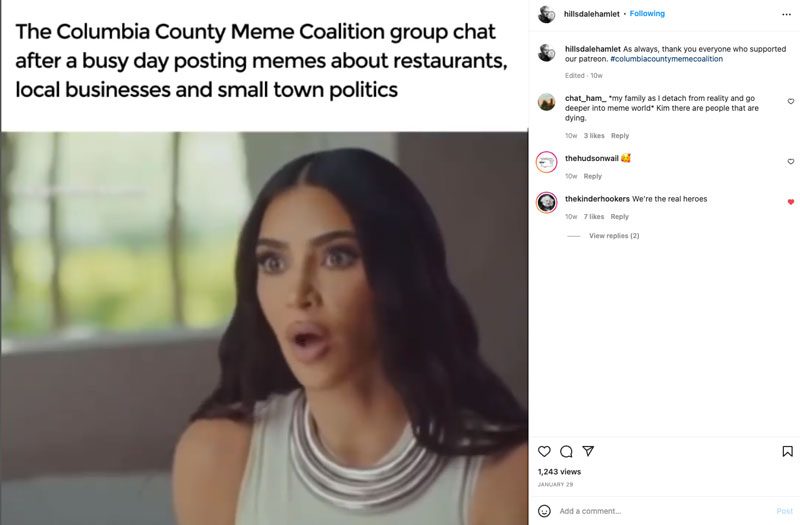 TrixiesList.com: What are the accounts and which areas do each account represent?
Austerlitz: @austerlitz_deez_nuts represents greater Austerlitz – including Spencertown, Austerlitz Hills, Austerlitz Heights, Austerlitz Shores and the exclusive, Austerlitz Oaks.
Kinderhook: I'm the Kinderhooker repping the villages of Kinderhook, Valatie and our red-headed stepchild of a hamlet Niverville.
Hudson: We don't represent anyone but ourselves. We provide commentary on Hudsonians and their absurdities. That also extends beyond the two square miles of Hudson.
Hillsdale: As the @hillsdalehamlet, I meme for all of Hillsdale, not actually the hamlet, but also anywhere else within driving distance because if there's one thing we do well here it's relying on other towns for our entertainment.
Chatham: Chat-Ham represents the village and town of Chatham, north Chatham, east Chatham, Chatham Center, Old Chatham, new Chatham, borrowed Chatham and blue Chatham, and until they get their own accounts I've adopted Ghent and Spencertown.
Claverack: Claverack_Clout represents the town of Claverack, Churchtown, Mellenville, Hollowville, and lastly….. Philmont (who we love to pick on, but deep down adore).
---
TrixiesList.com: Similar to NATO, you must have guidelines for membership. What are they? Is it required that the meme account live in the area they represent?
Hillsdale: Guidelines? Membership? More like a bunch of weirdos in Columbia county were making memes about potholes and bagels and looked around and realized we weren't alone. I can't remember which of us used the word "coalition" first but if there's any one prerequisite, it's probably enough posts to show you'd be making memes for your town, coalition or not. (And do ANY of us live in the towns we claim to represent?? Who can say for certain? Maybe we're all bots who just really like Stewart's.)
Kinderhook: I used coalition first. It's the only original idea I've ever had.
Chatham: I will never forget once I was added to the [Columbia County Meme Coalition] group chat and saw that the existing meme accounts were quite critical of early chat-ham memes (for VERY GOOD REASON), and once I stepped the quality up they all changed their tune and quickly extended an invite. Qualifications for joining is having a good sense of humor I think?
Claverack: As for guidelines…I try to stay clear of bashing any small business (besides mid Hudson cable). Everything is in good fun.
Chatham: The only real guidelines I work with are 1: will this make people laugh (not in a mean way) 2: will this make it obvious who is running this account 3: once I'm eventually outed will this get me canceled.
---
TrixiesList.com: Have you ever had to expel a member?
Kinderhook: I dislike this question. I am hijacking this one and changing it to "If the meme coalition was a boy band, which caricature would you be?"
Austerlitz: Can I be the Sid Vicious type? Or maybe like the guy who is not George Michael from Wham!?
Kinderhook: Yeah that makes sense. Is there a person in the boy band that you wouldn't trust to do your taxes? That would be me.
Hillsdale: We've never had to expel anyone but we did suspect that Claverack might have been mortally wounded in a tractor roll when their account went dormant for a while…But as a rule, there are no bad apples in the coalition but we have had to block or restrict some of our followers for bad behavior.
Kinderhook: Damn – Hillsdale is killing it.
Hillsdale: If the meme coalition were a boy band, I feel like we'd all agree Hillsdale would have to be Animal from the Muppets.
Chatham: Chat-ham is the Ringo Starr of the coalition because in the words of another member of his band "Ringo isn't even the best drummer in the Beatles".
---
TrixiesList.com: Have you ever "shared" memes? Did you ever come up with a meme and think, 'Oh, this would work for so-so"?
Kinderhook: Back in their absurdist days Hillsdale shared a great meme with me I'll try and find it.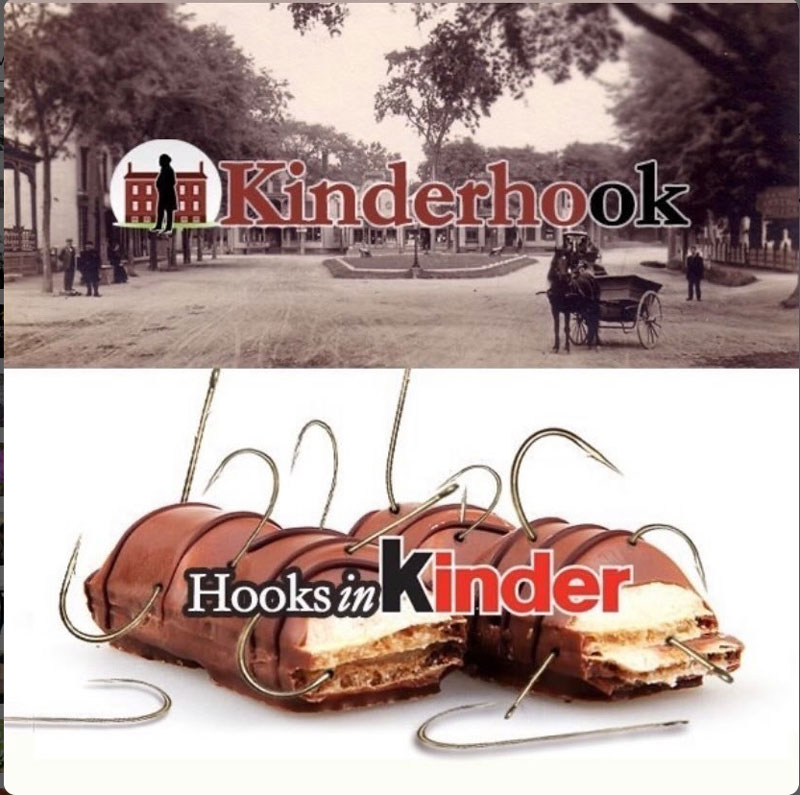 Hillsdale: I think one of our greatest strengths as a coalition is how each of our meme styles is so specific, it makes it hard to "ghostmeme" for each other. But that also makes it all the more enjoyable to log in and see one of us made something that the rest of us are tagged in. It's almost like the cyber version of the small ways our towns IRL have their own unique flairs, too. (And all the more reason that anyone following SOME but not ALL of the coalition is missing out!)
Hudson: Sure, we give each other ideas and and tips, but one of the great things about what we do is that we all post original content, either created by us or our audience, we're not just a bunch of repost mills that share the same low-bar about gentrification, city vs rural, etc. It's all hyper-local (sorry to use that phrase, saw it on a menu or something)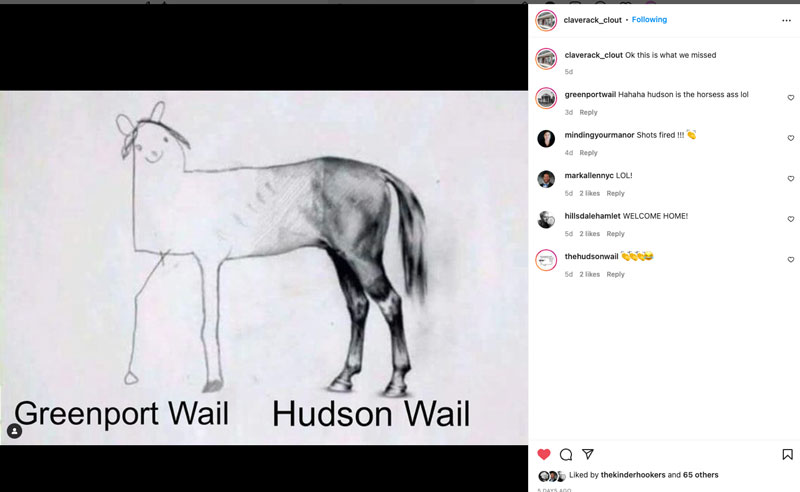 Kinderhook: Also Claverack did a great Hudson/Greenport Wail meme.
Hillsdale: Yesss!! ???
---
TrixiesList.com: Have you ever had to "rescue" another meme account from an unfunny meme? If so, which?
Hillsdale: OBJECTION! There ARE no unfunny memes in the coalition. But a bunch of us did once have to rescue Chatham from a misunderstanding when The Peoples Pub mistook Elmo diving face first into a pile of cocaine as NOT the love letter is was to their drag night. (We love you, Peoples Pub!)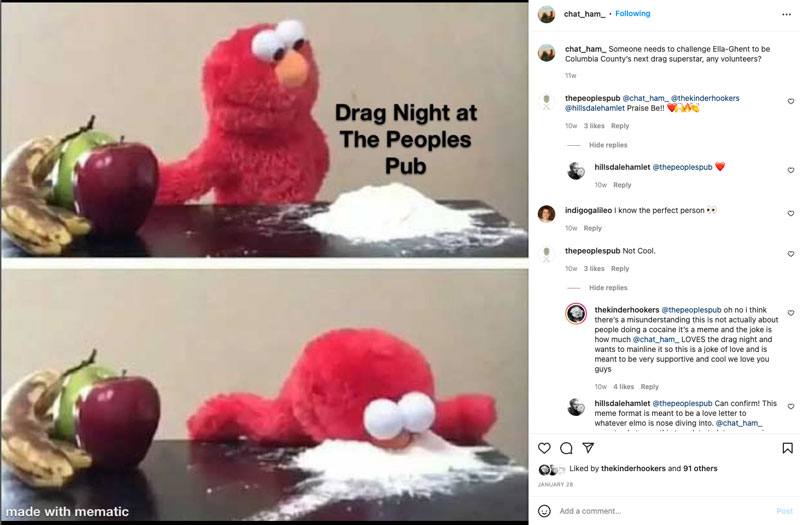 Kinderhook: Oh yeah. That was a classic mix up. One time I was abducted in the back of a bagel van and it took Hillsdale and Hudson tracking my location and Claverack with a clever lock pick to get me out of there. That might have been a dream I had idk.
---
TrixiesList.com: Do similar coalitions exist in other counties? Dutchess? Greene? Rensselaer? If not, why? Why is Columbia County different?
Hillsdale: Yes. Just like the Coalition here in Columbia County, there's the Dutchess Division, the Greene Garrison and Rensselaer Regiment.
Hudson: We [the royal we in this case, referring to themselves] have some overlap with Catskill, as part of the Rip van Winkle Metropolitan Area, but and don't want to blow up their spot too much since we adore the town and it's distinctness from the other side of the river.
---
TrixiesList.com: Are you all anonymous? How's that going?
Hudson: Yes. Will we elaborate on that? No.
Hillsdale: It's super hard. Believe it or not running a meme account is a full time job, so it's made also owning and operating a local hardware store chain a lot more complicated.
Austerlitz: There is no proof that any of us are not Banksy. Or Deadmau5. Or the Blue Man Group – actually, I'll confirm I am not member of the Blue Man Group, as I don't participate in sexist dance clubs.
Kinderhook: The funniest part is that I think I'm married to the Chatham account but neither of us have ever given up our anonymity to confirm.
Austerlitz: Figuring out my identity is actually on the agenda for the Austerlitz town board meeting tonight.
Kinderhook: Is it really?
Austerlitz: I'll probably just zoom into the meeting and bring it up myself while wearing a napoleon mask. So yes, on "an" agenda.
Kinderhook: There was a time a local bagel store made up an Instagram account and DMed me under the name Gretchen Witherspoon claiming to be on the town council and how she was very upset at my making fun of the bagel store and was going to put me on blast at the next meeting.
Austerlitz: Did you see through their attempts to out you?
Kinderhook: No I should have googled everyone on the town board but I was too tickled that i was being cyber bullied to care. Then after I took down a particularly offending story they deleted the chat and their account! I wish I could say that was the only time I was duped but it is not.
---
TrixiesList.com: Are there any other accounts, other than the Kinderhooker, with political ambitions?
Austerlitz: My biting political commentary is still in the works – waiting for the Rob Lagonia to follow before unleashing the hard hitting memes.
Hudson: No comment
Hillsdale: Kinderhooker is probably the only one of us to actually run for something. (Breaking the smartphone glass ceiling!) Although I was pretty honored that the Hillsdale account could be a safe space for our town officials to use their troll accounts to attack each other in the comments for awhile lol.
Chatham: Chat Ham would enter politics if local politics weren't so god damn embarrassing.
---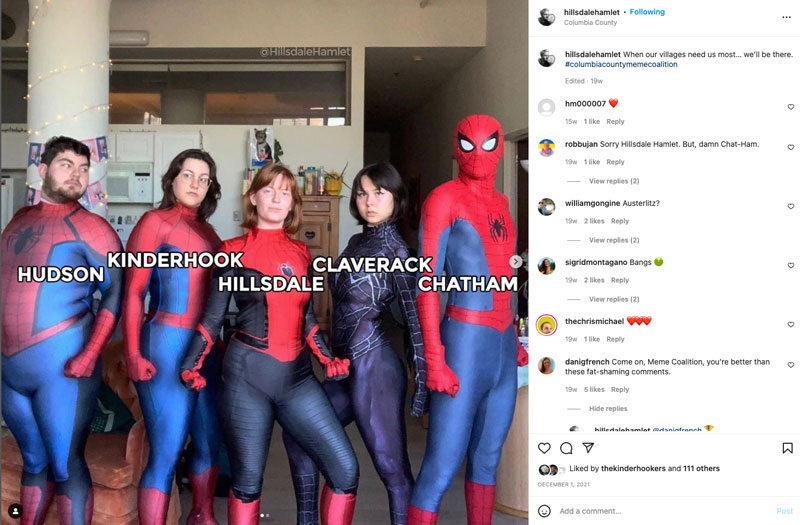 TrixiesList.com: If the Columbia County Meme Coalition drafted a political platform, what would it entail?
Hudson: Are we that serious? Our (my) only comment would be that local politics usually effects people more than national and that people should pay better attention to what goes on closer to home, rather than being distracted by political parties and culture wars. Get to know your neighbors, we can all share a laugh.
Kinderhook: Yeah. Our assignment is to gently and lovingly poke fun at some of the absurdity of our towns not to come up with manifestos for them.
TrixiesList.com: The elephant in the room – what is the relationship between the Greenport Wail and the Columbia County Meme Coalition, if any? (Say what you want, but the Greenport Wail is very on-brand!)
Kinderhook: First off, the elephant in the room is how Hudson is being paid by a local PR firm to promote tourism through memes.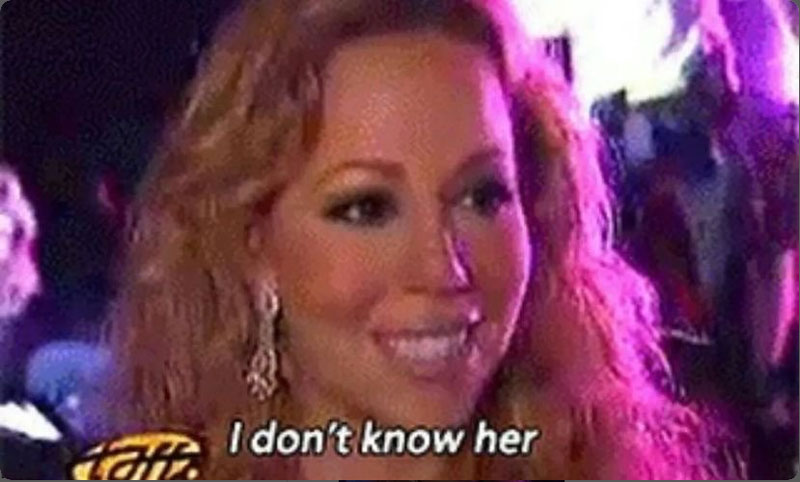 Hillsdale: "Nuff said!" Now what ✨i✨ want to know is when is Trixie baking a line of Columbia County Meme Coalition commemorative cookies?