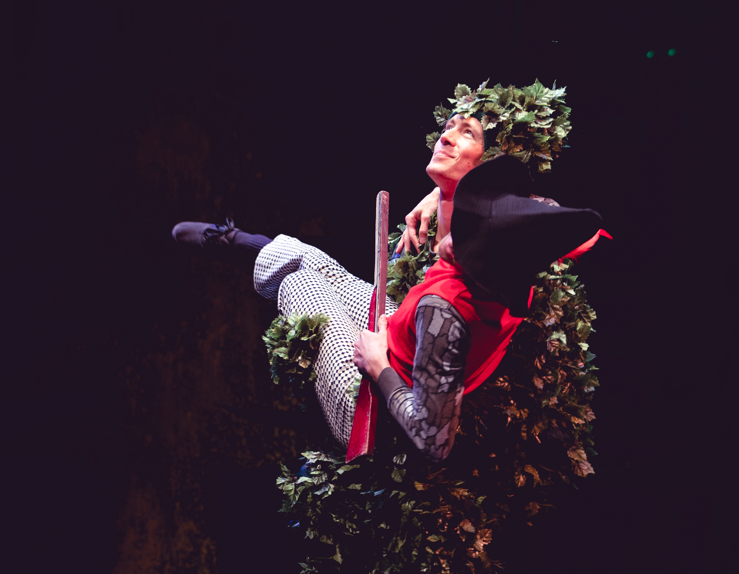 A magical moment from the Winter Walk 2019 production of Rip the Nut.
Hudson, NY – November 17, 2021 – Now in its sixth year, RIP THE NUT – a raucous mashup of the Rip Van Winkle story and The Nutcracker Suite conceived by Adam Weinert – returns for the 25th Anniversary of Winter Walk on Saturday, December 4 from 5-8pm. Presented by Hudson Hall, Weinert has reimagined the event this year to be experienced outdoors, with dancers performing in shop windows along the mile-long stretch of Hudson's historic main street For more information about RIP THE NUT or Winter Walk 2021, visit hudsonhall.org or phone (518) 822-1438.
This family-friendly production has proven itself a Hudson holiday staple since it premiered at Winter Walk in 2016. "I grew up performing in The Nutcracker," says Weinert, who co-directs this year's production with his husband, R.B. Schlather, who is known for his innovations as an opera director, and critically acclaimed for site-specific performances and process-art installations. "And when I moved to Hudson, I found that the story of Rip Van Winkle very much permeates the area. It felt right to bring these stories together."
Weinert believes that the Rip Van Winkle fable has particular resonance in the midst of the COVID-19 pandemic. "It feels a little bit like we've all been slumbering in isolation," he says, "and we're emerging into a world that feels very different."
Adam Weinert is Hudson Hall's 2021 Artist-in-Residence. A dancer, researcher and gardener, he has performed with The Metropolitan Opera Ballet Company, The Mark Morris Dance Group and Shen Wei Dance Group. His practice focuses on the connectivity between place, history, productivity, and performance.
Traditionally, RIP THE NUT has been presented at Hudson Hall, with local children and community partners joining the dancers onstage for a variety of whimsical numbers. This year, Winter Walk attendees will experience the show as they walk along Warren Street and encounter dancers, digital projections, music, and text in storefront windows.
"We're lucky to be working with members of the community who've been at this a long time," says Weinert, who points out that the first Winter Walk closely resembled this year's storefront-centric edition, with dancers appearing in windows to the delight of children and families.
"It feels great to bring that tradition back this year – for different reasons, but to similar effect."

About Winter Walk
Hudson Hall first produced Winter Walk in 1997 to help bring foot traffic back to Warren Street after a long period of decline. Today, Winter Walk encompasses the entire mile-long stretch of Hudson's main street, rings Seventh Street Park, spills over to the side streets, and extends down to Front Street and the waterfront from 5-9pm every first Saturday in December. Voted Best Winter Community Event numerous times, Winter Walk kicks off the holiday season by highlighting the unique shops, galleries and restaurants and artistic community behind Hudson's creative economy.

About Hudson Hall
Hudson Hall (www.hudsonhall.org) is a cultural beacon in the Hudson Valley, offering a dynamic year-round schedule of music, theater, dance, literature, workshops for youth and adults, as well as family programs and large-scale community events such as Winter Walk. Located in a historic landmark that houses New York State's oldest surviving theater, Hudson Hall underwent a full restoration and reopened to the public in April 2017 for the first time in over 55 years. In 2019, through an extensive program encompassing live performance, art exhibitions, city-wide festivals, free community events and workshops, Hudson Hall served an audience of 50,000 and employed over 400 artists and skilled technicians, making it a valuable contributor to Columbia County's $8 million creative economy. Approximately 70% of Hudson Hall's programs are free of charge or subsidized to ensure equitable access to the arts.