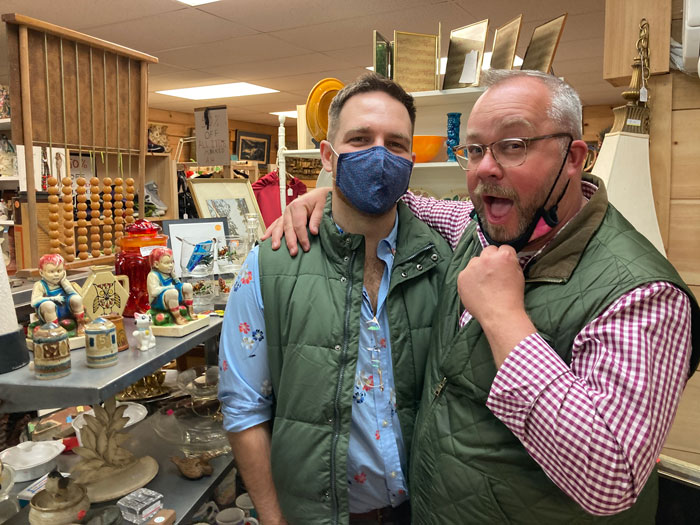 Patrick Decker and Stephan Hengst of BigGayHudsonValley.com
No moss grows on these rolling stones – Patrick Decker and Stephan Hengst are busy planning one event after another – in a pandemic – all within COVID-safe guidelines.
There's an event this weekend – BARNWOOD – a pop-up art show and sale, featuring men from nude to lewd happening in the barn by Patrick and Stephan's house. Gay artists from the area, and the country, submitted their art for sale. Last weekend, I was fortunate enough to watch the brief, 15-minute film, Here for this Reason featuring photographer Stanley Stellar, at the Rosendale Theater. Stellar, a gay man in NYC, started taking pictures in and around Christopher Street and the West Village in the late seventies. His photography captured and chronologized gay life for decades. Stanley Stellar's photographs will be featured in the Barnwood exhibit. If you are unfamiliar with Stanley Stellar's work, please watch the video below:
Tickets are still available for Barnwood this weekend.
I'm going tomorrow, Saturday at 7pm – hope to see you!
A sample of Stanley Stellar's photographs available at Barnwood.
The next big event that Stephan and Patrick are putting together is Miz Cracker's Everything's Fine. Tickets are going fast (last I checked there's a little over a dozen left). The show takes place at an outdoor venue, in an orchard in Highland, about an hour south of Hudson. All events follow COVID-safe protocols. Get your ticket(s) asap, and put your name on BigGayHudsonValley's newsletter to learn about new events.