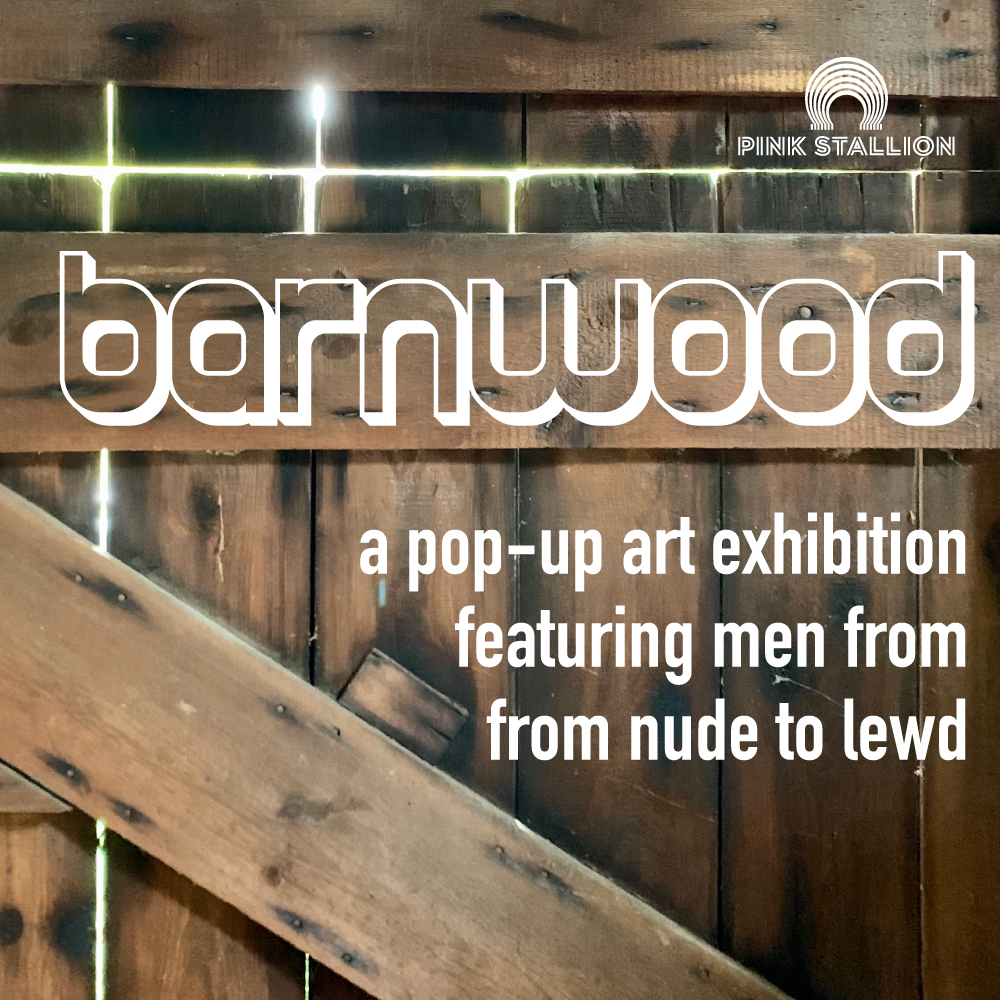 Barnwood – Spring 2021
A Pop-Up Art Show + Sale Featuring Men From Nude to Lewd
Spring Show: April 30 – May 2, 2021
Location: Ulster Park, NY (exact location will be provided as the show gets closer)
Opening Reception: Friday, April 30, 5pm to 8pm
A celebration of art depicting the male form, BARNWOOD will be held in a rustic hay barn that dates back to the 1850's. Surrounded by raw hand hewn beams and an interior that has stood the test of time, this very raw show features work of an erotic nature and includes a wide range of mediums by nearly a dozen artists from the Hudson Valley and beyond.
A majority of the works on display at BARNWOOD will be for sale. Prices range from $25 to $1200. Featured artists will be announced as the show gets closer. Your ticket purchase price will be subtracted from any purchases over $100.
Due to the erotic nature of this show, attendance is limited to adults only over the age of 21. To maintain social distancing a limited number of tickets for each time slot will be available.
BARNWOOD will take place in an old barn in Ulster Park, NY. While it is covered, attendees are encouraged to dress appropriately for the weather. The exact address of the show will be sent to you the day before the event.
The Spring 2021 Edition of BARNWOOD is happening April 30 – May 2: Tickets are on-sale now, and you can get yours right here. This next show features works by more than 30 artists including:
Stanley Stellar, New York, NY
Richard Taddei, Montgomery, NY
Andrew Sedgwick Guth, Harrisburg, PA
TotesFerosh, Chicago, IL
Gaston Lacombe, Provincetown, MA
Juan Boilero, Berlin, Germany
Nathan Gwirtz, Kingston, NY
Joe Raddoccia, Beacon, NY
Kurt Walters, Brooklyn, NY
Sherman Yee, New York, NY
Scribbles Jensen, New York, NY
Richard Prouse, Rhinebeck, NY
David Dietz, Ithaca, NY
Jay Blotcher, High Falls, NY
Court Watson, New York, NY
Guelmo Rosa, San Juan, PR
Thomas Werkheiser, Cape May, NJ
Larry Decker, Port Ewen, NY
Andy O'Brien, Waitsford, VT