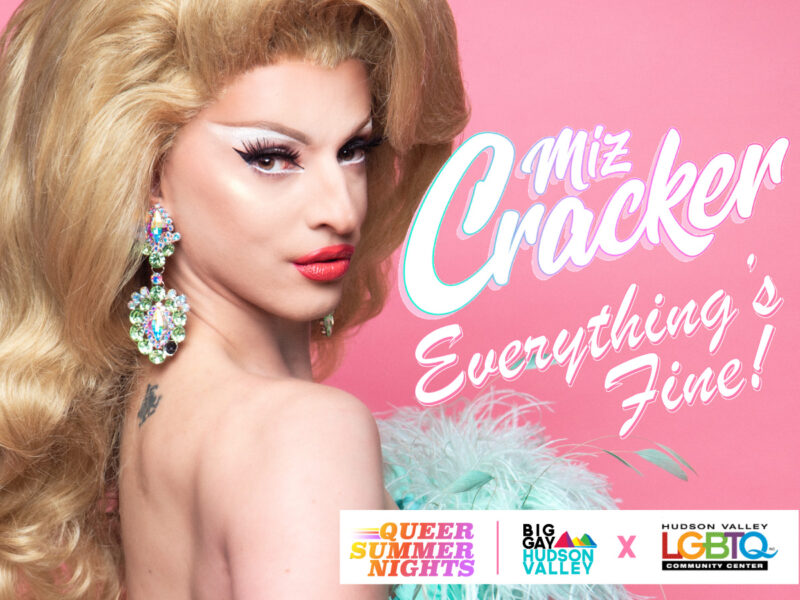 Miz Cracker – Everything's Fine
Everything's Fine is a high energy stand-up, lip sync, dancing extravaganza! Full of cartwheels and jump splits—paired with some intimate quiet moments because, hello, she's relatable—it tells Miz Cracker's story of survival as she encountered the mess of her late 30s, the chaos of Covid-19, and the madness of All Stars 5.
About the Performer
Miz Cracker is a New York City drag queen, writer and comedienne. She launched her drag career in 2011 while participating in marches for marriage equality in Times Square. She went on to compete in RuPaul's Drag Race Season Ten, landing a spot in the top five and becoming a fan favorite. She now tours the world with her one woman shows; delights fans on her YouTube channel; lectures on drag at top universities; cooks with Bon Appetit; writes for publications like Slate, ArtForum, Vice and GQ; and engages over a million followers on Instagram and Twitter. Cracker describes herself as a "woman's lifestyle brand," and is a vocal advocate for women's rights. Her forthcoming solo show, American Woman, discusses how drag queens and gay men can become better allies to women in an age when Feminism is more important than ever.
About the Venue
This performance will be fully outdoors at Wilklow Orchards' Farm Bar and will take place rain or shine. There is a covered pavilion on site but it will not provide shelter for all attendees.
Doors open at 6p. Show begins at 8p (~60 min runtime). Wilklow's Farm Bar will serve from 6p until 10p. Food and drink are available for sale at Wilklow Orchards.
Masks are required on site based on current NYS COVID-19 guidelines.
Wilklow Orchards is a six generation family-owned farm renowned first and foremost for their apples. Their on-site Farm Bar features taps of their signature Bad Seed hard cider and delicious pizzas hot from their food truck oven (and made with ingredients grown right there on the farm!).