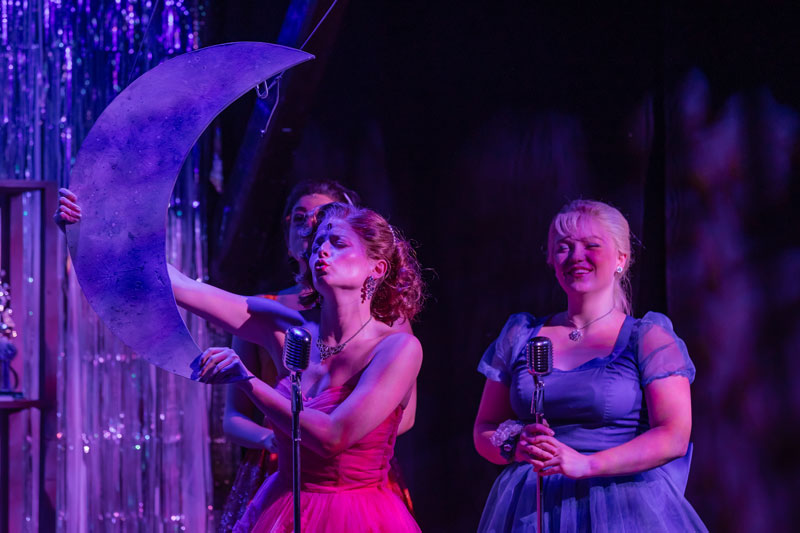 Act One opens on prom night, 1958 where The Marvelous Wonderettes — a girl group in the template of classics like The Supremes or The Shangri-Las — are performing at their highschool prom. Just like those classic groups, this foursome of friends gives great harmony. They also have a competitive streak, which lends an undercurrent of drama to the show, vying for the spotlight, the title of Prom Queen, and more. True to form, there can only be ONE Beyoncé / Diana Ross / Belinda Carlisle in the group. Act Two opens with a time jump, placing us at The Marvelous Wonderettes 10 year high school reunion, which reveals the results of this foursomes choices, and brings the narrative arc of this friendship full circle. The Marvelous Wonderettes achieves a transcendent level of charm in the scenes that include Mr. Lee — who you might be surprised to find is your favorite character of all. (If you know, you know.)
Cydney Gleckner (Suzy) gives this quartet soul, with her robust renditions of Stupid Cupid and RESPECT. Adeline Trivers (Betty Jean) serves emotional range, traveling the gamut from plucky school spirit, to the heartbreak of betrayal. (It's her party and she'll CRY if she wants to!) Stephanie Prestage (Cindy Lou) is a pitch perfect Queen Bee in the mold of a midcentury Regina George, crooning fan favorites like Leader of the Pack and Son of a Preacher Man. And Rachel Pantazis (Missy) took the whole production from good to outstanding with her droll comedic timing and razor sharp soprano (Her physical comedy was also highlight of last season's Xanadu).
Honorable mention goes to Annie Watson's costume design for capturing the quintessential matchy-but-different girl group aesthetic. Tina Knowles would be proud. And to the set design team (Paul Colarusso, John Saunders, Adriana Ayala) for making The Marvelous Wonderettes an immersive experience, grounding the audience in time and space by plunking us down in the middle of a highschool gymnasium through a handful of thoughtful choices.
Sadly, the final shows of The Marvelous Wonderettes have been cancelled due to Covid. HOWEVER! I'm already looking forward to Mac-Haydn's summer season, 2024 and the return of the spritzy musical joyrides that The Mac-Haydn delivers so well. Like a little glass of sunshine after a Columbia County winter. Yum.
Find out more at https://www.machaydntheatre.org/