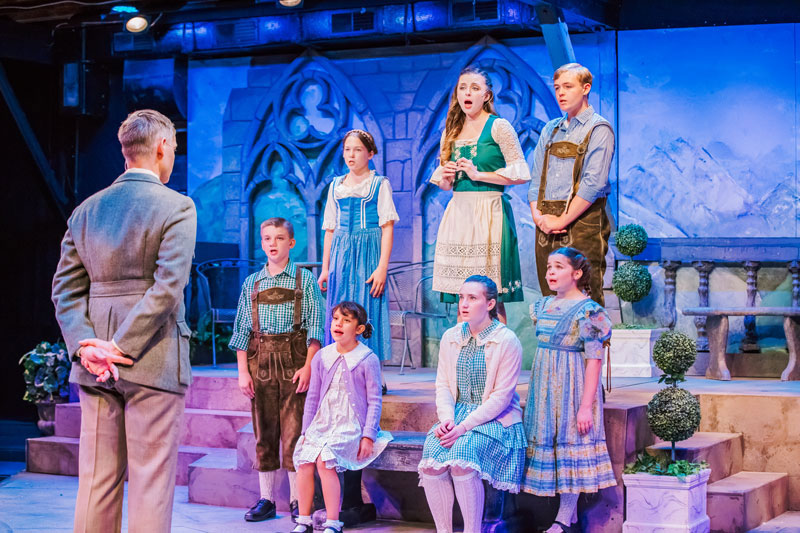 Warning: Spoiler Alert!
If you are not from this country, or maybe you've lived under a rock for the past fifty years, I am warning you. This post, gives away plot and story details about "The Sound of Music". Giving away the plot of "The Sound of Music" is a little like telling people the ending of "The Wizard of Oz", however, I don't want to ruin anyone's experience.
---
by Trixie Starr
I've forgotten how cheery and delightful Rodgers and Hammerstein's "The Sound of Music" can be until I saw the performance at Mac-Haydn Theatre. Act I is a wondrous, playful romp in Lederhosen – I felt as if I was in Fantasyland at Disney World and there were no lines. The Catholic nuns are all humorous, warm, and delightful (and boy they can really belt out a Latin hymn!), but alas, there's a problem with Maria. She sings too much. It's like pinning down a cloud. What are we going to do with her?
How about she gets a job as a governess to seven kids of a staunch ex-military widower? The last governess walked out on the job. How hard could it be?
So she opens up her umbrella and floats down the Thames in London to become the new governess. Wait, wrong Julie Andrews movie.
So she picks up her guitar, and runs across the Austrian mountaintops to become the new governess.
Maria also falls in love and marries the Captain – luckily that nun gig didn't work out!
Actress Sarah Naughton is a perfect Maria! She's warm, charming, and her voice is soft and melodic, like a sparrow. Her bright-eyed and bushy-tailed character is exactly what the Von Trapp family needed.
Actor Eric Van Tielen's Captain Georg von Trapp is a much more affalable father than what I remember in the movie. In his "Edelwiess" song in Act II, you feel the conflicted, angry and patriotic emotions of a father whose world has just been turned upside down.
Alesandra Haines, who plays The Mother Abbess, brings the holy house down with "Climb Every Mountain" – an immaculate performance!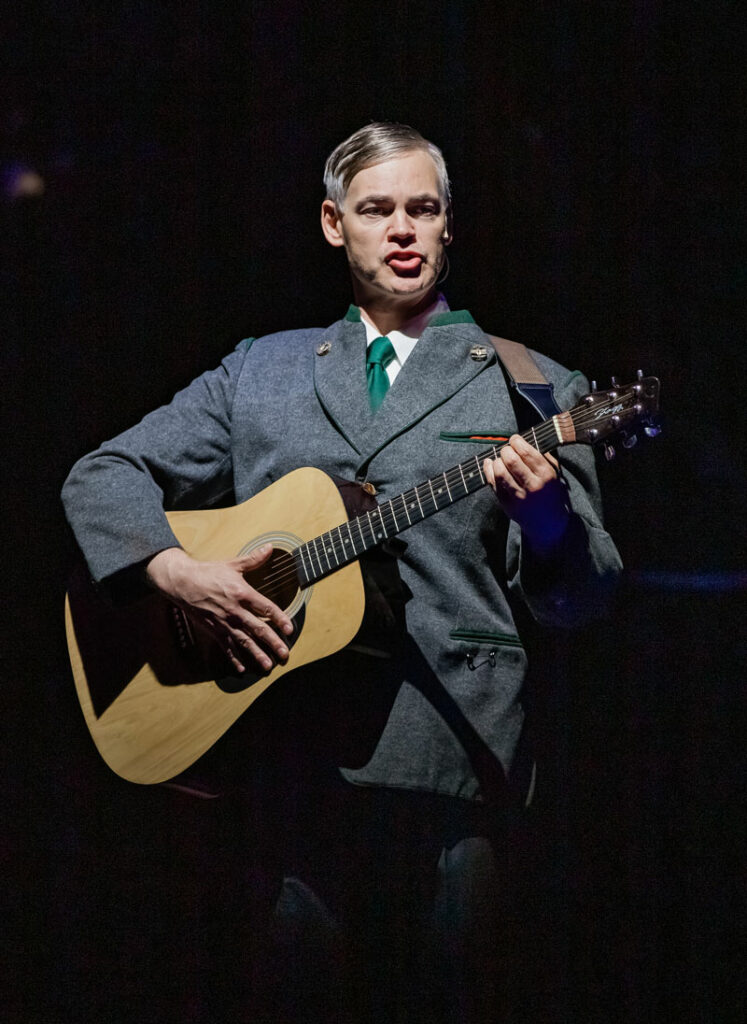 The Von Trapp children are AMAZING! They know every line, they do not miss a beat, and they are as young as eight-years old. Adorable Gretl (Charlotte Miller in the show I saw) steals each scene with her childish warmth, affection, and innocent eyes.
There are TWO sets of Von Trapp children – kudos to ALL of them and the creative team at Mac-Haydn for directing such a large cast.
At the Mac-Haydn, they rehearse one show during the day, while performing another at night. It's a grueling summer schedule. They do it all so we can be entertained, and have a fun evening out.
Act II is very different than Act I – Austria has been taken over by Nazis, and the Von Trapps are not having it!
(It's not easy to make a feel-good musical with Nazis, but The Sound of Music does it. You leave the theater humming ditties like Do-Re-Mi, feeling somewhat clean and refreshed. You don't get that same feeling at the end of Cabaret).
The actors playing the Nazis were great – if you can be a "great" Nazi. At one point, they storm through the in-the-round theater, and having them so close, I felt as if I was in a haunted hayride. They were a little too close and too scary.
The theater-in-the round also gives you a closer connection to the actors. During the reprisal of "Sixteen Going on Seventeen," I wanted to scream at the actors – 'Stop singing! The Nazis are coming for you! Run to Switzerland already!'
Hindsight is always twenty/twenty.
I believe the show runs almost three hours in length, so plan accordingly – walk the dog before you leave the house.
Pick up your guitar and skip on down to the Mac-Haydn Theatre for The Sound of Music – an old-time feel-good Broadway musical production – Nazis and all!