Last weekend's Hudson High School production of "Mean Girls" was flawless, fabulous, and of course, FETCH!
(Yes, I'm trying to make FETCH happen!)
On a cold and dreary day, it was a ray of sunshine to see Hudson's high school teens perform! The play, Mean Girls, is the High School version based on the movie, with book by Tina Fey and music and lyrics by Jeff Richmond and Nell Benjamin. The only disappointment was that the production lasted only three days, and I am not able to bring my friends to see more shows.
Director-Music Director, Andrew Stein and Assistant Director – Choreographer Danielle Scirico can only be applauded for pulling the show together – everyone's voice was amazing and the dance routines were phenomenal, including some tap dance!
The opening number, set in Africa, had students in giraffe, lion, warthog, and gazelle costumes – I felt like I was watching a production of The Lion King! Kudos to Costume Designer Nadine Gabriel! (One of my favorite costumes was the "sexy corn" at the Halloween Party – if there could be sexy corn, that was it!)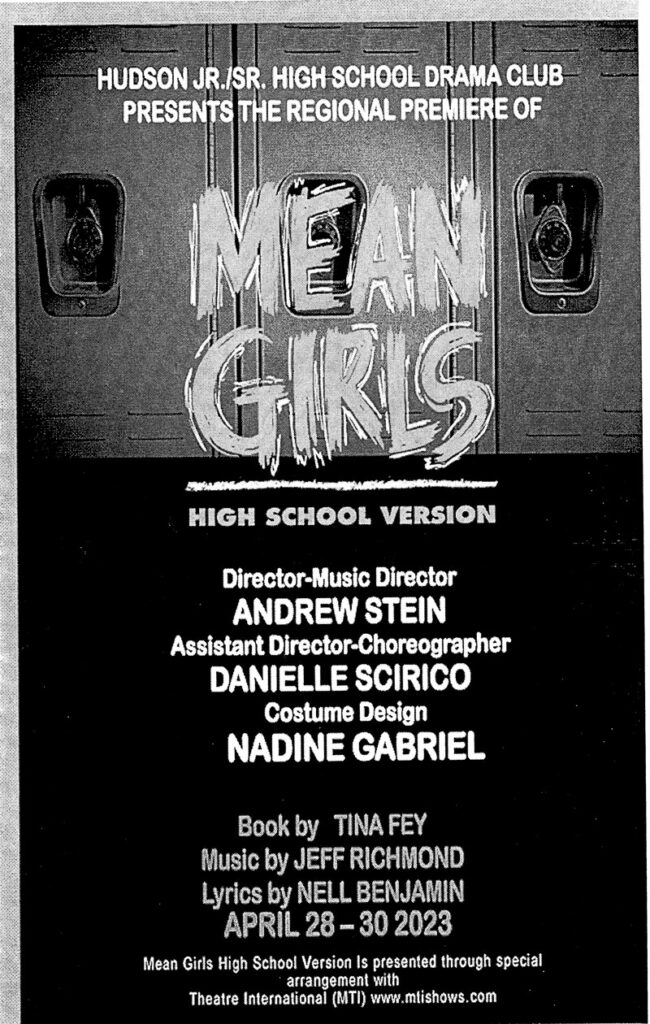 The play starts with Damian and Janis, the well-grounded friends of lead character, Cady. Both actors displayed a wonderful range of singing and dancing. Damian, played by Carlos Vazquez, Jr. gave an over-the-top performance, doing a split on stage, as well as a tap dance number with shoes borrowed from his friend, Lexi. Janis delivered an excellent performance, and sings beautifully several times throughout the production, including her solo "Someone Gets Hurt" in Act II.
The Musical Prowess Awards would be handed to the main characters Kiersten Berry (Cady) and Kiarra Rivera (Regina) – both young actresses did not miss a note!
Some of my favorite performances were by the "Plastics", Gretchen and Karen, played by Roxanne Hermann-McNamara and Cadie Weiss, respectively. The young actresses knew their characters' roles, and played them to a T. Both were incredibly believable, and I want to see them on stage again!
The male characters, Shane O (played by Carlo-Rossi Occeno), Kevin G (played by Derrace Carr) and Aaron (played by Kenold Dorce), were all solid. Hats off to the teens playing the adults, Mrs. Heron (played by Kaleigh Doty), Mr. Heron/Mr. Duvall (played by Carlos Lopez), and Ms. Norbury (played by Kristen Steils) and the comedic Mrs. George (played by Madigan Crowe).
Everyone in the cast, and behind the scenes, did a superb job!
Mean Girls confronts issues such as bullying, social media's impact on teens, and how young girls are expected to act less smart than their male counterparts. The play's songs, such as "STOP", sends a message to stop and think before you send that text or post that comment. This is good advice for both teens AND adults.

At the end of the performance, the warm, heartfelt thanks by the students to their peers and educators, proves that the play was filled with valuable life lessons, and a bonding experience for all.
Thank you to everyone at Hudson Jr/Sr High School for this production. I left the building with a feeling of hope for the future.
The kids are going to be alright! ….and FETCH!