"Life is a bitch, and it starts in the 3rd grade!"

Ruthless! The Musical
When you drive up to the Ghent Playhouse, you think, "Oh, how quaint. A small community theater in the middle of a bucolic town in upstate New York, right next to a water fountain and the local fire department – and look, there's PLENTY of parking right across the street!"
That's what I thought.
"We love this opportunity to try something completely different…"


Director's Notes – Ghent Playhouse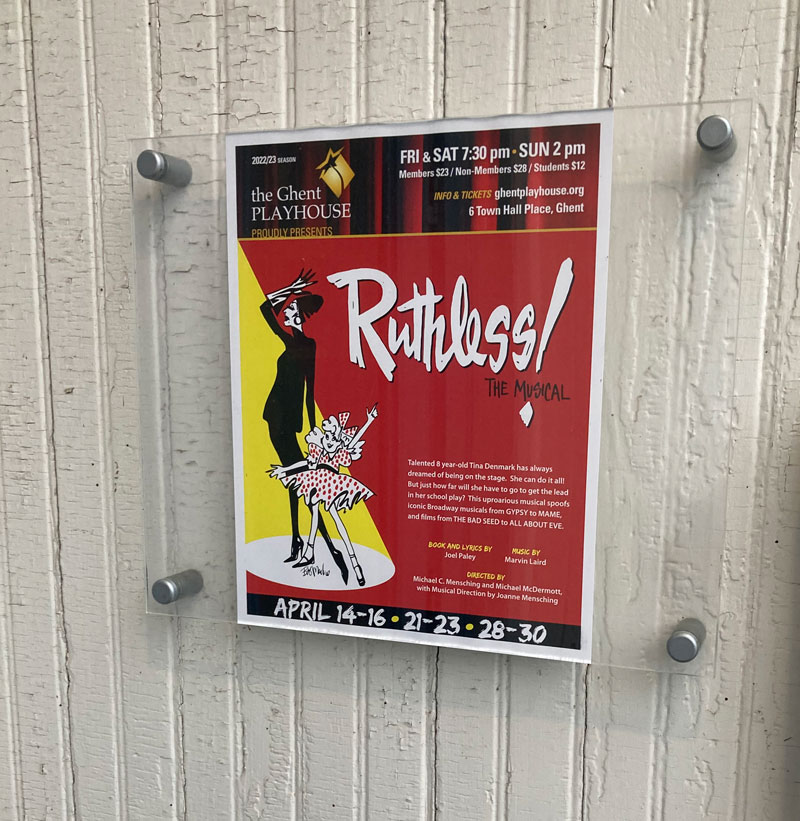 Then I started watching "Ruthless! The Musical".
Right after a cut-throat third grade school play audition, one student turns to the other and calls them a "fucking asshole!"
That's when you realize, "OK, Ghent Playhouse, it's on!"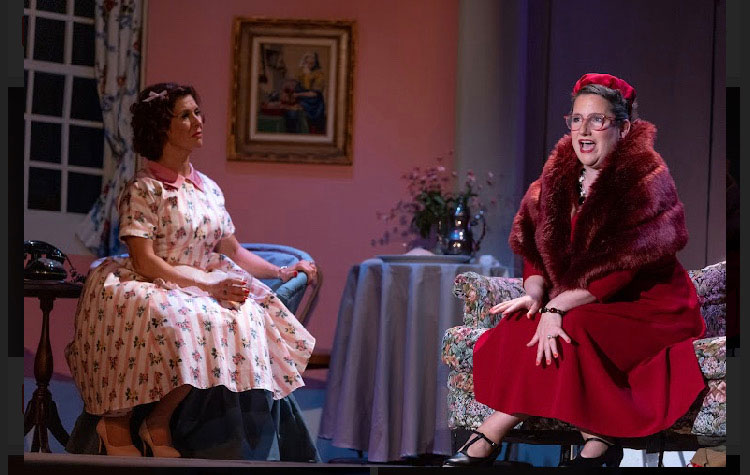 With an all "female" cast, The Ghent Playhouse goes all out with Ruthless!
Photos credit: Ghent Playhouse
A mother ponders her talented child's life as a successful actress and has reservations, "I don't want her to have a life of booze, pills, and heavy meals late at night."
It's campy. It's violent. It's a musical.
As per the Director's Notes:
"Who doesn't love a good old style Broadway Musical? Gypsy, Mame, Annie, Hello Dolly, The Sound of Music, Jesus Christ Superstar, Oliver! All of these classics are either paid homage to or mocked incessantly in the goofy, deliciously funny and over-the-top romp…This 1992 off-Broadway show was created as a spoof of the movies, The Bad Seed and All About Eve.
We hope you enjoy this evening of silly fun."
If you are a theater-goer, then Ruthless! is definitely for you. You'll get the references to other shows and even the Mac-Haydn Theatre up the road.
The less than $30 tickets make it a fun evening out! The theater is a fifteen minute drive from Hudson, or Kinderhook. Jeannine Trimboli's singing voice alone is worth the price of admission – and more!
As this Kinderhooker, Adreanna Limbach, exclaims, "It was SO MUCH fun! I love how it just devolved into delirius camp in the second act. Just joyful. Exactly what I wanted from the Ghent Playhouse!"
Get your tickets here. Show run for two more weekends, until the end of April.