As part of Hudson Hall's community-themed $5 film screenings, Movies on Main Street, on Thursday, April 20th at 7pm, there will be a showing of "Odds Against Tomorrow", the 1959 film noir movie starring Harry Belafonte and Shelley Winters. The film was shot in Hudson, or as our city is known in the movie, "Meltin" (as in "Melting Pot"). The film is a crime drama, a bank heist. It offers rare glimpses of life in Hudson during the era.
If you are new to Hudson, this movie is a must-see. It is not often on a big screen.
The Hudson Area Library's History Room will provide archival photos of Hudson during the film screening. I asked Brenda Shufelt, part time History Room Coordinator, a few questions about the History Room and what to expect to see at the movie screening.
Q: What exactly is the History Room at the Hudson Area Library?
A: The Hudson Area Library's History Room focuses on the history of the City of Hudson, and towns of Greenport and Stockport. We have books and magazines focused on the history of the area that are in the Mid-Hudson Library System catalog, which can be found on hudsonarealibrary.org. We also have an extensive archival collection. Among the archival holdings in the History Room are Hudson City Directories, 1851 to the present; Hudson High School's Blue and Gold Yearbooks, 1914 to the present; historical periodicals and newspapers; maps and atlases; Hudson postcards; Neefus and Ciancetta-Rowles photograph collections; the CMH Nursing School Papers; Arthur Koweek's Urban Renewal Papers; and the BLACC (Black Legacy of Columbia County) and HAL Oral History Project collections. The archival collections are organized by finding aids and container lists, which are available on the History Room website, historyroom.hudsonarealibrary.org. We have online research request forms on our website and people can visit the History Room Saturdays, 10am-12pm or by appointment (email brenda.shufelt@hudsonarealibrary.org). In addition, the History Room sponsors local history talks by area residents, curates exhibitions, and collaborates with the Jacob Leisler Institute for Early New York HIstory on programs on NYS colonial and Dutch history.
Q: Is it all volunteer?
A: There are two library staff members: Brenda Shufelt, part time History Room Coordinator, and Paul Costa, Reference and Tech Services Librarian, who devotes part of his time to the History Room. An archivist, Nina Boutsikaris, works on the collection when there is money available through private donations and grants. Most of the research requests are answered by John Craig and Jim Hoon, dedicated and knowledgeable volunteers. Elaine Eichelberger also works as a volunteer on research, digitizing, and curating. In addition, there is a dedicated committee with expertise in many areas including local history, early colonial history, preservation and conservation, printing and framing, and branding and marketing: John Craig, Kelley Drahushuk, Richard Garmise, Jim Hoon, David Murphy, Carole Osterink, Jeff Rigby, Barb and Gary Sheffer, and David Voorhees.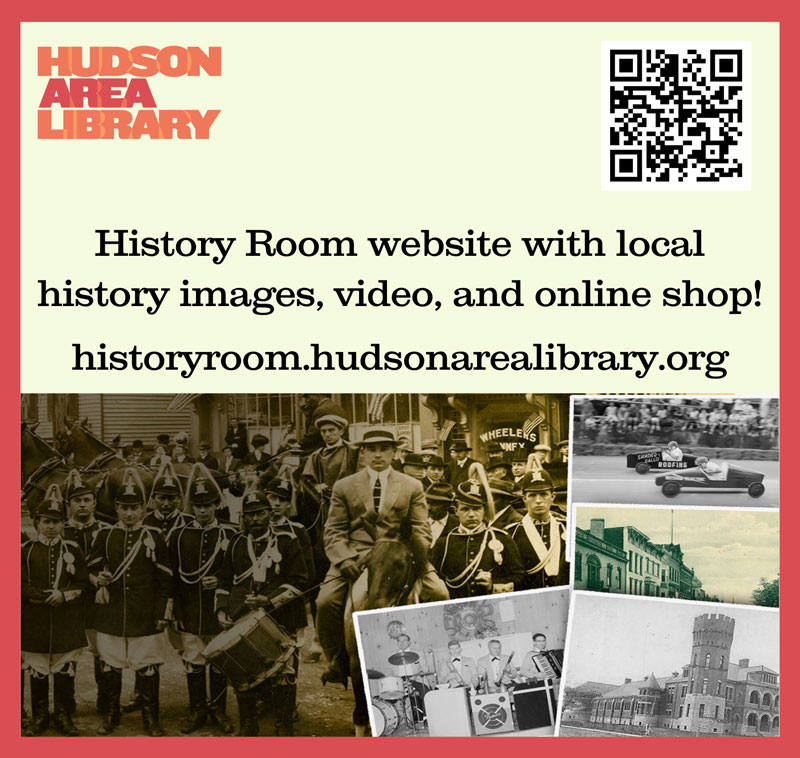 Q: What are some of the items available for sale?
A: Archival quality copies of any of our maps including an 1871 map, and an 1881 Birds Eye and 1923 Aeroview of Hudson are available as well as historic posters, note cards, and postcards. New merchandise has been designed by Kelley Drahushuk and Alan Coon, co-owners of Spotty Dog Books & Ale, for the History Room's next exhibition on SPOUT, the 1970s-90s campaign to save "downtown" Hudson called Society to Promote Our Unique Town. It will be for sale beginning at the opening reception on Thursday, May 11, 6pm.
Q: What are some of the current History Room projects?
A: Our Local Maps & Atlases Exhibition is open for viewing at the library and we are opening the new SPOUT exhibition in May. In addition, we have recently archived our maps & atlases collection (hence the exhibition) as well as the Arthur Koweek Urban Renewal collection. A few years ago we received an Institute of Museum and Library Services grant to digitize, archive, and make accessible our oral history collection including the Black Legacy Association of Columbia County (BLACC) collection from the 1980s that was donated to us by Columbia Opportunities. We have two websites with our oral histories: blacc.hudsonarealibrary.org and oralhistory.hudsonarealibrary.org. Finally, we are currently working with a division of NYS Archives to digitize and make accessible local history documents and images from the Mid-Hudson area (including from our own archives) for K-12 educators. This developing online repository is at considerthesourceny.org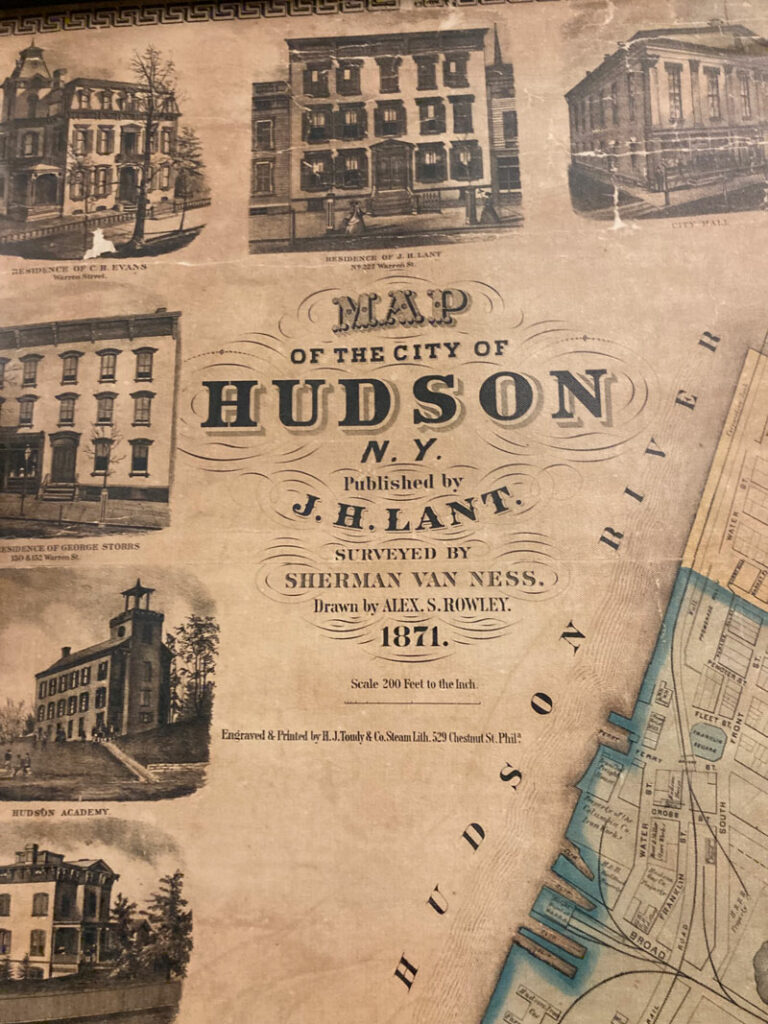 Q: Tell us about the tie-in with the Hudson Hall movie screening, "Odds Against Tomorrow". The movie was filmed in Hudson in 1959. What changed? What changes will viewers see while watching?
A: Hudson Hall, whom we have collaborated with on other programming including Winter Walk, is hosting a series titled "Movies on Main Street" and we are their partner on a screening of Odds Against Tomorrow. During an introduction we will show historic images of the Hudson scenes from the movie as well as images of the filming and Gary Sheffer, History Room Chair, and Elizabeth Sheffer-Winig, New Lebanon Town Historian, will be sharing stories of the filming of this movie in Hudson.