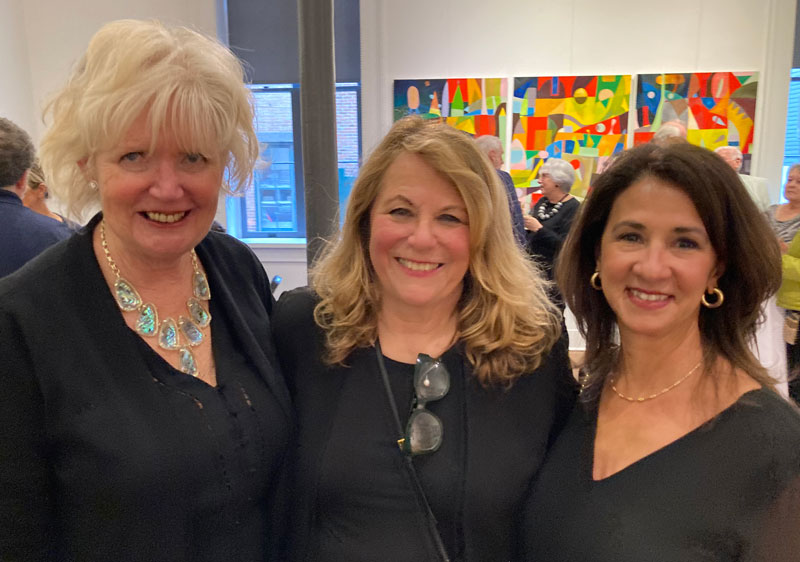 On Saturday, April 1st, The Hudson Literacy Fund celebrated its tenth year with an event at Hudson Hall honoring Lisa Dolan and Maria Suttmeier, two of their tireless founders. Every year, The Hudson Literacy Fund raises money for book "good-for coupons", enabling local students to purchase books signed by their favorite author at the Hudson Children's Book Festival.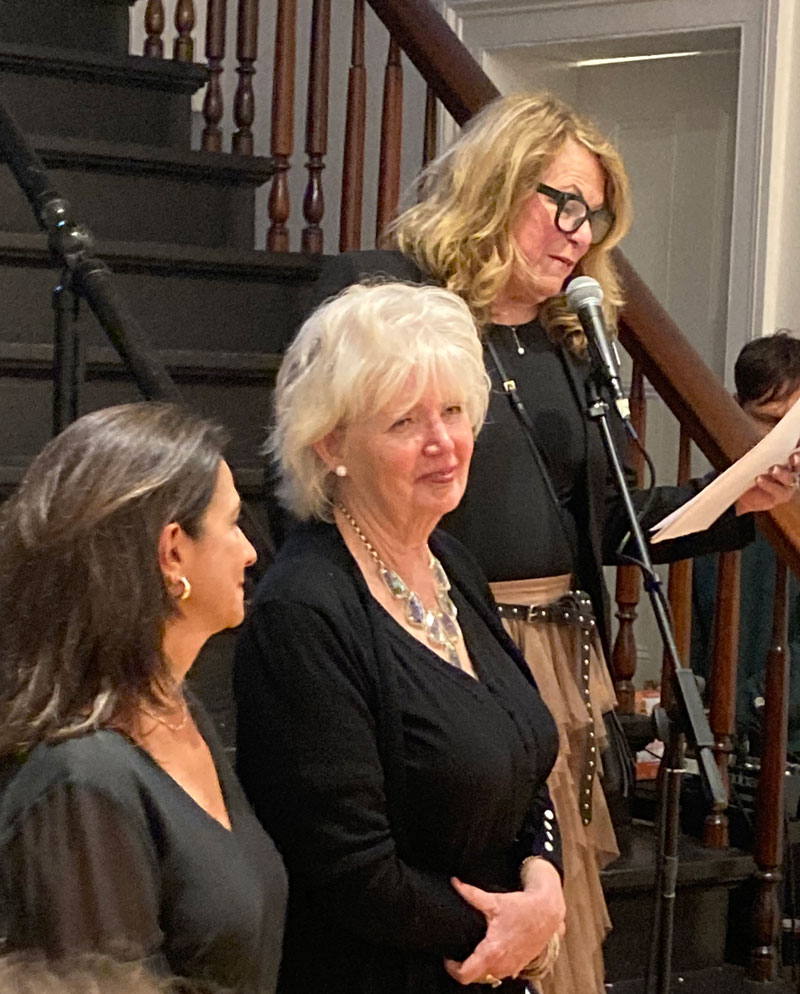 The following is from President and Co-Founder Chris Jones' speech, honoring Lisa Dolan and Maria Suttmeier.
"Thank you all for joining us tonight in historic Hudson Hall to celebrate two women who have done so much to help Hudson kids find a love for books and reading and to mark the tenth year of The Hudson Literacy Fund which I co-founded with Susan Simon, who is with us.
Lisa Dolan is here with her son Michal and daughter and son in law, Caitie and Ron Hilverman and Maria Suttmeier, Dr. Suttmeier, is here with her partner, Dennis Marino.
Lisa's educational career had her working tirelessly creating, sustaining, and extending a culture of literacy in the Hudson schools and the surrounding communities. Her talent of helping kids find the right book, the "gateway book" to help them discover the amazing worlds that books could unlock was legendary. By my rough calculation, over thirty-one years, she opened books for almost 50,000 kids.
Maria served the Hudson City School District for twenty-three years in various capacities. She was the Associate Principal of Montgomery C. Smith Middle School where she coordinated programs for Character Education instruction and after school programming. Next, she served as the Assistant Superintendent for Curriculum and Instruction with a special emphasis on reading. She served as the superintendent of the district for the last ten years until her retirement in 2021. From the start and throughout the duration of her tenure, Dr. Suttmeier worked tirelessly to support and improve educational and social-emotional initiatives for Hudson children.
But maybe most importantly, Maria and Lisa were friends.
Lisa in her new Literacy Coach role invited ten authors to the school to read their books and meet the kids in National Children's Book Week, the first week in May. One of the authors said, "what are you doing? This is so much work. Why don't you have a bunch of authors here on one day for a book festival?" Lisa shared this idea with Maria, probably over a glass of wine.
So off they went to a check out a couple of book festivals in Connecticut and Rochester. Over a few dinners (and more wine) they were sure they could do it.
They picked the first Saturday in May and got to work. Maria figured out the business side and got the Register Star on board. Lisa made a wish list of fifty authors and signed them all up. She and Maria phoned friends and twisted their arms to house the authors overnight in their homes. (You know who you are!) Maria got the logo designed – a whale spouting literacy for the festival. It was going so smoothly!
The first Hudson Children's Book Festival took place on May 5th, 2009 at Montgomery Smith Elementary School.
There was much they hadn't thought of. It was chaos.
People were running to get in the doors. It was super hot in the school and they had to bring in emergency fans. The volunteers weren't sure what they were supposed to do. Cars were circling trying to park. Floods of folks were walking both ways on the road.
But!!!! Kids met lots of authors and bought $30,000 dollars in books. Authors and kids had a great time.
A success!
That was 2009. As I'm sure you all know, fourteen years later, the festival draws thousands to Hudson the first Saturday in May to celebrate children's authors and literature. The festival has expanded to include scholarship programs, community participation, and food and beverage services.
The authors have told us it's one of their favorite festivals, because of the enthusiasm of Hudson kids and they love being in Hudson. After a three year COVID hiatus, it will return this May 6th in the Hudson High School gym with around seventy-five authors and illustrators from all over America at tables, signing copies of their books.
Lisa and Maria had the vision and brought a dream to life.
But what did the festival do?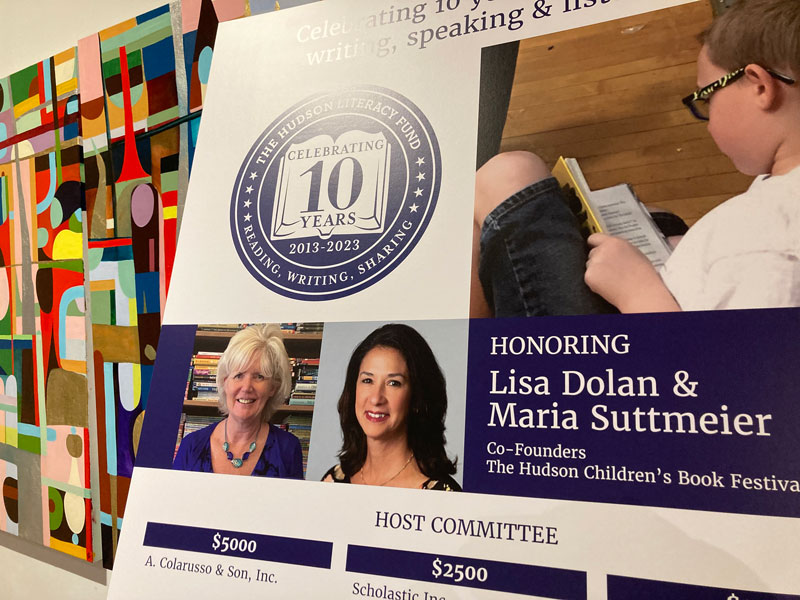 It opened up hundreds of Hudson kids to the experience of meeting "real authors" in person and connected that person to a book they knew. They "look" just like normal people, they come in all shapes, sizes and colors. They wrote the books the kids know and love – and they visited their hometown.
The authors talk to kids about books at eye level. They inscribe kids' books with their name and a note, just for them. The kids come away feeling like they "know" these authors. The kids leave the gym with a big experience and a new book of their own.
This is one of the many reasons The Hudson Literacy Fund is honoring them tonight. Thank you Lisa and Maria. I ask you to give both of these women a round of applause.
But this story has another chapter. ….. it's dangerous to give me a mic!
In 2013, Lisa had noticed, that four years in to the festival, many families weren't attending with their kids. She thought it was because many with more than one child were hesitant to come at all as buying multiple books would be expensive.
Of course she had a solution!
Susan Simon and I were co-mentoring a lunchtime reading program, Lisa founded called Hudson Reads. I see many here tonight that were mentors in that amazing program.
One lunch time, after reading,( no wine…it was in school, after all….) she suggested to us that more kids might come if they could get a book. She said, 'I wish we could find a way to give kids a book for free'
Susan was a former caterer and I owned a restaurant.
So, we cooked up the idea of a cocktail party fundraiser at the restaurant, The Red Barn in Ghent. We twisted the arms of all our friends to come. It was chaotic and fun and it raised a few thousand dollars. We came up with a "Good-For" coupon to give to kids to use at the check out for any book they wanted at the festival – for free.
The first year we gave two hundred kids a "Good-For" and several years later we were able to give one to every child in the school district, about 1,800 kids.
The Hudson Literacy Fund have given out 10,000 "Good-For's" in ten years. As Lisa predicted, many more Hudson families came to the festival for a day of books, with friends, siblings and lots of fun.
We became a non-profit, built a board of directors and I see many people here tonight who have served on our board. Over the years we grew other programs for reading and writing.
We added 3,000 new books to the school libraries, and we gave away money for books to kids going to college, based on a personal essay.
We have done three, One Book, whole grade reading programs with a final meeting with the authors. The kids all get the book and read it together with their teachers and they love it!
We gave away desks, earbuds, and books autographed by the authors during the difficult learning years of COVID.
We are giving "Good For's" to 1,600 students later this month for books they can choose at the festival on May 6th.
It's been a wonderful, action packed ten years.
I want to thank Susan Simon for serving as our first president for seven years. And members of The Hudson Literacy Fund board who are here tonight for their hard work now and through the pandemic.
They all have busy careers, teachers, business executives in publishing, real estate and so we appreciate the time that they give to our work.
Thank you to tonight's Host Committee!
Finally, I thought Hudson Hall was a fitting building to host our tenth anniversary and I want to thank Tammy and Sage for giving me a quick "yes" months ago when I asked about holding it here. And our other generous Party Partners – Talbott & Arding, Return Brewers (new in Hudson) and my husband, Bert.
But mostly, I want to thank you for generously giving us the money that we need to keep giving Hudson kids experiences with books. It's allowed us to do more for more kids, and given us the financial power to dream up new ways to engage kids with writing and thinking about stories and books.
When you see the face of a second grader clutching a new book they chose, signed by the author that talked to them, we know that what we're doing is working."
-Christine Jones