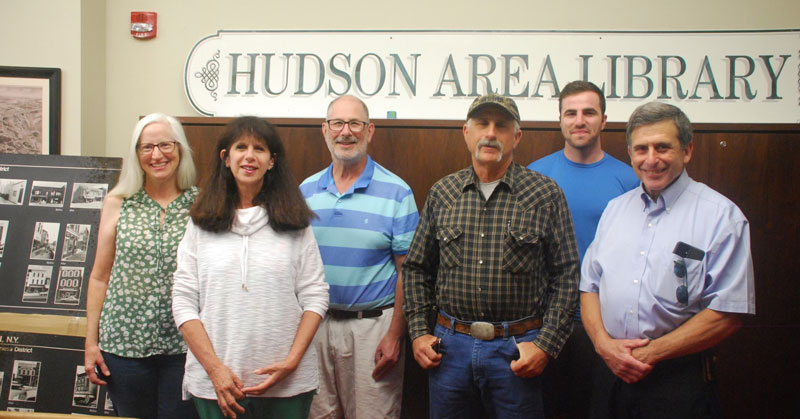 The Hudson Area Library is proud to announce that the Koweek family has donated the Arthur Koweek Urban Renewal Papers to the library's History Room. Arthur Koweek chaired the Hudson City Planning Commission during the urban renewal project of 1971-1973. With Hudson again in a debate about housing and business development, much can be learned from the Koweek Papers about the history of urban renewal in the city. The collection is an invaluable resource for Hudson and its residents as they seek to create a city that meets the needs of all the diverse people who live and work in its environs.
Gary Sheffer, library board trustee and chair of the History Room said: "The Arthur Koweek Urban Renewal Papers shed light on an important part of Hudson's, and our nation's history. Thanks to this generous donation by the Koweek family, people will soon have access to these papers, which include many photographs, and what they show about the norms, cultural underpinnings, and waves of economic change in the early 1970s. In particular, the collection highlights the vision, civic dedication, and decision-making of some of the business and political leaders in Hudson as they sought to bring their city back from economic decline."
About her family's donation, Joan Koweek, Arthur's daughter said, "We remember how dedicated my father was to this city. He saw the potential for growth before many others. He and our mother spent countless hours on committees with city, state, and federal agencies trying to make a better community for everyone. All of the things in the exhibit come out of the dedication of many Hudsonians, working respectfully together. Our family was fortunate to be the caretakers of these articles. They were part of our lives as we grew up."
The library is also proud to announce that, thanks to a generous anonymous donor, the Koweek Papers will be professionally conserved and archived. This will not only ensure that this collection is preserved but will make it publicly accessible and searchable including placing some of it online.
History Room Coordinator Brenda Shufelt said, "The History Room depends upon donors who value the preservation of local history, and we are very grateful that this recent acquisition and donation will make the Koweek Papers available to all for generations to come."
Anyone wishing to view this collection and other collections in the Hudson Area Library History Room can visit during the History Room's open hours on Saturdays, 10am-1pm or email brenda.shufelt@hudsonarealibrary.org for an appointment. In addition many of the library's collections can be viewed on our website historyroom.hudsonarealibrary.org.
Arthur Koweek, a World War II veteran, co-owned with his wife Janice the beloved Town Fair, a baby and children's store in Hudson. He was a lifetime member of the Hudson Fire Company 8, served on Hudson's Youth Advisory Board and the Columbia County Healthcare Consortium as well as the Hudson City and New York State Planning Federation Boards.
The Hudson Area Library History Room houses a collection that pertains to the history of the City of Hudson, Greenport and Stockport; as well as Columbia County and New York State. The History Room also hosts the Local History Speaker Series at the library, offering free monthly talks on diverse topics related to local history.
The History Room is open Saturdays, 10am-1pm and by appointment and online research requests for information on local history are available at https://hudsonarealibrary.org/history-room/. This is a free service to the public. To inquire about an appointment email brenda.shufelt@hudsonarealibrary.org or call 518-828-1792 x106.
The Hudson Area Library is located at 51 North Fifth Street in Hudson, NY. The mission of the library is to enrich the quality of life by providing free and equal access to programs, services and resources, and by creating opportunities for all members of our community to connect, create, learn and grow.