Made X Hudson (MxH) grew out of the Hudson Community Incubator (HCI), a new startup ecosystem supporting dozens of Main Street businesses and new ventures across the region. Responding to the need for small Hudson Valley designers to produce locally, MxH launched a "cut and sew" contract manufacturing enterprise, specializing in soft goods (think things for the home) and garment production. Starting in Leeds in March, MxH quickly outgrew its "cradle" and moved to a larger facility in Catskill this November.
Made X Hudson, a non-profit entity, is mission-driven: MxH makes it possible for smaller designers/brands – who would never meet the minimums for off-shore production – to establish lines with small-batch, high-quality production. At the same time, the MxH ethos prioritizes ethical labor practices and a living wage, not exactly the historical hallmarks of the U.S. fashion industry.
In a small but significant way, Made X Hudson is part of the "reshoring" of U.S. manufacturing – the "Made in America" movement across many sectors. Further, they are training a new generation of talent in industrial sewing production in the Hudson Valley, once known for garment production.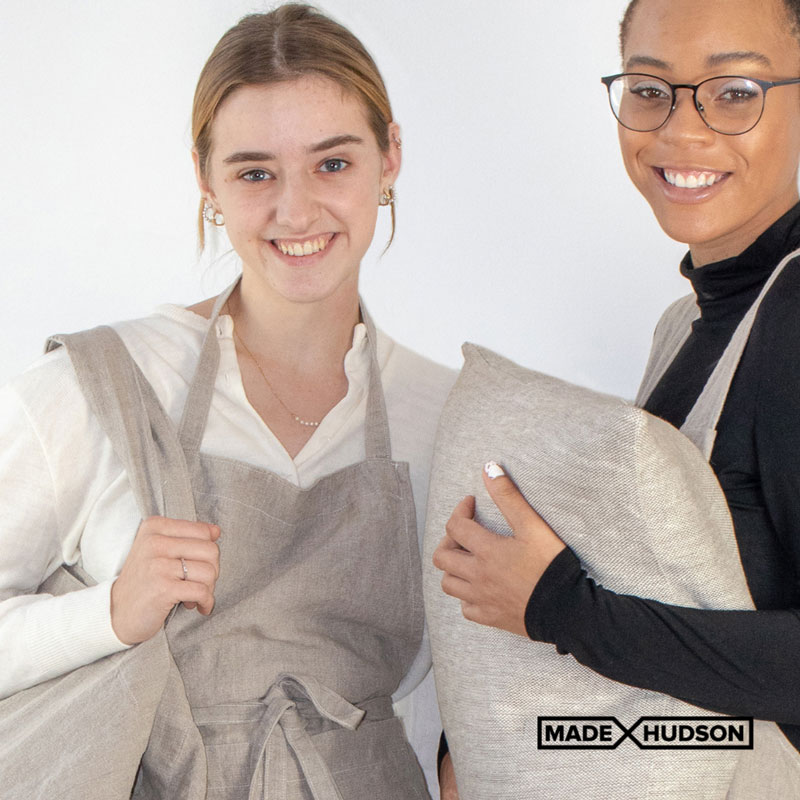 Made X Hudson's client roster includes several Hudson Valley brands and those from farther afield. While their reputation brings more and more interest, they are allocating some in-house design and manufacturing energies to a limited "house line" – the Made X Hudson Home Collection. The Collection has five products, including two aprons and a tote – made of 100% natural, undyed linen sourced from the Baltic region, known for its superior quality and durability. The products love the washer, giving them that elusive combination of style AND function.
Zippered covers for throw pillows, square or rectangle, and a set of four linen napkins – all machine washable – round out the product offerings.
Making all of this happen is a dedicated team of pros. Everyone at Made X Hudson is local to either Catskill or Hudson. Eric DeFeo, the founder of the Hudson Community Incubator, brings his vision and background in innovative strategies to MxH.
On the production side, Sirpa Cowell is a veteran of international design and product development, with expertise in high-quality manufacturing. Designer and Celestino Couture founder Sergio Guadarrama's North Star is at the intersection of fashion, environmental sensitivity, and ethical production.
Sabina Clason, an expert seamstress with exacting standards, heads up the sewing team of five part-time employees and is integral to the training program.
At the back of the house, Jane Trombley works on communications strategy, HR, and finance.
What's next? "Made X Hudson will continue to innovate", says Eric De Feo.
"We've just scratched the surface of Made X Hudson's capabilities in terms of helping small brands with design and product development. Starting in January, we'll be working with senior students from Marist College's Fashion Program which will bring new entrepreneurial energy and ideas."
And further down the line?
"Made X Hudson" might not be limited to fashion manufacturing, notes DeFeo. "There is so much creativity in this area, so many opportunities to build a sustainable, integrated manufacturing system designed for this century – we're just getting started."
As they say, watch this space.