Hudson, NY
The wait is over. No more standing patiently in the tiny but formidable home of Hudson's "gourmet provisions and cheese" shop. After six and a half years at 323 Warren Street, plus a two week hiatus to synch the new gears, Mona Talbott and Kate Arding, proprietors of their eponymous emporium, are finally at their expansive new location, 202 Allen Street, with the main entrance on Partition, off 2nd Street. This is huge – and worth the wait, Hudson. Trust me.
Here's what you can expect in the new digs.
First of all, it's a massive 8,000 square feet. Most of the space is dedicated to a state of-the-art kitchen to prep take-away foods, a growing e-commerce site (www.talbottandarding.com) and thriving catering business. A bigger space means more stuff, and more delicious stuff – like daily homemade pastas, soups, focaccia and a new array of pastries – all prepared on premises.
The wall of refrigeration is a take-away shopper's heaven.
With a layout that is both charming and strategic, you'll get a glimpse of how "they make the sausage" – or, more appropriately, how they prepare the daily pasta specials and baked goods. Specialty pastries and crackers are made from whole grain organic flour, grown and milled in the New York's Finger Lakes region.
The broad middle expanse incorporates a communal table with benches for a light lunch, coffee, or a snack (no wine or liquor served), but does not encourage lingering. Good thing Hudson's Waterfront Park is a short walk away!
Daily specials attract a lunch crowd, or those looking to pick up locally-sourced ingredients, or an entire supper. Lunch specials change daily, with fresh offerings to supplement the array of cheese and charcuterie that make Talbott and Arding famous.
Local sourcing is a priority with Talbot & Arding. Expect to see local farms and producers, such as Churchtown Dairy, Samascott Orchards, and MX Morningstar Farms.
Under the direction of Mona and Kate, professionalism and good vibes reign. The staff is knowledgeable, helpful, and friendly. The entire staff moved, kit and caboodle, with the operation to the new location.
They'll be open and waiting 11am-5pm every day except Monday – and expect a line out the door.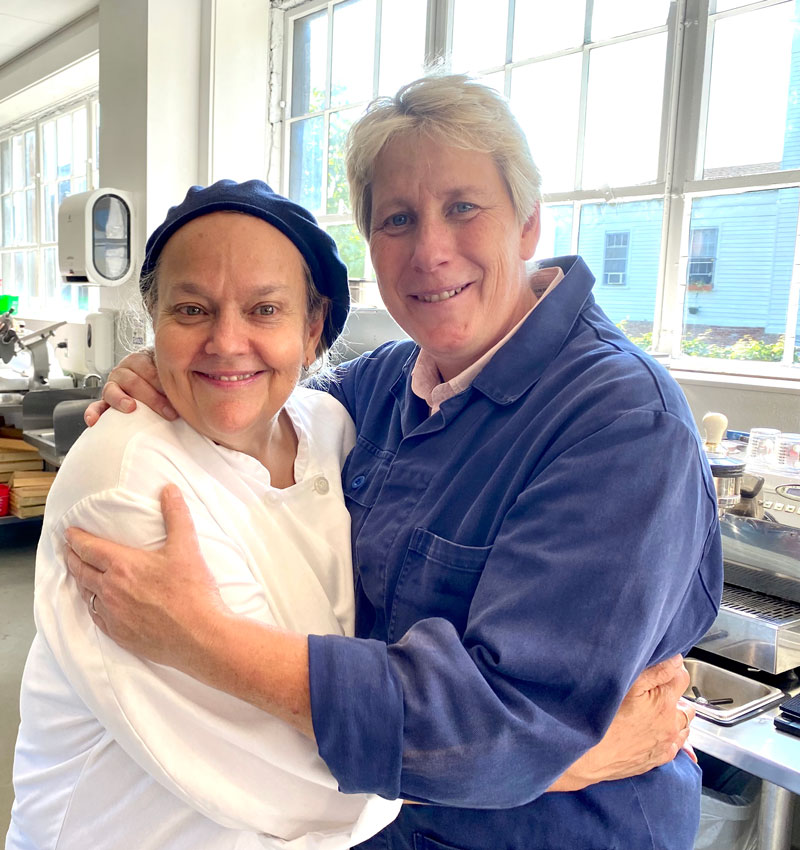 Congrats, Mona and Kate, and well done!