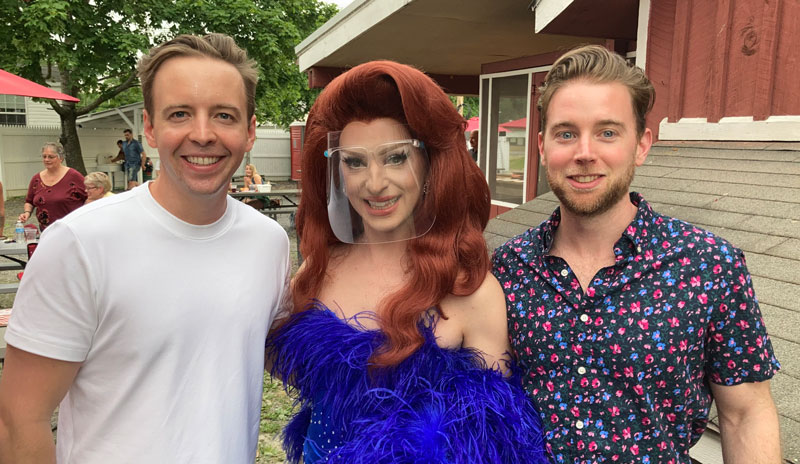 New Hudson residents, Justin and Craig, with Miz Cracker – in an apple orchard.
WILKLOW ORCHARDS – HIGHLAND, NY
I got a text. "Um, Trixie, we read your blog every week and there was a drag show in 7th Street Park. Thanks for letting us know!"
It was sarcasm. Oh gee, gay men being sarcastic….that never happens…
The last drag show in Hudson was not on my radar. Sorry, gentle readers.
However, I, Trixie Starr, your Hudson Fairy Godmother, was not going to be out-done. You want to go to a drag show, I'll take you to see a drag show!
Bibbity-bobbity-boop!
Voilà – three tickets to see RuPaul's Drag Race contestant, Miz. Cracker, performing at Wilklow Orchards in Highland, NY – about an hour south, and the other side of river. It was a drag show in an apple orchard (so Hudson Valley!), a wonderful outdoor event produced by my good friends Stephan and Patrick at BigGayHudsonValley.com whom I've blogged about before here. You need to get on their big gay mailing list and see their shows – they have a whole summer planned!
Miz Cracker, born into a Hasidic Jewish family says that her family didn't really practice religion.
"We were about as Jewish as Staten Island is a borough."
Some scoff at an hour's drive outside of Hudson. But, if you've ever lived in Brooklyn and dated someone on the Upper West Side (or worse – the Way Upper West Side – Inwood), an hour is nothing. Just go. Charge the car and get out of town.
What else are you doing? I mean, really? What else are you doing? With your life?
As I sat there, sipping my pear cider, waiting for the show to begin, I explained to my new Hudson gay friends, that it's actually easier going out in the Hudson Valley.
"Where we are sitting right now, is THE BEST gay/LGBTQ event that's happening within a fifty-mile radius. There is nothing else. There's NO BETTER party. You're at it!"
Knowing that you're at the best party in the land, takes away the FOMO (Fear Of Missing Out). The feeling of FOMO-lessness has only happened to me ONCE while living in NYC. It was the early 90s, I was at 'The World', a dive in Alphabet City. It was a Tuesday night at Dean Johnson's Rock and Roll F*g Bar. On the dance floor, I turned to my friend and said, "Wow, that drag queen really looks like Liza Minnelli". He said to me, "That's because it IS Liza Minnelli!" If you're on a dance floor with Liza Minnelli, you're at the best party in New York! Hello.
I warned Justin and Craig, "Hudson is a small town. Everyone knows everything about everyone."
Now that you know what they look like, if you see Justin and/or Craig on Warren Street, walk up and say Hi! Or, just start talking to them as if you've met before and see if they become uncomfortable.
I never said I was a good Fairy Godmother…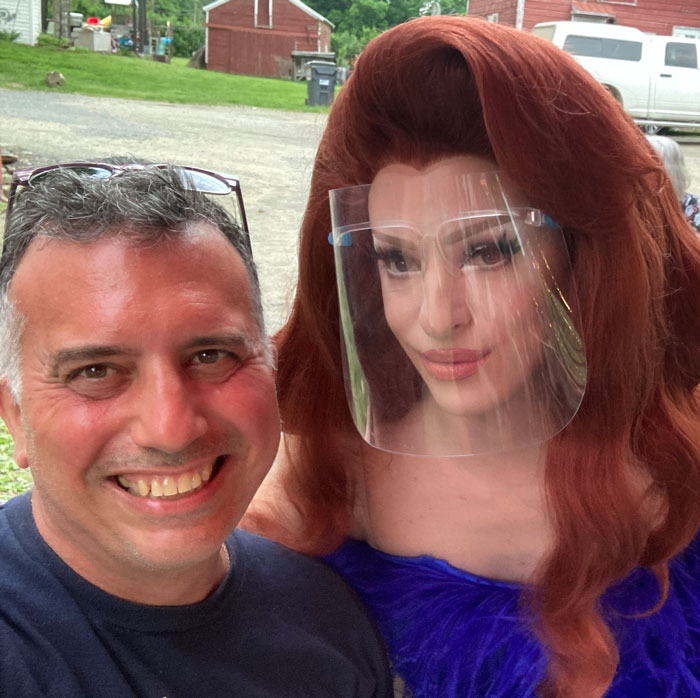 I can't stand drag queens.