UPDATE: As of December, 2021 – CLOSED

Kinderhook, NY – Hudson, you're so vain. I bet you think you're the coolest and hippest place in Columbia County, don't you? Don't you?
Welcome to COSMIC DONUTS in Kinderhook!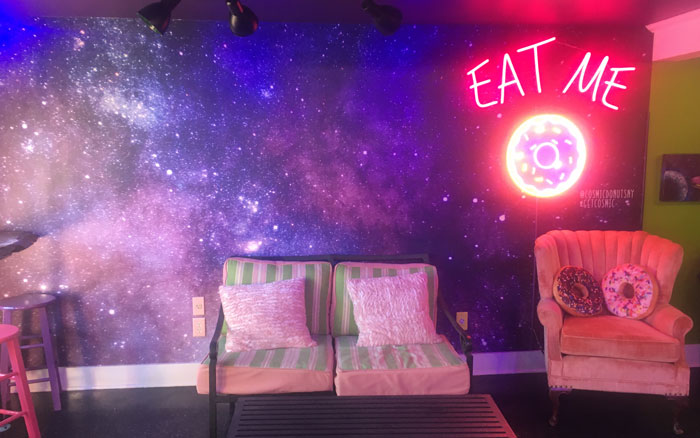 Like me, you'll make the trip up Route 9 to pick up donuts for your friends and coworkers. Why? Well, these aren't just regular, ordinary donuts. No, not at all. They are hand-crafted works of edible art! If you show up at any (socially-distant, COVID-safe, small) gathering with these donuts, you are instantly the most popular person in the room!
With names like Mississippi Mud Pie, Banana Cream, Pecan Pie, Peanut Butter Chocolate, and Maple and BACON (yes, bacon on a donut, why not?), how can you resist?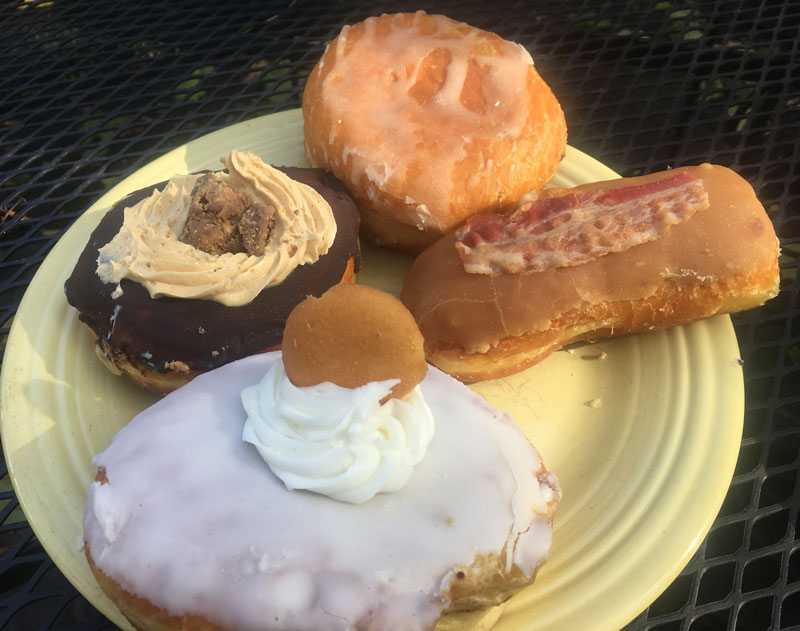 Jhordi Jorgenson, a life-long Columbia County resident, with her mom, Bonnie, and boyfriend, Jason, opened Cosmic Donuts in October 2020 – in the middle of the pandemic. They start baking at 1:30am and open at 7am Thursday, Friday and Monday and 8am on weekends. They stay open until they sell out, usually around 1pm.
"It's a happy place." says Jhordi, "It's fun, and people need comfort now."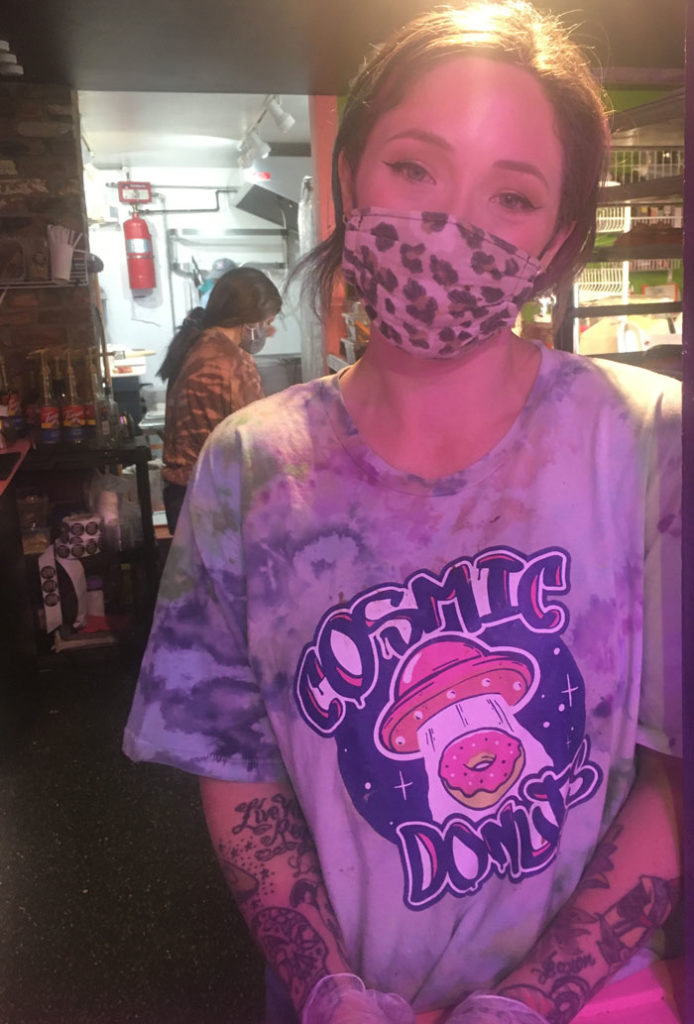 Cosmic Donuts Owner Jhori Jorgenson
The small storefront is brightly-colored and inviting, with a big display case of fancy, hand-made donuts. For the moments you're inside, you forget all your problems and cares!
Fun and eclectic, Cosmic Donuts, is worth the trip to Kinderhook!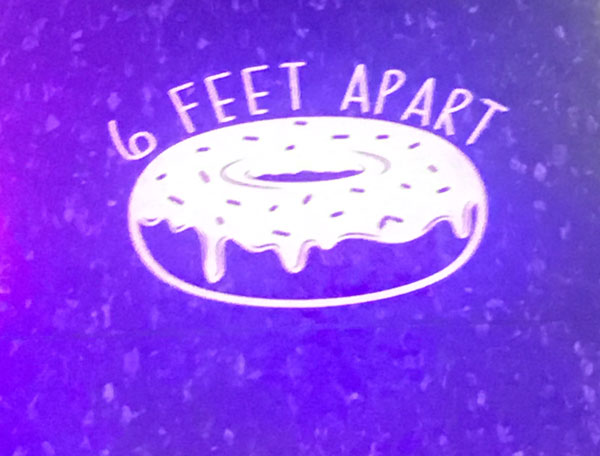 Only five people are allowed inside at a time and even the socially-distant floor markers are donuts!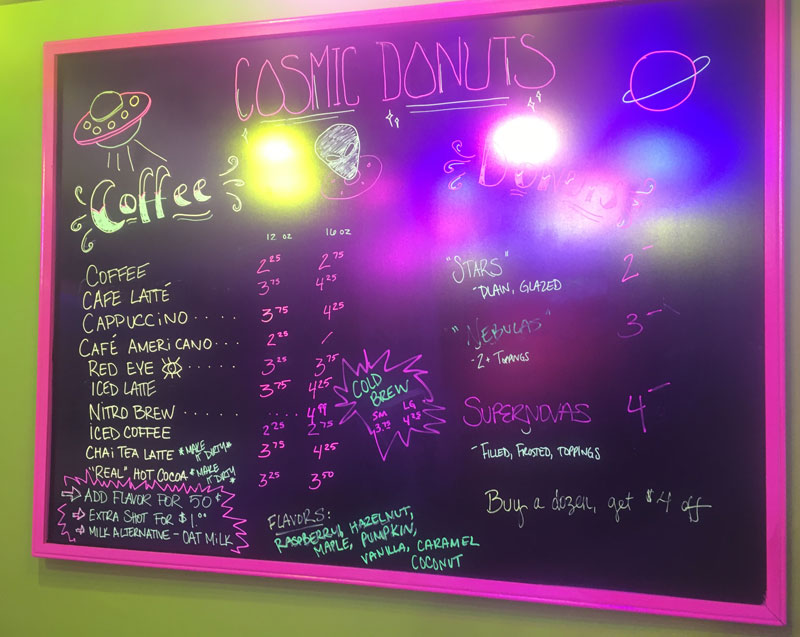 Donuts are Stars $2 (plain, glazed), Nebulas $3 (2+ toppings), or Supernovas $4 (filled, frosted, toppings). The best money you'll spend that day!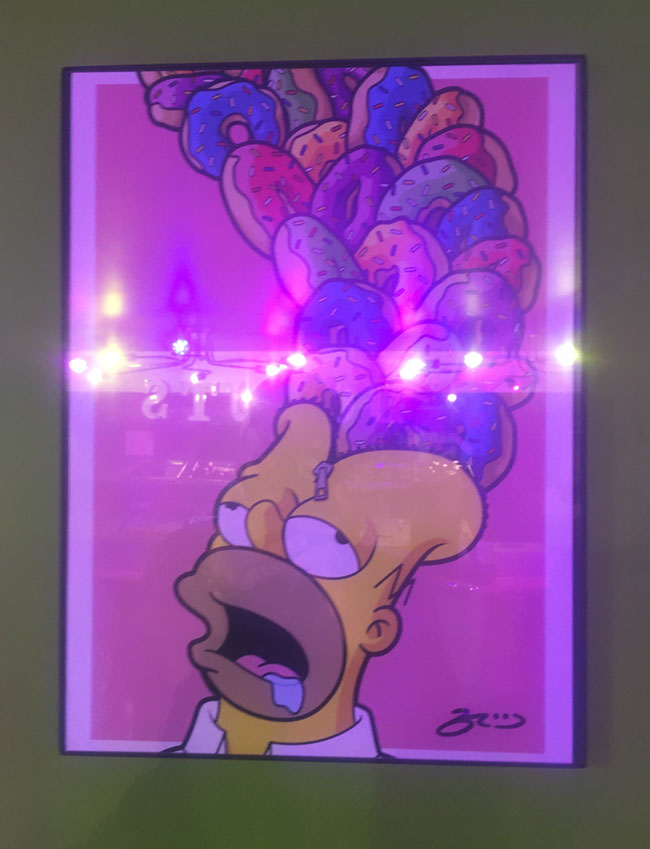 3 Albany Avenue, Kinderhook, NY
Drive up Fairview/Route 9, until you hit the intersection in Kinderhook. Cosmic Donuts is a left at the intersection, but there's plenty of parking to the right, a block from the donuts.
Open 7am – sell out Thursday, Friday, and Monday. 8am to sell out Sat/Sun. Sell out is usually early afternoon. Get there early! Ya snooze, ya looze!