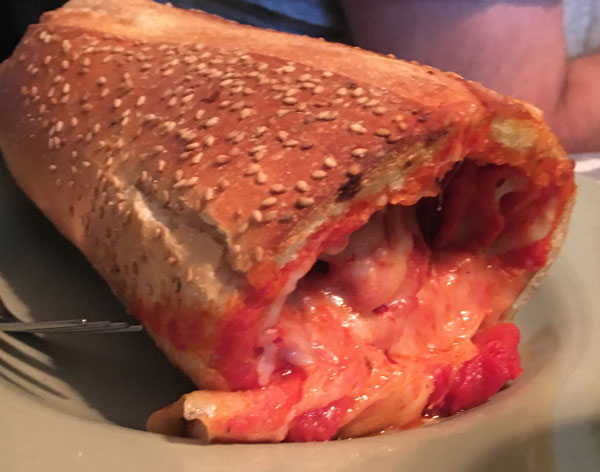 The Columbia County Fair is canceled for this year, but you can still get "Fair Food" – like this Pepperoni or Meatball Heel at 225 Warren.
I grew up in an Italian-American family from the Bronx/Long Island, and I attended many San Genaro Festivals, but never have I seen this until I moved to Columbia County.
The pepperoni is slow-cooked for hours in a crock pot with homemade tomato sauce, then placed in (about) half of a loaf of hollowed-out Italian bread. Mozzarella cheese is melted on top and served hot. The pepperoni is stuffed into the bread when you pick it up – as if you're buying it at the Fair.
It's about eight to nine inches and too big for your mouth. Forks and knives, if you're fancy.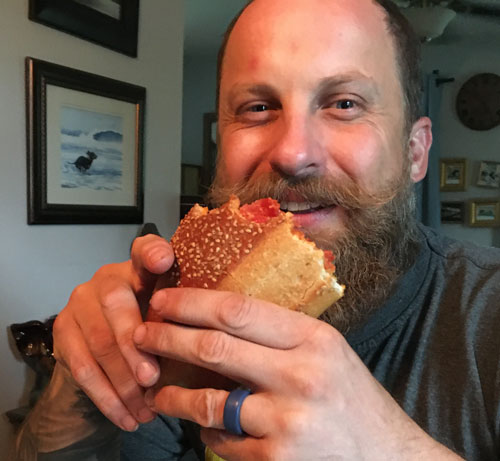 "Delicious!"
By stuffing the pepperoni into the heel, at the moment of pick up, the bread stays crispy and firm. It's REAL Italian bread – not supermarket doughy and soft, wrapped in plastic with a date stamp! No! This sesame seed bread is the bread that makes you take a number, and wait outside on Arthur Avenue. You wake up early on a Sunday morning for this bread. You go before Mass – before they sell out. You do not come home without this bread.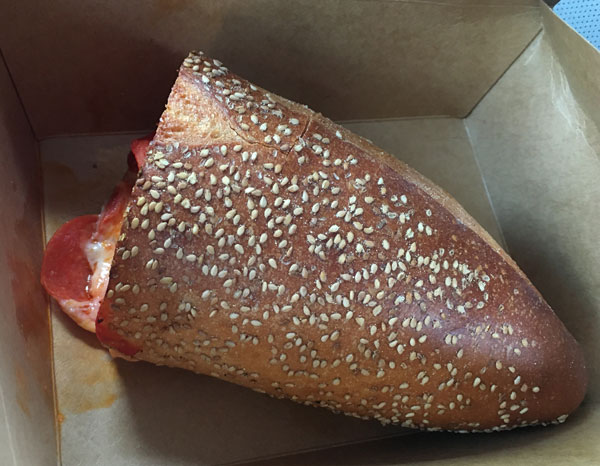 Usually, when you eat pepperoni, it's one slice at a time on a piece of pizza – but this is multiple slices – in one bite! It's almost too good, too gluttonous, to think that you can eat all these slices of pepperoni at once! The pepperoni and sauce is spicy and sweet, but the bread offers a soft, cushioning balance and soaks up the flavors. You taste the sauce once the pepperoni is long gone – like a fond pepperoni memory.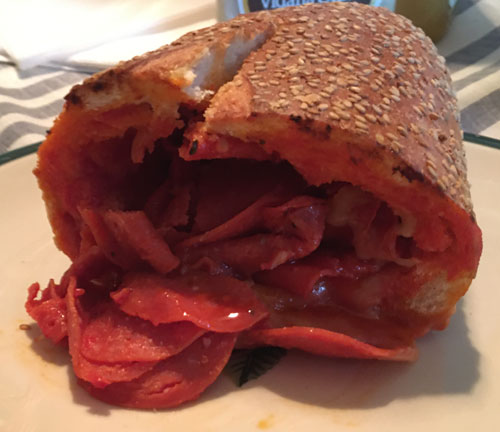 Cheesy Expectations!
Set your cheese expectations accordingly. Just because there's cheese at the beginning, does not mean that there's cheese throughout, or at the end. One friend wished that there was more cheese! I understand. However, wishing for more cheese – well, you could say that about almost any meal!
At $12, this is a bargain! It's a meal and a half. There are two/three versions – pepperoni, meatball or mixed. It's only on Wednesdays, and maybe not forever. It's not on the menu. You have to just KNOW.
If you go, tell them Trixie sent you!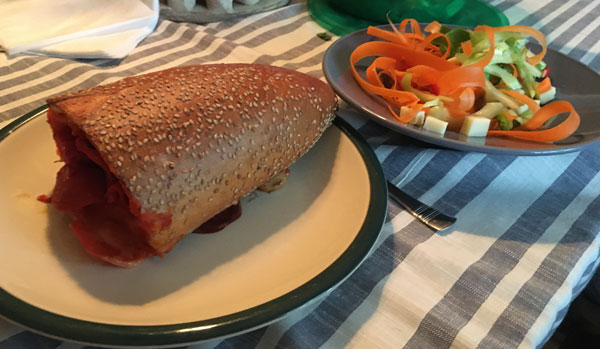 Eaten with fresh, picked-from-the-garden salad, grown by The Naked Gardener Hudson.

Salad, because we're healthy!