Above photo: Wunder-berry Dreamsicle, made with Absolut Juice Strawberry vodka with hints of peach and vanilla, orange juice and a splash of cream. wunderbarbistro.com
As the weather warms and we adjust to the "new normal" of take-out and home chefery (well, some of us skipped that part), it seems like a good time to discuss everyone's favorite new thing: DRINKS TO GO!
What can and can't you do, and where in Hudson can you get some really tasty ones?
Once largely verboten (with a few exceptions, for breweries filling growlers and the like), the sale of "to go" adult beverages was temporarily authorized as of March 16 by Executive Order of Governor Cuomo. At that time, he directed the State Liquor Authority to provide guidelines regarding the interpretation of and application of this order. Those guidelines are available for your perusal – perhaps over your to-go drink of choice! – www.sla.ny.gov.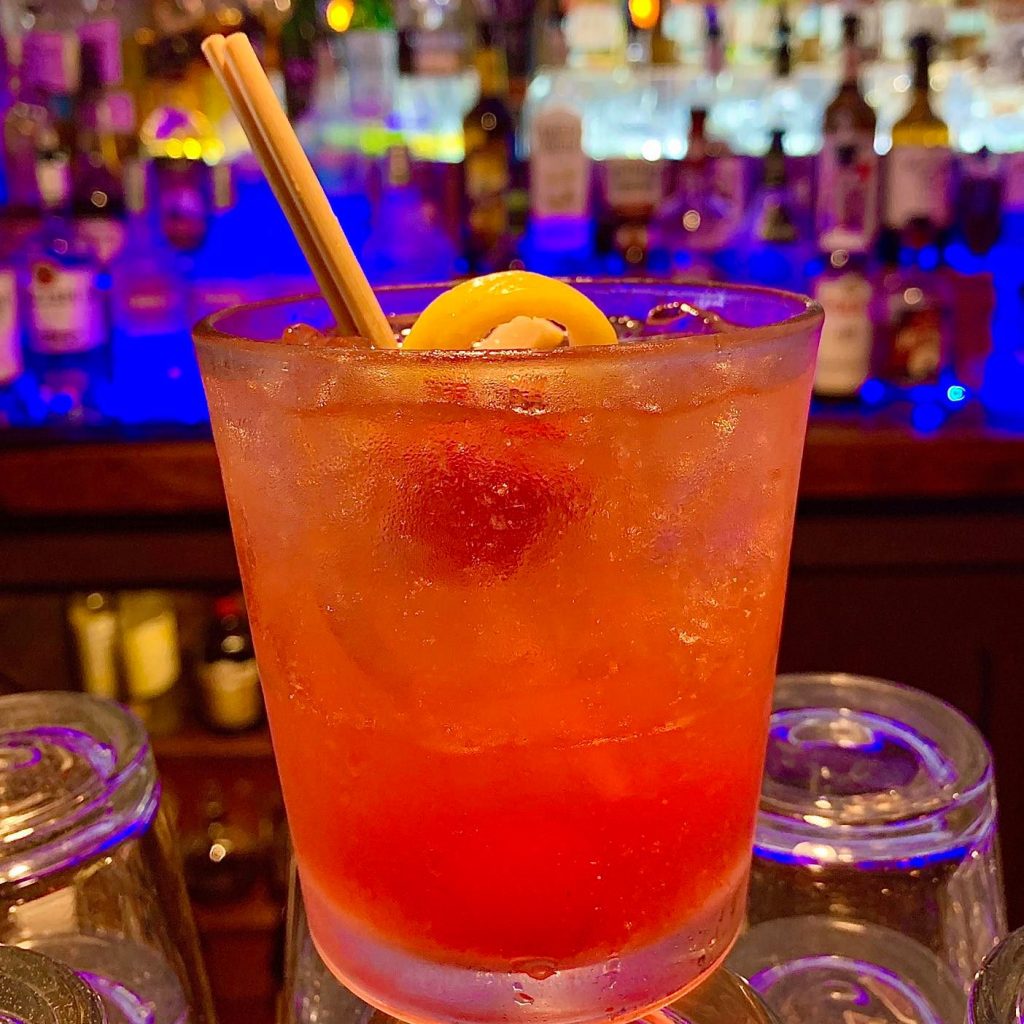 Sour Cherry Crush at Wunderbar Bistro
Wunderbar drinks were posted on FB as $12/QUART – a bargain!
Here are the key take home points:
—To-go beverages must be in CLOSED or sealed containers or in their original packaging (eg there must at least be a lid on the drink).
— The purchase of alcoholic drinks for takeout or delivery must be accompanied by a purchase of FOOD (except in the case of craft manufactures, whose licenses already permitted the filling of growlers and so forth).
— The drinks can't be consumed on the premises (which includes an establishment's outdoor space). TO-GO literally means you need to … go. Of course, as of TODAY, June 4, restaurants in the Capital region are able to open their outdoor space again, so that guideline may be subject to revision. It's hard to keep up!
— My personal favorite: No you cannot drive a truck around town, selling beer or wine from a tapped system. Really, this was listed under FAQ on the SLA website! So much for the Booze Truck driving alongside the Ice Cream Truck. Maybe someday.
— Municipal "open container" laws still apply but enforcement (or not) of that is up to the municipality.
— There is NO LIMIT to the quantity of to-go drinks an establishment can sell in one order! (Yes, this was also a FAQ)

In addition to selling bottles of wine and six packs of beer and cider to go, many places around Hudson are accordingly mixing up delicious cocktails so that you don't have to.
Here are just a few:
— WUNDERBAR is doing a special "drink of the day" in quart sized containers over ice! (Some recent examples: sour cherry crush, wunderbar dream sickle, coconut-ginger haze) as well as many of their classic cocktails. (Order online at wunderbarbistro.com or call 518-828-0555 for pickup 11:00 am-9:00 pm Fri and Sat, 4-9 Sun-Thurs)

— You can order a range of cocktails for 2 from LAWRENCE PARK (pre-order lawrenceparkhudson.com or 518-697-7612, 4-7 pm Thurs-Sat)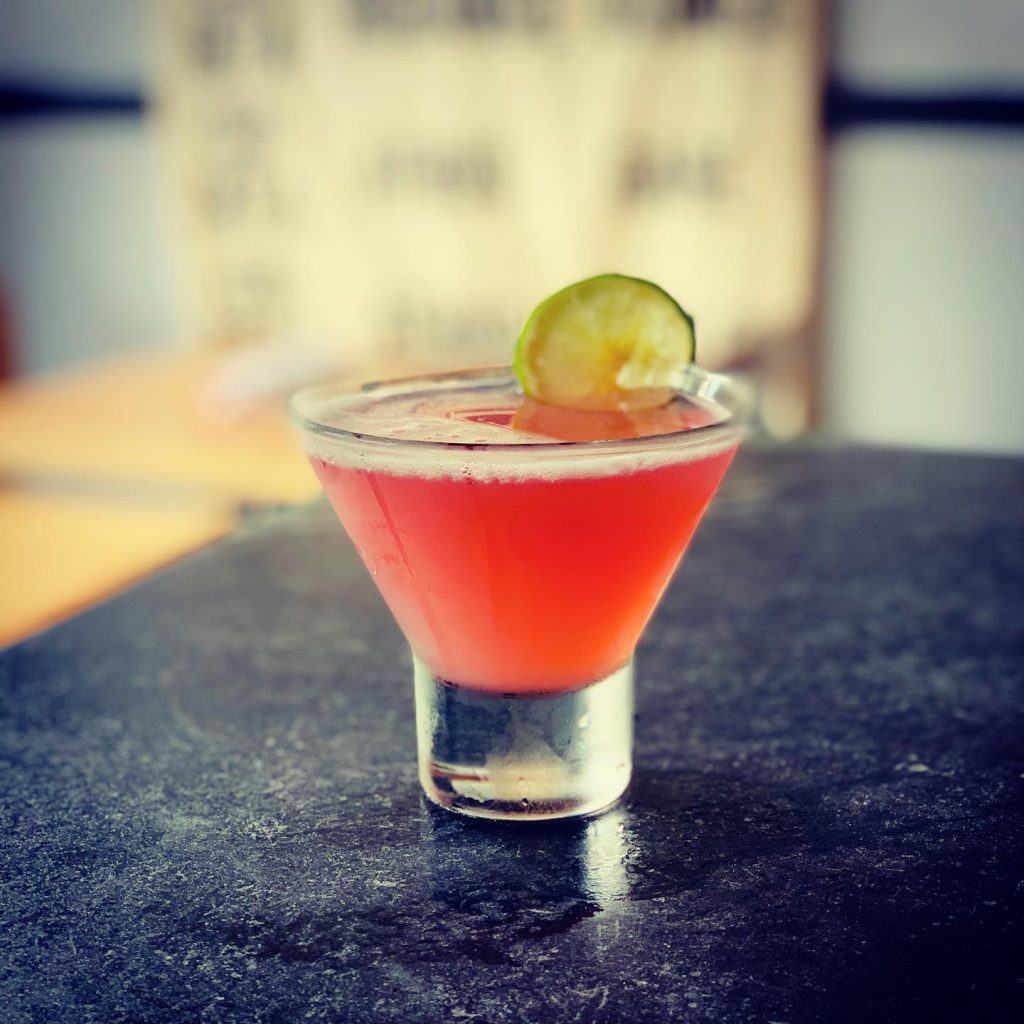 Pama Cosmo at Hudson Food Studio
— HUDSON FOOD STUDIO is mixing single or double special cocktails (recent specials include pana cosmo and a cucumber elderflower gimlet) for curbside pickup (order online at www.hudsonfoodstudio.com or 518-828-3459, 5-9 M-Thurs, 5-10:30 F/SAT, 5-9 Sun)

— BACK BAR is doing their fan-favorite boozy slushies to go! (as well as an array of other drinks). (Call to order for curbside pickup W-FRI 4-8, SAT-SUN 12-6- 518-828-0567)

— And don't forget LA MISION's frozen margaritas! Tons of flavors to choose from including my favorites – pineapple and mango. (Call 518-697-6220 to order for takeout, 11:00 am-8:00 PM daily)

Enjoy, stay safe, keep a lid on your drink and and stay away from that mobile beer and wine truck!