As a vegetarian, I don't often think about eating at American Glory.
However, scrolling through FB one day, I saw an ad for the Wednesday evening special- a tray of eggplant parm – serves 4 – $29. SOLD!
I love eggplant parm, but who wants to make it? It's a lot of work. Slicing the eggplant, getting the water out, frying it….ugh. Buy it frozen? No. It's bad enough that I'm an Italian-American who buys jar sauce! I'm not going to buy frozen eggplant!
Jar sauce? Really, Trixie?
I found two friends who would share the meal with me, ordered it on-line, and went to pick it up at American Glory on a Wednesday evening at 6pm.
It was, I felt, a perfectly safe COVID-19, experience. They parted the plastic 'curtain' window at the entrance to the restaurant and handed me a box with the warm tray of eggplant parm and ziti.
(A little public service message – the CDC finds "no evidence to support transmission of COVID-19 associated with food." So, order some takeout!)
As I turned around to leave, they shouted, "Wait – your Klondike bars!!"
What??
Yes, gentle readers – here's your Tip from Trix for today. Your $29 tray of more-than-you-can-eat eggplant parm and ziti from American Glory comes with FOUR Klondike bars!
And my first thought was…Klondike bars. Wow. NICE!
The ice cream bars transported back to my grandparents' apartment building on East 225th Street in the Bronx, 1977. My grandmother would make eggplant parm or sausage and peppers – or both – and after, for dessert, "in da Frigidaire," we were allowed an ice cream sandwich.
We didn't have Klondike bars. We had Pathmark, no frills, ice cream sandwiches. An actual Klondike bar MAYBE happened when they were on sale, or there was a coupon that week…
The eggplant parm was amazing – so satisfying. I'm going back!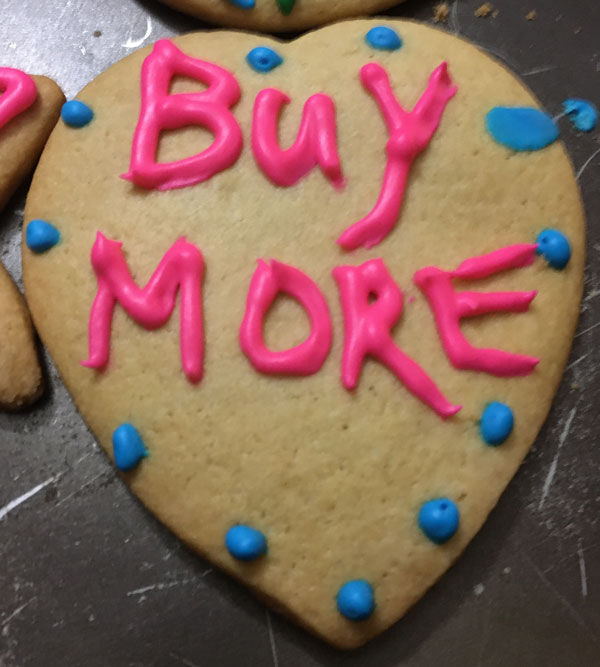 Trixie's Oven cookie decorated by Marcia Curran
Our local businesses need money NOW. If you are employed and have some extra money from your stimulus check, or some extra COVID$ unemployment funds, please consider spending locally!
Money spent locally, to local merchants, goes a long way!
THANK YOU!