Lightforms Art Center
Address:
743 Columbia Street
Hudson
NY
12534
United States





The following is a review of a past show:
Lightforms Art Center in Hudson, NY is an arts organization founded by a group of anthroposophical visual artists. Developed by Austrian philosopher, Rudolf Steiner, in the early part of the 20th century, anthroposophy is a multi-disciplinary movement about nurturing the life of the soul. Lightforms' debut exhibition featured art by a well-known supporter of Rudolf Steiner's philosophy, Hilma af Klint. That exhibition also showcased art by local artists in response to specific works of Klint in the show. Subsequent shows likewise featured visual art by other very well-known artistic types in anthroposophy circles.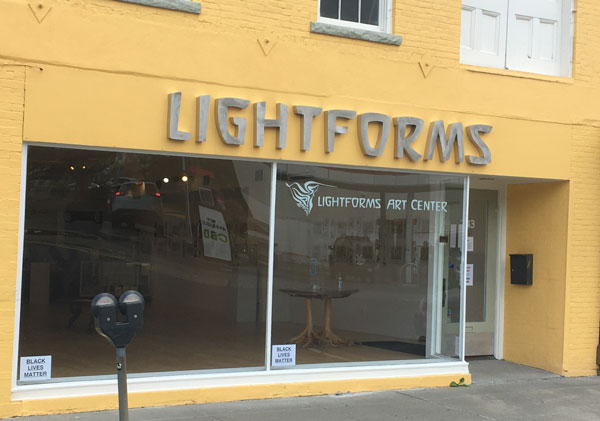 If you are in Hudson, NY, and are not familiar with Rudolf Steiner, I strongly suggest you stop by and experience Lightforms. It is unlikely you will find the "fine artists" from the "MFA generation" who increasingly seem to further their artistic practice in the same post-MFA program, namely, Instagram. The backgrounds and training of anthroposophical artists are varied and spiritual.
The current exhibition in the front gallery is Inventing Color featuring works from another well-known practitioner of Rudolf Steiner philosophy, the late poet, potter, educator and artist, M.C. Richards on view now until October 4.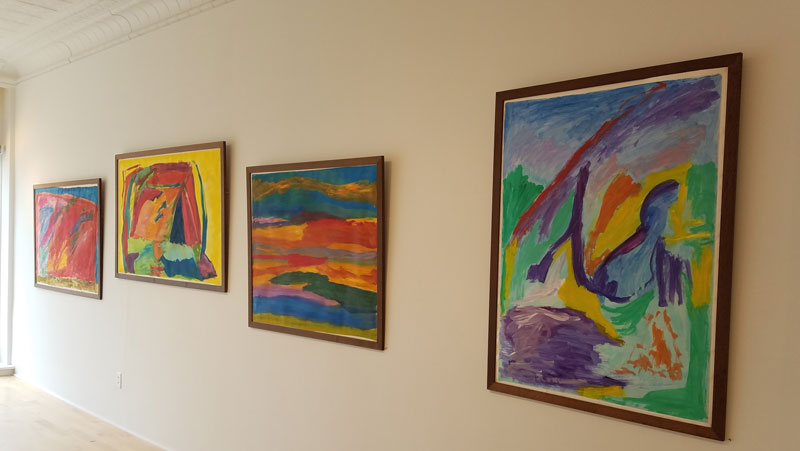 Acrylic on paper works by M.C. Richards
Originally from Portland, Oregon, M.C. Richards received her Ph.D. in English from the University of California Berkeley.  After teaching in academia for a number of years, Richards joined the faculty at Black Mountain College in 1945 where her teaching methods became more creative-oriented. Richards taught writing and produced plays. She also studied dance and pottery.
Black Mountain College was an experimental college located near Asheville, NC where poetry was highly valued and integrated into curricula and a fascination with the avant-garde was nurtured. It was founded in 1933 by a group of American academics pining for more academic freedom and complemented by the addition of a number of intellectuals from the Bauhaus in Germany which was shut down by the Nazis. The faculty at Black Mountain College believed in a holistic and interdisciplinary approach to studying the arts.
Notable faculty and students included Joseph Albers, who directed the arts program and his wife, Anni, who taught textile design, Buckminster Fuller, Merce Cunningham, Jacob Lawrence, Gwendolyn Knight, John Cage and Robert Rauschenberg among others.
When Black Mountain College closed its doors in 1957, Richards headed for Greenwich Village in New York City where she continued to study dance and pottery and led pottery workshops. It was there she wrote her most known work, "Centering in Pottery, Poetry and the Person."
In 1990, Richards began to paint with acrylics and experiment with color. Her paintings are on display (all created in the 1990's) along with her ceramic pieces, though it is unclear when the ceramic pieces were created. Though an avid fan of the avant-garde, her paintings are generally abstract landscapes and still lifes, most from a brightly colored palette.
In the back gallery is the hybrid exhibition Alignment and In the Figure of Divine Substance featuring paintings by Ntangou Badila and Laura Summer.
In the Alignment portion, Congalese Brooklyn artist Ntangou Badila, with a background in pastry arts, shows acrylic works on canvas that are generally illustrative abstract figurative works about "abstracting anatomy." Included, for some reason, in this portion are works from a previous show or another series called Pop Culture which are vibrant illustrative portraits of women of "indigenous tribes throughout regions in Africa…showcasing sacred women in contemporary fashion."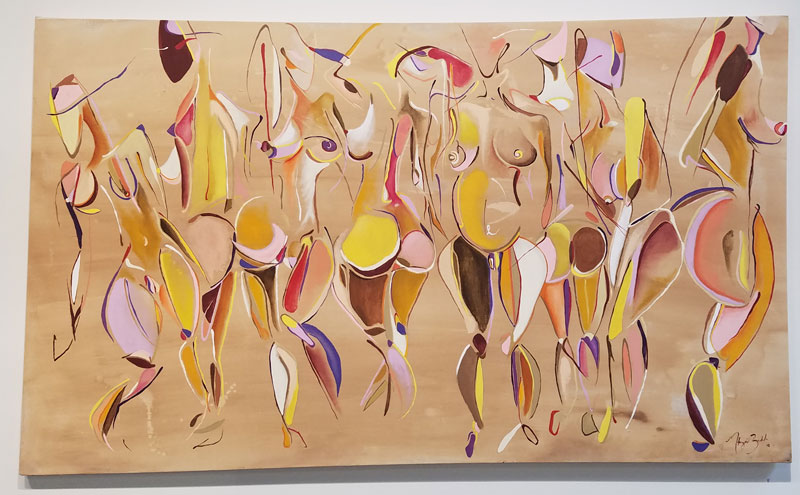 In the In the Figure of the Divine Substance part of the exhibition, Laura Summer, co-founder of Free Columbia, shows highly textured mixed media works on canvas from a muted palette alongside each work's specific inspiration- poems by women poets as "they describe their relationship to God." Her works are for sale by a "pay what you can" model.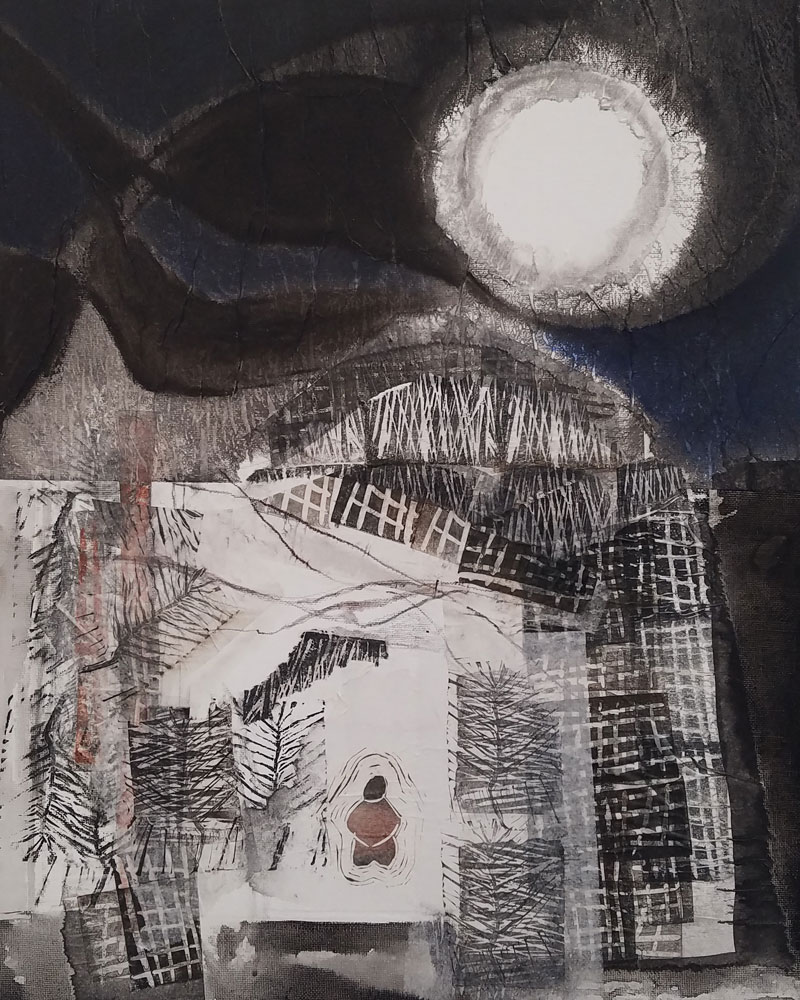 Laura Summer, Although the Wind (2018-19). Mixed media on canvas. Inspired by a Japanese poem by Izumi Shikibu.
This dual show is on view until September 29.
Lightforms Art Center is located at 743 Columbia St. For the most up to date hours and information, consult their website.