Art Bridges Foundation funds "Access for All" Program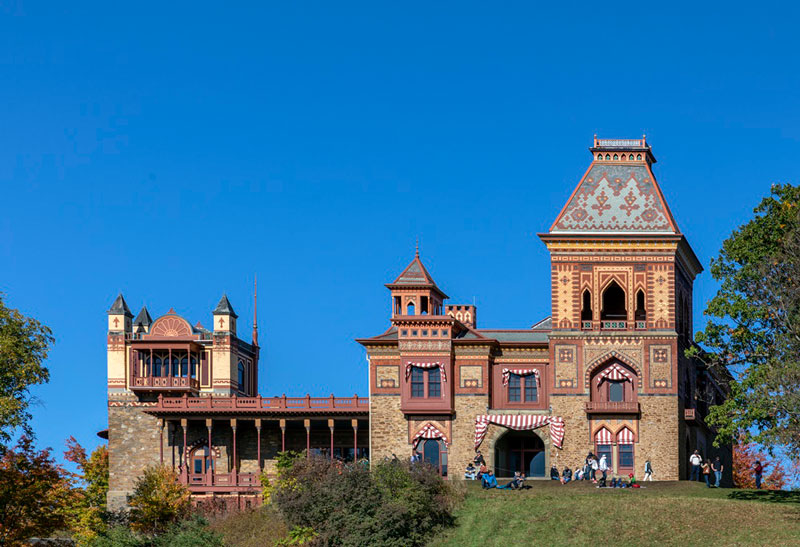 "Access for All" to introduce The Olana Partnership's
Free Third Thursdays at Olana State Historic Site
The Olana Partnership has received a three-year grant in the amount of $240,000 from Art Bridges Foundation to provide Free Third Thursdays through the "Access for All" program. Free Third Thursdays will be introduced at Olana State Historic Site beginning in January 2024 and will offer free access to all, including expanded access to regional communities through free tours, free multi-lingual and intergenerational programming, specialty events and workshops, and extended tour hours during the summer season.
"The Olana Partnership is thrilled to have been selected as part of Art Bridges' national "Access for All" program," said Sean Sawyer, Washburn and Susan Oberwager President. "This major grant will enable us to expand on our free community access and programs and make Free Third Thursdays a dynamic expression of our communities' diversity and creative richness."
In addition to monthly Free Third Thursday programming, the "Access for All" grant will fund Spanish language tours and programming and marketing to the Hudson Valley's Spanish-speaking population. Additionally, "Access for All" will enable TOP to continue its program of free school visits for districts in Columbia and Greene counties.
"This initiative will help The Olana Partnership continue to broaden access to Olana State Historic Site" said Carolyn Keogh, Director of Education and Public Programs for The Olana Partnership. "Free Third Thursday's tours, multi-generational programming, and engagement opportunities for all will help Olana become a more accessible regional resource for everyone."
Art Bridges Foundation is providing $40 million in grants to sixty-four museums, including the Whitney Museum of American Art, The Studio Museum in Harlem, The Olana Partnership and other national museums. The newly formed "Access for All" initiative's goal is to fund programs that attract new audiences. Alice Walton, the founder of Art Bridges Foundation, told NPR that "she believes all museums should be free" and that providing access in this way will "give museums the opportunity to focus on long-term sustainability."
About Olana and The Olana Partnership: Olana is the greatest masterwork of Frederic Edwin Church (1826-1900), the most famous American landscape artist of the mid-19th century and the most important artist's home, studio, and designed landscape in the United States. Church designed Olana as a holistic environment integrating his advanced ideas about art, architecture, landscape design, and environmental conservation. Olana's 250-acre artist-designed landscape with five miles of carriage roads and a Persian-inspired house at its summit embraces unrivaled panoramic views of the Hudson Valley and Catskill Mountains and welcomes more than 170,000 visitors annually. The landscape is open for guided touring, and reservations are highly recommended. The landscape is open daily 8 AM-sunset.
Olana State Historic Site, administered by the New York State Office of Parks, Recreation and Historic Preservation, is a designated National Historic Landmark and one of the most visited sites in the state. The Olana Partnership is the 501(c)(3) not-for-profit cooperative partner of the New York State Office of Parks, Recreation and Historic Preservation at Olana State Historic Site.
About Art Bridges Foundation
Art Bridges Foundation is the vision of philanthropist and arts patron Alice Walton. The mission of Art Bridges is to expand access to American art in all regions across the United States. Since 2017, Art Bridges has been creating and supporting programs that bring outstanding works of American art out of storage and into communities. Art Bridges partners with a growing network of over 220 museums of all sizes and locations on nearly 700 projects across the nation, impacting over 4.1 million people, to provide financial and strategic support for exhibition development, loans from the Art Bridges Collection, and programs designed to educate, inspire, and deepen engagement with local audiences. The Art Bridges Collection represents an expanding vision of American art from the 19th century to present day and encompasses multiple media and voices.
For more information, visit artbridgesfoundation.org