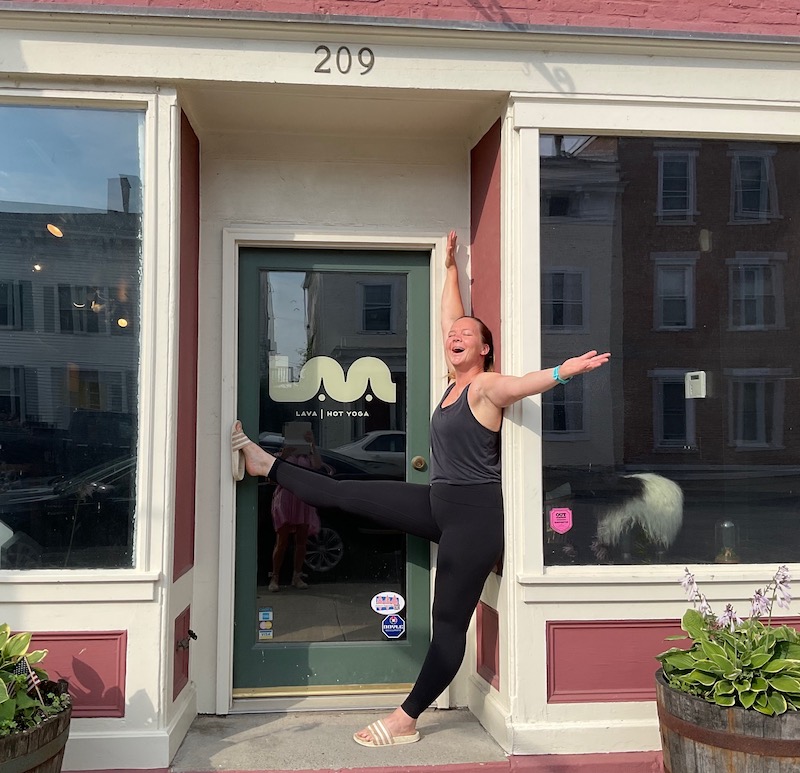 YES, it's sizzle and simmer this summer! Hudsonian Kristin Haraldsdottir opens a new hot yoga studio, Lava, at 209 Warren Street this weekend. Trixie's List staff writer, Romeo Barkley, interviewed the new owner.
Q: First, how to you pronounce your name?
A: Yeah, I'm from Iceland. My dad's name is Harold and I am his daughter. It is "Harold's Daughter" It is pronounced like that. It is easier than it looks, "Haraldsdottir".
I'm from Akureyri, Iceland, in northern Iceland. It is the second largest city in Iceland, which means it's about 20,000 people.
Q: What's your background?
I have been a lifelong athlete and I was a rower in high school and college, then became a rowing coach. I rowed at Princeton. I went to University Wisconsin for grad school and coached there. I got a PhD in exercise physiology and got really interested in more than the high-performance aspect of movement, including the benefits that you can have mentally, as well as physically.
Q: Did you select the name "Lava" because (as an Icelander) you love molten rock?
A: Haha, so, I was throwing out a lot of names. I did want it to have an Icelandic bent. I didn't want it to be too heavy-handed. My parents were visiting and we were throwing around name ideas for the studio and we were saying our favorite and beautiful Icelandic words – we tried to pronounce them in English, and they all sounded terrible. And then my dad, we didn't think he was paying attention in the backseat, he just said "LAVA" out of nowhere, and I was like 'yeah it's done'.
Q: Are Icelandic people naturally chilled inside and crave warmth?
A: Wow, I never thought of it that way. Being from Iceland people assume you don't need to dress warmly and are used to the cold and I actually think it's the opposite. We just know how to dress for what we need. I think as Icelanders, we crave extremes. We really like being out in the cold and then we really like going to do something really hot afterwards because we know that extreme cold feels good. We know the extreme heat feels good.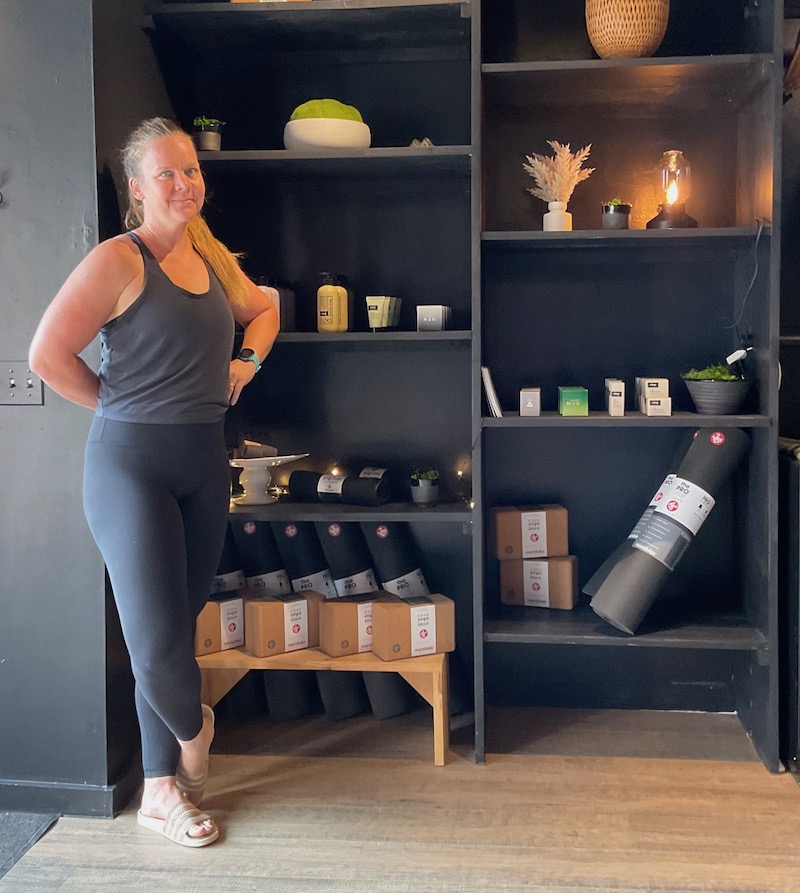 Q: What inspired you to open a hot yoga studio?
A: I used to do so much hot yoga back when I lived in Madison, Wisconsin. I spent three years basically not doing it and really craved the community that comes with it. I think they're really special; people who seek hot yoga.
I really wanted to do this because I love to meet people. I want people to be happy here. Hot yoga or anything extreme totally changes your mindset, so it's really important to me that that exists here.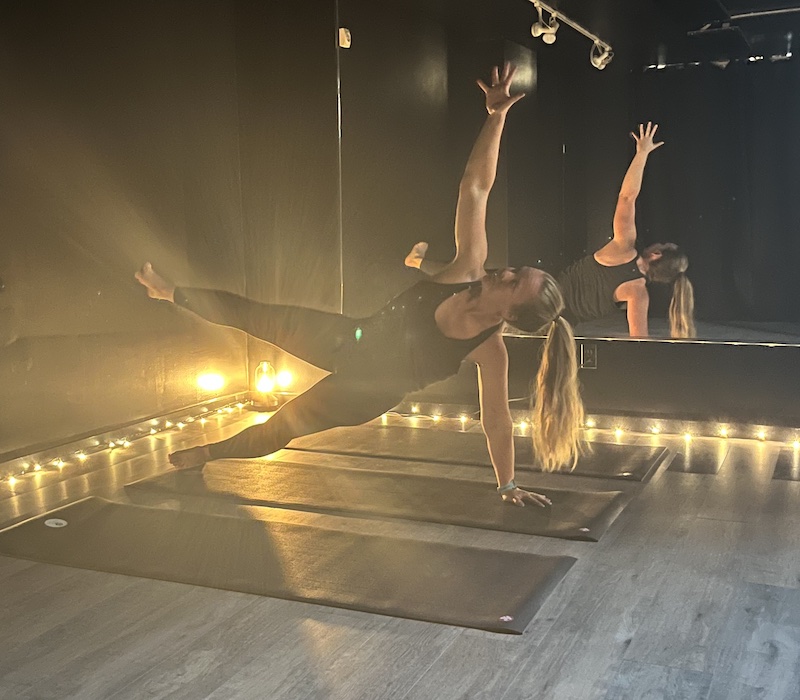 Q: Will you teach all the classes?
At first, yes. I'm actively looking for other instructors and going to other people's classes in the area. I'm trying to convince some of my friends from Madison to move here and teach.
Q: How is hot yoga different than regular yoga
A: It's just an extreme experience, so it's something that really challenges you to stay in the room and focus in a mental sense, pushing through the discomfort. It's more than just a physical workout.
I think you have to be ready. It is for anybody who's ready for a new experience. Certainly after three years of COVID, I am ready to shake it up and challenge myself and I think that there are a lot of other people feeling that way now, too.
I really like the sweating. Sweating is a bodily process; our body self-regulating. It's more of a mind-body thing. It bleeds into the rest of your life.
Check with your doctor, to see if you have any underlying health conditions. But, truly, the classes are all levels.
Q: If you're elderly or disabled, would this be a good class?
A: I'll always read the room and you can check in with me before class, but absolutely, I think a lot of people start yoga, hot yoga specifically later in life and really feel benefits. I think the most important thing is that you don't have to do whatever the teacher says. You can always choose to modify a pose, or just simply lie down. Nobody cares; it's a judge-free zone.
I've had people show up to class and just lie down. 'Oh, you're here for the heat'. I get it.
Q: What's your favorite yoga position?
A: Crescent Lunge, because it's a more athletic version of a Warrior pose.
Q: What if I'm scared to be too sweaty in public?
A: That's a great fear to overtime because sweating is awesome. Not only does it feel good, but everybody else in the room is doing it, and it creates a sense of community.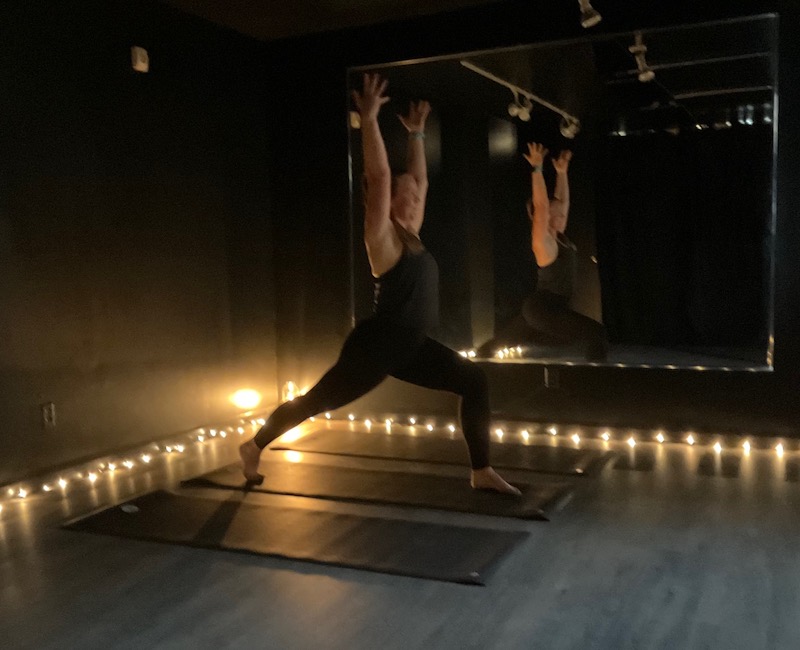 Q: Whats the vibe at "Lava" in three words?
A: Stormy, Clean, Cave-like. I want it to feel like you're inside a cave during a storm. Every surface is black.
Q: How do you make a reservation for class/drop-ins?
A: Love drop-ins! Right now, we're running a promo through the end of the summer, please visit the website, lavahotyoga.com. You can also find us on instagram LAVAHotYoga.