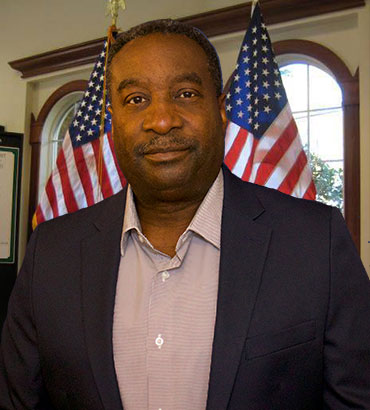 Please tell the readers about yourself; your background, history, experience, etc:
Randall Martin is a local business owner, award winning media producer, community leader, husband and proud father of 4 college graduates and 1 granddaughter.
In Randall's professional capacity as an engineer he has worked with numerous County, State and local agencies as well as churches, businesses, Law Enforcement and community organizations to provide customized digital media recording solutions.
While Randall has formerly lived in Hudson for only 11 years he has been involved in helping the community of Hudson for over 3 decades through his involvement with community organizations. For several years he was a volunteer and Board Member Emeritus at Operation Unite Education and Cultural Arts Center, Board Member Emeritus of the Albany Regional NAACP, served as Board Member and Chair of the Hudson Housing Authority, a member of the Hudson DRI Committee and serving as Board Member and former Chair of the Hudson Democratic Committee.
During the pandemic Randall Martin served as one the creators and producers of the Club Helsinki Virtual Open Mic series, which highlighted local and regional musicians and artists.
Randall also produced videos promoting the works of great local organizations and businesses such as TSL, Little Deb's Restaurant, The Columbia County Sanctuary Movement, The Columbia County Recovery Kitchen, The Hudson Police Department, Perfect Ten and the Hudson Youth Center.
Over the course of Randall Martin's career he has worked tirelessly in assisting great local organizations to achieve their goals and improving the lives of all of our residents, thus creating a more balanced and equitable community.
In 2021 Randall was the recipient of the Martin Luther King Jr. Community Service Award and earlier this year was appointed to serve as a member of the City of Hudson Planning Board and the City of Hudson Industrial Development Agency.
Why are you running for the position of City of Hudson Councilmember?
Randall Martin is running to fill one seat on the Hudson Common Council to represent Hudson's 1st Ward. What truly sets Randall Martin apart is his genuine passion and demonstrated history for making a positive difference in the organizations he is involved in. Randall feels that Hudson is at a critical juncture in terms of its continued growth and development. Randall wants to protect and improve the livability of the City and prioritizing the needs of its residents. Randall's priorities specific to his Ward include: improving deteriorating infrastructure, work to move forward the promised sidewalks initiatives as well as and other promised items in the DRI, improve the waterfront, and implementation of solutions to keep our street safe.
Randall's goal is to fully represent the interests of all of the residents in the 1st Ward. In order to achieve this, Randall plans to meet in person, via Zoom and construct an interactive website in order to listen and discuss the concerns of his constituents. Randall's ultimate aim is to help build a community that we all can be proud of.
What would you like to accomplish within your two years of office?
Create Greater Public Safety
Attract more Local Jobs and Lower Property Taxes.
Ensure Sufficient Affordable and Workforce Housing
Improve resources and support for our Hudson Youth and Seniors