When I was considering buying a house in 2006, I read that this little town in upstate New York, Hudson, had a local drag performer, Musty Chiffon. For me, that was a gay "green light".
When there's a drag queen at the door, it tells people that it's a queer-safe(r) space.
In 2013, Girlgantua organized a "Drag Race" around 7th Street Park on Halloween. I think I was the emcee. There was a young college student, Dominick Multari, (now, Meredith Brick) dressed in Tim Curry-esque Rocky Horror fishnets and heels, who ran around 7th Street Park.
Last week was Meredith Brick's 29th birthday. What a better way to celebrate, than a drag show at Hudson Brewing Co!
Here are some pictures, and a little Q&A with Meredith Brick – Hudson's next generation of drag!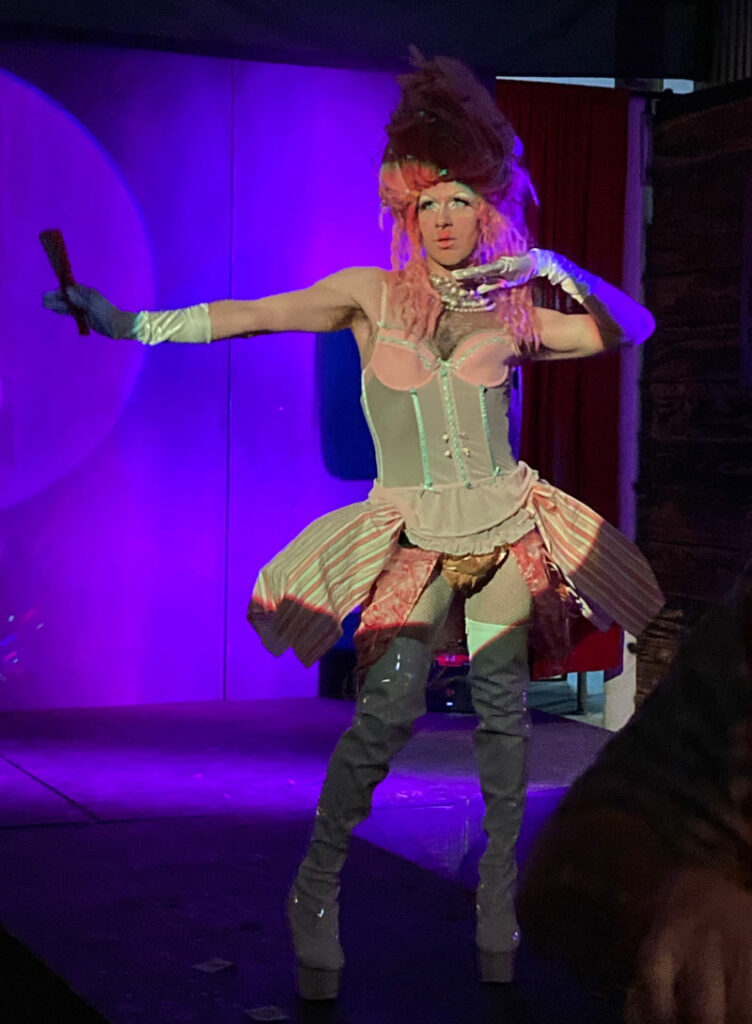 Q: Tell us a little bit about yourself. How long have you been doing drag, and why did you start?
A: My name is Meredith Brick and I am a drag performer in Hudson NY! I grew up in Athens, NY and I have been doing drag for about a year and a half. I started doing drag because I'm just a creative by nature. I've studied visual arts and theater so it's just who I am.
Q: Why the name "Meredith Brick"?
A: In 2019, I discovered that Meredith was my name in a past life. "Brick" because it's a fun word. But mostly as a nod to the Stonewall riots in 1969. I also like the duality of a brick, you can use it to build or destroy.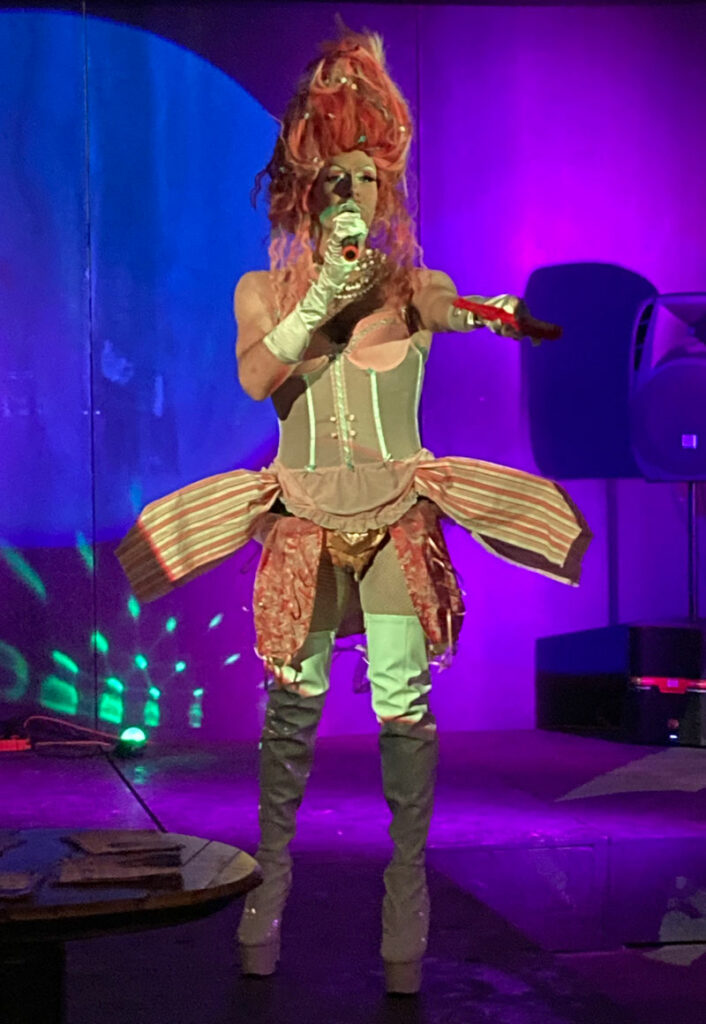 Q: Tell us about your "house".
A: Yes the Haus! I am part of Haus of Extreme. We are a drag collective based in the Hudson Valley. I am one of six members. We all have very different types of drag and I love that! The haus was started by my drag mom Janine Extreme. She is an incredible artist and teacher. A drag haus is all about community and found family. Being a part of this haus has warmed my heart and made me feel like I belong. We can be found on instagram @hausofextreme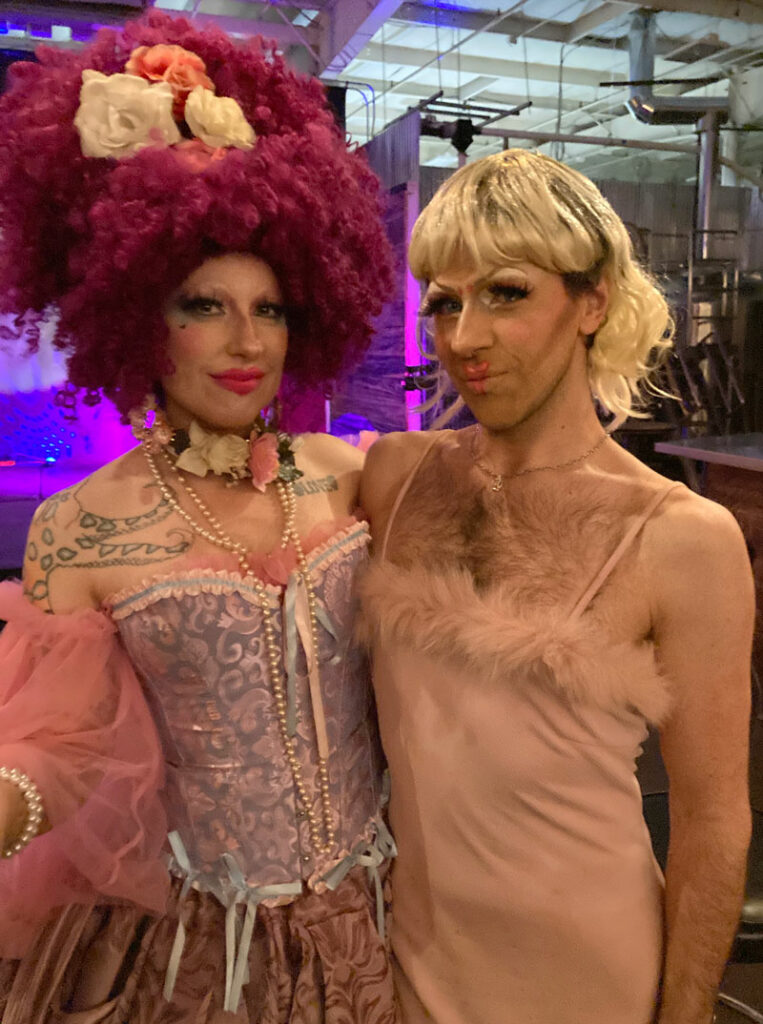 Q: What is your favorite part of doing drag?
A: I love most of drag. I used to love taking it off mostly because I found it so physically uncomfortable! But now I'm more comfortable with it and I love the makeup and the outfit and the performing. Also, after performing when everyone's just relaxing in the space and we're all in funny outfits I'm like wow, this really is something else, we get dressed up and put on shows for each other in bars. What would the aliens say if they saw this?
Q: Where do you get your outfits?
A: Goodwill! I'm a cheap queen. Also Pay it Forward in Catskill. That's my secret spot. …oops. But I also make some of my own outfits. It takes a lot for me to buy something new. Yes I'm cheap but I also think about how much trash humans produce so I'm always thinking of ways to not do that.
Q: What do you think about the new anti-drag laws in some states?
A: The anti-drag laws are really heartbreaking. They're actually anti-trans laws simultaneously. What is drag? Dolly Parton posted something and was like "oh are they going to arrest me with everything I've got on?" The anti-trans and anti-drag laws are not to keep kids safe. They are to enforce heteronormative social constructs, help politicians get voted in, and divert our attention from the real issue. If that sounds crazy to you then you're watching way too much of one news station.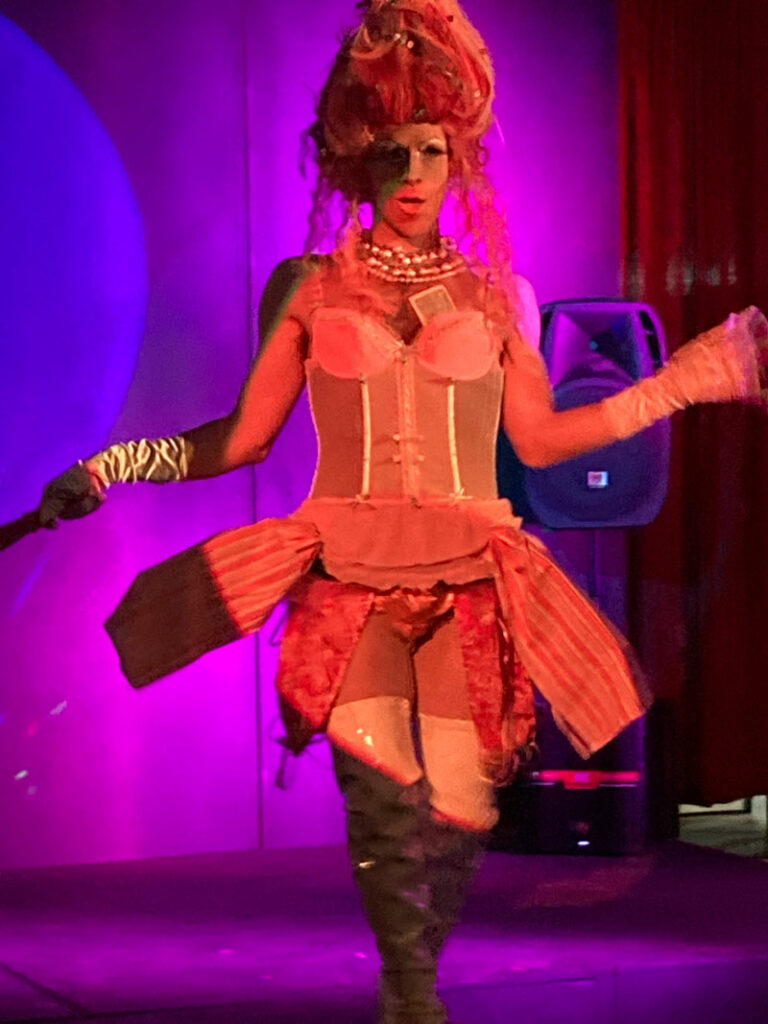 Q: What do you consider "family"?
A: Family is who looks out for us, who loves and cares for us, and who respects and supports us just as we are. Family does not need to be blood relatives. My found family is my family.
Q: How can people find out more about you?
A: People can find out more about be on instagram @meredithbricks and from Trixie's List! I will have known Trixie Starr for ten years this year. Trixie is an incredible part of the Hudson community and does so much to make Hudson a queer safe space and has made me feel welcomed. Thank you, Trixie!