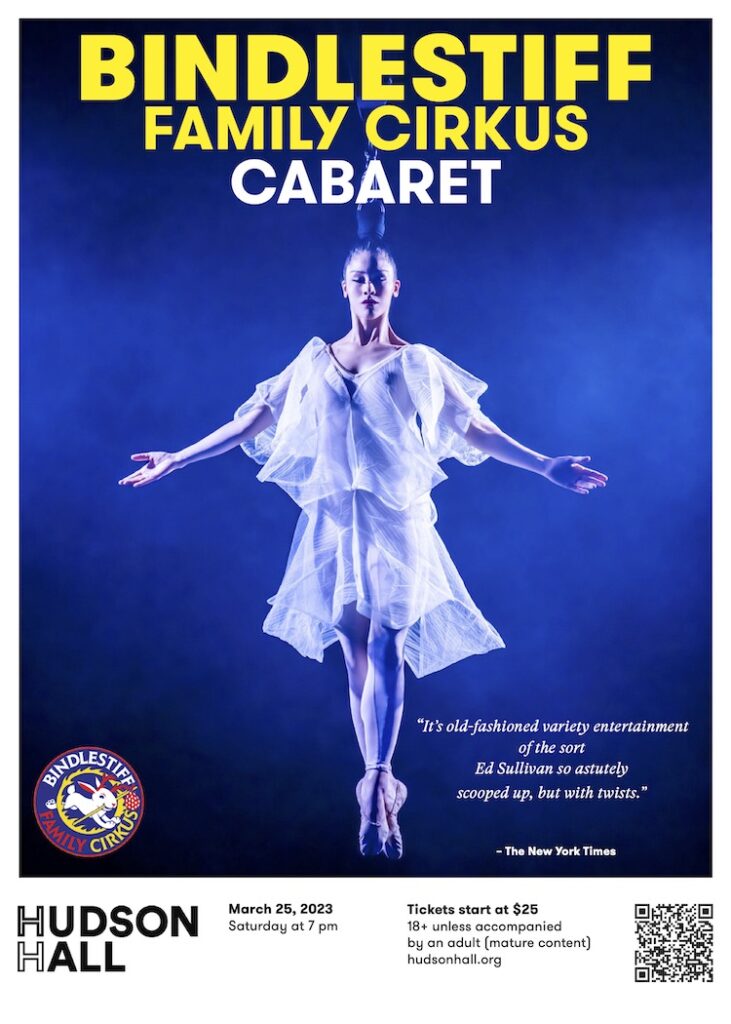 When: Saturday, March 25, 2023
Where: Hudson Hall 327 Warren Street, Hudson NY 12534
Time: 3pm Family Matinee & 7pm Adult Cabaret

Cost: Family Matinee: $25 adult / $10 child
Family-friendly Ticket Purchase: Click HERE!

Adult Cabaret: Section One- reserved table $45 / seat
Adult Cabaret: Section Two – General Admission $25 / seat
Adult Cabaret Ticket Purchase: Click HERE!

The Bindlestiff Family Cirkus, based in Hudson and Brooklyn, offers a delightful cure for the winter blahs… the return of its professional cast of world-class variety artists to Hudson in two performances at the historic Hudson Hall. A matinee on Saturday March 25 at 3pm is for all ages, and will feature a pre-show by youth and teens from Bindlestiff's Cirkus After School programs. An evening-length performance at 7pm is for mature audiences. For up-to-the-minute details on acts and artists, check in at bindlestiff.org and for tickets click HERE!
This grand spectacle features aerial acts, acrobatics, balancing feats, sword swallowing, juggling, physical comedy, and oddball novelty turns. The Bindlestiff stage is one of the few arenas in the world where you may see internationally renowned street performers, featured acts from Cirque du Soleil and Ringling Brothers, artists made known by America\'s Got Talent, and local legends on stage, LIVE!
Since 1995, Bindlestiff has provided a stage for the world's best in circus, sideshow, and vaudeville. The New York Times said of Bindlestiff's style: "It's old-fashioned variety entertainment of the sort Ed Sullivan so astutely scooped up, but with twists."
Both Bindlestiff performances on March 25 will feature host and Bindlestiff co-founder Keith Nelson, who will keep everyone on the edge of the seat with a frantic plate spinning fiasco, reminiscent of the days of vaudeville. Ethiopian acrobat Ermiyas Muluken will climb, stand and flip on the unsupported ladder, and atop the boards and cylinders of the rola bola, in a daring display balanced high above the stage. Dancer and contortionist Andrea Murillo will float on air, suspended only by her hair. Chatham, NY born wire-walker Logan Kerr will dance upon the tight wire. Kyle Driggs of NYC's 3AM Theatre will toss and juggle canes and umbrellas in a glorious dance with gravity. And in a classic sideshow presentation, Keith Nelson will swallow a two-foot-long sword of solid steel, and live to tell about it. Live musical accompaniment is provided by multi-instrumentalist Sabrina Chap.
The 7pm Bindlestiff show features mature humor and a bawdy twist. Witty songstress Sabrina Chap will serenade the audience with NSFW (not-suitable-for-work) songs that will play on repeat in the imagination. Special guests include Monkey, an acrobatic boylesque artist; whose oeuvre includes "flipping and stripping"; Boo Boo Darlin' "The Good-time Gal" , a 7-time Golden Pastie Award Winner at the NYC Burlesque Festival; and local sensation The No Ring Circus performing boundary pushing feats of strength. Follow @bindlestifffamilycirkus on Facebook and Instagram for artist updates!
These shows are a celebratory return for Bindlestiff – an annual tradition of winter month Cabin-Fever Cabarets, spanning 5 joyous years in Hudson, was interrupted by the COVID shutdown of 2020. Join the throngs at the soaring yet intimate space of Hudson Hall to be part of the revival of Cirkus joy.
The Bindlestiff Family Cirkus is a non-profit performing arts organization. Its Mission is to create original, collaborative circus experiences that nurture transformation in people and communities by centering joy, wonder, healing, beauty, and learning.
Bindlestiff does this by:
presenting world-class performances which lift the diverse cultures, experiences, skills, and work of artists and creators.
Creating relevant, high-quality circus arts education programs for youth and adults of all abilities.
Serving emerging and established variety artists with funding opportunities, technical support, access to residencies, and professional development.
For more information about Bindlestiff's programs, including Columbia County and New York City performances, please visit our website.
Like and Follow Bindlestiff's Instagram and Facebook pages for up-to-the-minute news and tidbits about Bindlestiff's extended family of artists, upcoming performances, and circus arts educational opportunities.
Hudson Hall is driven by a civic and social purpose founded in the belief that culture is central to our shared heritage, identity, and future. Its mission is to inspire, promote the arts, and to play a pivotal role in the cultural and economic advancement of the city and the region. A cultural beacon in the Hudson Valley, Hudson Hall offers a dynamic year-round schedule of music, theater, dance, visual arts, literature, workshops for youth and adults, as well as family programs and large-scale community events such as the Hudson Jazz Festival and Winter Walk (which celebrated its 25th Anniversary in 2021). For more information, visit hudsonhall.org. Follow us @hudsonhallny.
This program is made possible by the New York State Council on the Arts with the support of the Governor and the New York State Legislature.