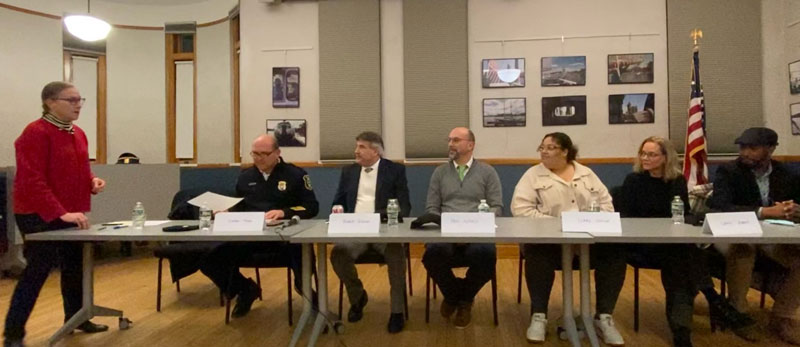 FOPS (Friends of Public Square) sponsored a event on January 20, 2023, titled "Sharing Public Spaces". This community conversation met with the understanding that the 7th Street Park should be safe and welcoming for all.
The forty-five people who attended the panel learned the following:
There has been a steep increase in calls to the police about conduct in the park in the last three years. Many, if not all of, these individuals have severe mental health and/or substance abuse issues. Chief Moore emphasized that we "can't arrest our way out of the situation."
Several recent initiatives are addressing the challenge of problematic behavior in the square:
A multi-disciplinary pilot (MDP) was started nine months ago. Two dedicated case workers have the responsibility to gain the trust of people around the county, especially those who are not getting the services they need. The case workers, who are not assigned to specific individuals, regularly visit the square.
A new Mental Health Court, presided over by Hudson City Court Judge Cheryl Roberts, addresses the challenge of defendants with multiple arrests by using a range of social and mental health services, parole, and addiction recovery services. Defendants are offered help as an alternative to incarceration, which has been ineffective with respect to repeat offenders.
There are plans underway for a Wellness Hub in Greenport, close to the Hudson border. This project, initiated by the Greenburger Center, and supported by Mayor Johnson, will provide a range of solutions for people in stress, who often lack adequate housing. The hub will provide temporary shelter, showers, mailboxes to receive checks, a rest area and other amenities. Additionally, the plan is for a detox center and case workers to be on site. The hope is that building can commence in two years and the hub completed in five years.
Responding to concerns about gun violence in Hudson, Mayor Johnson spent two days in Troy recently to learn about the SNUG Street Outreach Program, a New York State initiative aimed at stopping gun violence. SNUG focuses on community engagement to mediate conflict, mentor youth, provide counseling, and work with local partners.
Things you can do:
If you have a concern about an individual with mental health issues, call the Mobile Crisis Assessment Team (MCAT) at (518) 943-5555. The MCAT is operated by the Mental Health Association of Columbia Greene Counties, which has an office at 713 Union Street. The MCAT phone is staffed from 9am – 11pm.
The Hudson Police will respond promptly around the clock to phone calls alerting them to unlawful or threatening conduct. The police department phone number is (518) 828-3388.
Become a Certified Recovery Peer Advocate (CRPA). Peer advocates facilitate outreach with individuals currently in a program or considering treatment. Utilizing their recovery expertise, professional training and lived experience, peers boost individuals' engagement in treatment and commitment to recovery. CPRAs also connect patients to community-based recovery supports. https://oasas.ny.gov/recovery/become-certified-recovery-peer-advocate